The Hurry Up is your nightly dose of updates from the Ohio State football recruiting trail, keeping tabs on the latest from commits and targets from around the country.
Wade return helps Ohio State bridge gap
The moment Shaun Wade announced his return to Ohio State, it changed everything for the back end of the Buckeyes' defense in 2020. 
The most difficult task this offseason for Ryan Day, Greg Mattison and whoever becomes the new secondary coach/co-defensive coordinator (it's sounding more and more every day like it will be Kerry Coombs, so Ohio State fans should be Lamar Jackson fans this weekend) will be to create almost an entirely new defensive backfield.
Wade's return to school, though, provides a massive boost for an inexperienced unit that will have to learn and mesh together, beginning in the spring. 
That's the 2020 season. Looking beyond the near future, we look to the further-further future to see Wade's affect.
In a similar way that Jonathon Cooper's return helps bridge the gap between now and the 2021 class for defensive ends – when Jack Sawyer comes to Columbus and could be followed by any of a litany of defensive linemen who have Ohio State toward the top of their list, including Tunmise Adeleye, Landon Jackson, Demeioun Robinson, Monkell Goodwine and Aaron Armitage – Wade coming back could have an effect like that for the Buckeyes' defensive backs. 
The loss of Clark Phillips III to Utah was big, but Wade coming back helps lighten that loss. He also can be provide veteran guidance for freshmen Ryan Watts III and Lejond Cavazos as they take their first year to grow their bodies and minds and adjust to life as a college student and football player. 
If Cameron Martinez ultimately elects to sign with Ohio State in February, the Buckeyes' 2020 defensive backs class could be complete, but there are also some defensive backs in the transfer portal the Buckeyes could take a look at.
Transfer portal DBs to monitor
Both Kelee Ringo and Dwight McGlothern were cornerbacks the program once had its sights set on, but the recruitment of Ringo quickly fell off and the Buckeyes quit pursuing McGlothern despite his high interest in the Buckeyes. Ringo committed to Georgia at Saturday's All-American Bowl, and McGlothern committed to LSU at the Alamodome before proceeding to snag two interceptions, hauling one pick 38 yards for a touchdown. 
Those two are now officially off the board (though Ringo unofficially was already off the board), and there are only two uncommitted 2020 defensive backs left who hold Ohio State offers. Both are safeties (Avantae Williams, Javier Morton).
As we've suggested before, the transfer portal could be where the Buckeyes look to add another defensive back. 
To be crystal clear: I don't have any in-depth knowledge about whether or not Ohio State is looking to take one of these guys or if the program is even pursuing one of them, but these are the four highest-rated defensive backs currently in the transfer portal who had Ohio State offers during their recruitments:
Cornerbacks: Scooby Carter (Alabama), Ken Montgomery Jr. (Maryland), Obi Eboh (Stanford)
Safety: Jaylen Kelly-Powell (Michigan)
Carter had the Buckeyes, who offered in February, in his final six schools (Ohio State, Alabama, Texas A&M, Oregon, Oklahoma, Georgia). Carter was suspended for a game earlier this year by Nick Saban. Sounds like an ongoing saga, though, with Carter at Alabama, and a return to the Crimson Tide may be in the cards.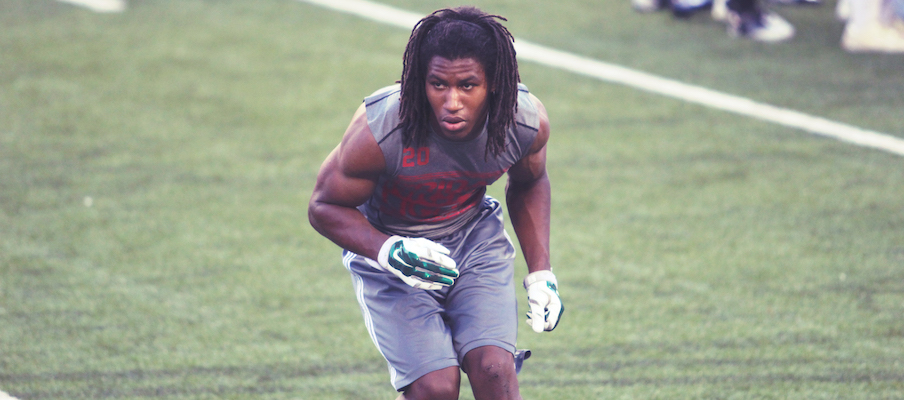 Montgomery had the Buckeyes in his final four in the summer of 2017 even though he hadn't been to Ohio State's campus much at all. He was offered by Coombs and Greg Schiano but eventually committed to UCLA that summer. He then decommitted and eventually chose Maryland.
Eboh's final two schools of choice were Stanford and Ohio State, but he chose the Cardinal shortly before he was slated to make a visit to Columbus. The Buckeyes were putting more effort into pursuing Jordan Fuller at the time over Eboh, and I would venture to say it worked out a little bit. Eboh was recruited by both Coombs and Tim Beck.
The news just dropped on Thursday that Kelly-Powell is transferring out of Michigan, as reported by 247Sports' Steve Lorenz. As Lorenz writes, Kelly-Powell was moved around a lot in the defensive backfield, practicing at three different spots before landing at safety. He will have two years of eligibility left as a graduate transfer.
Kelly-Powell is another who was recruited by and offered by Coombs. 
"Coach Coombs, that's my guy," Kelly-Powell told Eleven Warriors during his high school recruitment. "He's a real hyper guy, I'm a real hyper guy. I like a coach that is really interactive in drills. I like learning like that: the hard way. I need to see somebody else do it and he actually gets out there and does it."
Looking further
As for the 2021 recruiting class, I believe defensive back is still the second-biggest area of need for Ohio State behind running back. Defensive line and offensive line are two more, but with the momentum the Buckeyes have right now with both positions, the trenches look to be shaping up as the centerpiece of the 2021 class.
Cornerback will remain critical, though, and that list is led by Tony Grimes and Jakailin Johnson. 
We work too hard to give up plays like this @757EliteDB @UAFootball #Future50Camp @HamiltonESPN @DemetricDWarren @RivalsFriedman @BrianDohn247 pic.twitter.com/jYJCrFBT4R

— Coach Glover (@dhglover) January 9, 2020
Grimes is the nation's No. 1-ranked cornerback and will most likely have the Buckeyes as a finalist when he trims his list. However, in a recent interview with 247Sports' Brian Dohn, Grimes listed Texas A&M, Clemson and Penn State as the three schools he was sure to make an official visit to. He did not mention Ohio State in Dohn's report. 
Grimes is coming off one of the most noteworthy performances of the Under Armour Future 50, cracking 247Sports' Greg Biggins' list of Top Performers:
Grimes lived up to his lofty ranking and was our top defensive back of the day. He's a long corner who looks taller then his listed 6-0 height because his arms are so long. He flashed several times in one on one and team drills and shows burst and ball awareness. Still very open and looking at several schools including Alabama, Penn state, Georgia, Clemson, Texas, Texas A&M, North Carolina and South Carolina, to name a few.
Johnson already has Ohio State as a finalist, as the Buckeyes cracked his top six back in October, and Johnson last week earned himself an invite to the 2021 All-American Bowl.
Latham sets commit date
As we said above, Ohio State's offensive line recruiting is starting to gain significant momentum with Donovan Jackson's commitment on Wednesday adding to what could end up being a terrific O-line haul for Greg Studrawa and Ryan Day.
That haul could end up including JC Latham, one of the Buckeyes' top priorities in the trenches in the 2021 class, and the IMG Academy product has now set a commitment date. Latham told SI All-American's John Garcia Jr. that he plans on committing April 18, on his little sister's birthday. 
Latham told Eleven Warriors in late November that Ohio State and LSU are his top two options, and that remains true today.
Buckeyes offer 2021 star RB
LJ Johnson Jr., the nation's fourth-ranked running back in the 2021 class, announced that he has added an Ohio State offer to a sheet that includes Alabama, Georgia, LSU, Oklahoma, Stanford and Texas. 
EXTREMELY BLESSED TO HAVE RECEIVED AN OFFER FROM THE OHIO STATE UNIVERSITY! #GoBucks pic.twitter.com/OE1tq01cus

— LJ Johnson Jr (@LJ_Johnson_Jr) January 9, 2020
Johnson is ranked No. 81 overall in the country and is the No. 15-rated overall prospect in Texas.
Smith-Njigba earns another award
Jaxon Smith-Njigba's 2019 season was filled with epic highlights and ridiculous stats, and he added another award to it on Thursday, when he was named Co-Offensive Player of the Year by the Dallas Morning News. 
Ohio State a finalist for Maryland pair
Demeioun Robinson is a high priority defensive end for the Buckeyes in the 2021 class, and receiver Kaden Prather's talent has their attention as well. 
Both Maryland products have put Ohio State as a finalist in their recruitment.
Prayers go up... Blessings come down...TOP 13 #ALL4AROD pic.twitter.com/ERDiWdqyjl

— Demeioun Robinson (@chopyoungbull) January 7, 2020
I done seen too many mommas cry that's why I gotta get it , I dont want that to be mine .. TOP 11 pic.twitter.com/2cflhe4hCq

— KADEN PRATHER (@KADEN3TIMESSS) January 9, 2020
Robinson is a top-100 national recruit, the fifth-ranked weakside defensive end and the third-ranked prospect in Maryland in the junior class. Prather, a fellow four-star Maryland prospect, is borderline top-300 national recruit and is ranked in the top 50 at this position and top 15 in his state.