The Hurry Up is your nightly dose of updates from the Ohio State football recruiting trail, keeping tabs on the latest from commits and targets from around the country.
A buffer for DL recruiting
There were no shortage of stories stemming from this weekend. 
A potentially program-changing win for Ryan Day, Justin Fields' health, Chase Young being Chase Young and the big recruiting weekend were among the biggest. Mixed in there somewhere in terms of critical importance is the news that Jonathon Cooper will be returning for a fifth season. 
Cooper is a former high-end four-star in-state defensive end recruit, per 247Sports' ranking, with stud potential, and he'll now be teaming up next season with ever-evolving Zach Harrison and Tyreke Smith as bookend Rushmen in Larry Johnson's system. What Cooper returning does for the future is give the Buckeyes a buffer zone between now and the next elite Buckeye defensive end, Jack Sawyer, coming to campus – plus any other top-tier defensive ends Johnson might land in this class (Tunmise Adeleye, Landon Jackson, Demeioun Robinson or even Korey Foreman, to name four).
Cooper's return also means that getting Tyler Baron or Xavier Carlton is not as critical. Obviously, don't take that the wrong way – getting Baron or Carlton would be big news. But Cooper returning – plus the move of Cade Stover to defensive end, if that remains Stover's role next season – means the Buckeyes will have (assuming health) two guys to build the pass rush around in Cooper and Harrison, with some depth around them in Tyreke Smith, Tyler Friday, Stover, etc. 
That's 2020. 
In 2021, defensive line will be one of the Buckeyes' biggest needs moving forward as they look to restock. 
This past weekend, Ohio State did not play host to any of those elite DEs in Adeleye, Jackson, Robinson or Foreman (or even Sawyer, as the Buckeyes' 2021 gem was on crutches following surgery to repair a torn MCL and did not want to risk any accidents in the rain so he did not attend the game). 
The Penn State matchup may not have served as a backdrop for the star-studded visits that some may have hoped for, but there was still a strong group of defensive linemen on hand, as Aaron Armitage, Marcus Bradley and Michael Hall Jr. each took unofficial visits. 
Hall found it "hard to not commit" this weekend
Though he told Eleven Warriors he is going to wait until his 17th birthday on June 13 to commit, Hall is perhaps the strongest candidate to become the Buckeyes' second defensive line commit in 2021 and the class' first defensive tackle commit. 
Of course, there's no reason not to take a player at his word, so we can't assume Hall will commit any sooner than that. But there have been plenty of instances in which a recruit talks about waiting patiently, only to have the excitement be too overwhelming and the fit too perfect (take the story of Ohio State's fifth 2021 commitment, Reid Carrico, as the most recent example) to wait any longer. 
Perhaps that could wind up being the case with Hall, a 6-foot-3, 275-pound junior out of Streetsboro (Ohio) High School who last week was bumped up from three stars to four stars. 
"It definitely was hard to not commit, but I don't know, I talked to my mom and my siblings about it," Hall said. "They were just saying weigh your options. You never know what you'll see. Ohio State's still my No. 1, though."
"I'm gonna commit on June 13. That's all I can say," Hall added with a laugh.
Hall made his first gameday visit to the Shoe for the Buckeyes' win over Miami (Ohio), but he left without an offer. The coaches told him to keep working, keep improving in the classroom and on the field, and in time an offer may come. And when Eleven Warriors interviewed him soon after that visit, Hall said he knew he had to keep working relentlessly to build his reputation and to boost his star rating.
That's what makes Hall's story pretty cool. Instead of getting discouraged, he did exactly what he said he was going to do, and here he sits now, able to commit to Ohio State any time he wants. In time, he may end up as the newest talent to suit up in scarlet and grey and actually get to take the field at Ohio Stadium in pads – something he was agonizing over not being able to do on Saturday.
"It's a long tunnel so you're just getting your mind ready. And whatever problems you have just go away. Everything just goes away, and you think about what's going on right then."– Michael Hall Jr.
"The atmosphere was just great," Hall said. "Just coming down the tunnel with 100,000-plus people in the stands was just crazy. It gave me chills, not gonna lie, when I came out of the tunnel. Everyone was hyped. It was the last game the seniors had at home, and it was a big moment I was just taking in."
It even made Hall start envisioning what could be.
"I act like I'm getting ready for a game, really, (when I come down the tunnel)," Hall said. "It's a long tunnel so you're just getting your mind ready. And whatever problems you have just go away. Everything just goes away, and you think about what's going on right then. And then you get out of the tunnel and see all those lights, and it's like, dang, I'm not actually playing right now. But it feels like you're about to when you go down that tunnel, and then you have to come back to reality.
"You see a couple guys while you're walking down like Justin Fields and Chase Young, and you see coach Day waving to you up there. Honestly, I just look at the guys and I'm like, dang, this could be me in not too long."
Hall already has good relationships with Johnson, Day, co-defensive coordinator Greg Mattison, offensive line coach Greg Studrawa and executive director for football relations Tim Hinton. He didn't get a ton of face time with them this weekend, but he got just enough on Saturday to help continue the growth of those relationships. He also was able to connect more with Ben Christman, Najee Story and Carlton.
Carlton and Hall have a friendship dating back to when Carlton reached out on Instagram to congratulate Hall on his Kentucky offer in June. They've talked a lot ever since, and they caught up more at the Shoe. 
As for his relationship with Christman, the two could end up finding themselves in a similar situation such as current Ohio State offensive tackle Branden Bowen and defensive tackle DaVon Hamilton – players on opposing sides of the trenches but who have formed a tight friendship.
"We always talk about going one-on-ones and if I was to commit how practices would go," Hall said. 
But in saving perhaps the best for last, one of the most important takeaways from the weekend was that Hall's brothers and his mom love Ohio State. His mom visited with him for the Miami (Ohio) game, while his brothers were with him this weekend.
"My brothers loved coming out of the tunnel and being around the fans," Hall said. "Even the fans in the stands are for you, saying to come to Ohio State and how they'll take care of you. 
"My mom loves Ohio State. It's her No. 1 too. You gotta make mom happy."
Another top candidate for a DL commitment
While Hall spoke a lot this weekend with a few fellow recruits, one who did not is Bradley. And there's nothing wrong with that. 
Bradley, a 6-foot-3, 270-pound defensive tackle in the 2021 class, admits he's more of a quiet guy who keeps to himself, so on this weekend's visit – his second game day visit in the last three weeks – he kept more to himself and his brothers with whom he made the 6.5-hour drive from the Quince Orchard (Md.) High School area.
The Maryland native, who is teammates with Robinson at Quince Orchard, and his parents made the trip for the Buckeyes' win over the Terrapins on Nov. 9 and stayed for the weekend, but this time, it was a drive over Saturday morning followed by a drive back home later that night.
"It was great. I loved it," Bradley told Eleven Warriors. "It was standing room only at the game. I don't how many people were there. I know it was 100,000-plus, but it was great. The Maryland game surprised me 'cause it was 101,000 there. But, of course, Penn State's a better game so there were way more people and the game was way more electric, and it was a good game too so it was better.
"My mom and dad liked the Maryland game. They liked the game, and they got to talk to coach Johnson and coach Day and all that stuff so it was good. (Saturday), my brothers just loved being in the stadium as far as how many people were there. It was big-time football."
Bradley loved the atmosphere enough to come back just two weeks later, which says plenty about where Ohio State stands in his recruitment. He will be back in the winter or spring for another visit, and it's not likely that the Buckeyes will unseated as one of the top two favorites – right beside Virginia – to land him after the position it has put itself in with him.
His relationship with Johnson has grown, ever since Bradley was first a freshman at Young's alma mater, DeMatha Catholic, growing under the tutelage of the same coach who taught Young his fundamentals, co-defensive coordinator/defensive ends coach Will Weathers. 
"Coach Will, was great. He really knows his stuff," Bradley said. "Chase came into Ohio State pretty grown already. Just being (at DeMatha Catholic) teaches you how to be tough as far as being in that program. So that was big."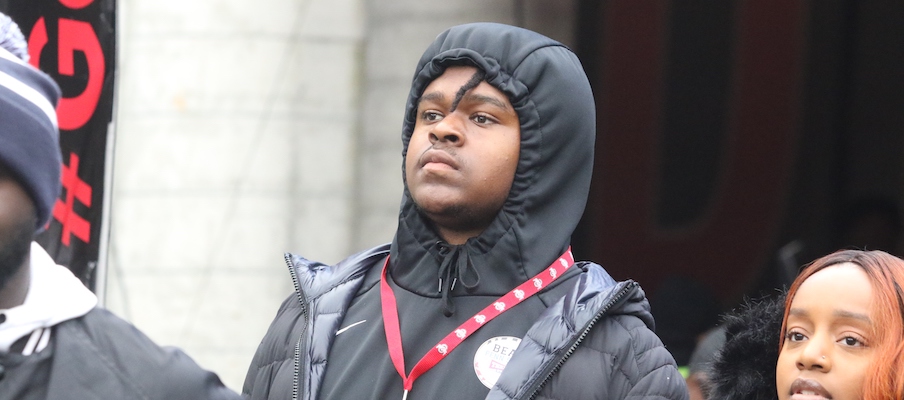 Bradley transferred out of that program, though, becoming a four-star defensive tackle prospect at Quince Orchard following a sophomore season that helped him stand out to Johnson, who then went to visit Bradley in the spring. That relationship is growing stronger between Johnson, Bradley and Bradley's family.
"I feel like he really wants me there, and he's confident he can develop me as a top-tier D-lineman in the future," Bradley said. "My mom likes him. That was the biggest thing. My dad already knew about him and had already met him so he likes him too. (Johnson's) passionate about what he talks about. Everything that he preaches, he's passionate about it and takes it serious. He's straight up with me about everything – as far as him wanting me there and things like that.
"The brotherhood at Ohio State is one thing he speaks passionately about and making his guys better, he talks about that a lot – developing his players to the best they can be."
Bradley is a hard worker and team player on the field, and by all accounts he's a good kid off of it. He seems to fit the mold of someone whom Johnson can develop as both a great run stopper and pass rusher in the future.
Bradley says he is not close to a commitment anywhere, as he will take some of his official visits, wait to see which offers will be coming in (and there will be more that come) and then start to narrow down his options. 
Two More Visitors
Armitage is another top defensive line prospect who visited this weekend. Armitage is a 6-foot-4, 245-pound strong-side defensive end in the 2021 class and is ranked as the No. 2 prospect in New Jersey.
He is the No. 9-rated SDE in the junior class and is nearing a top-150 ranking nationally. Some of his other top offers include Michigan, Penn State, LSU and Florida.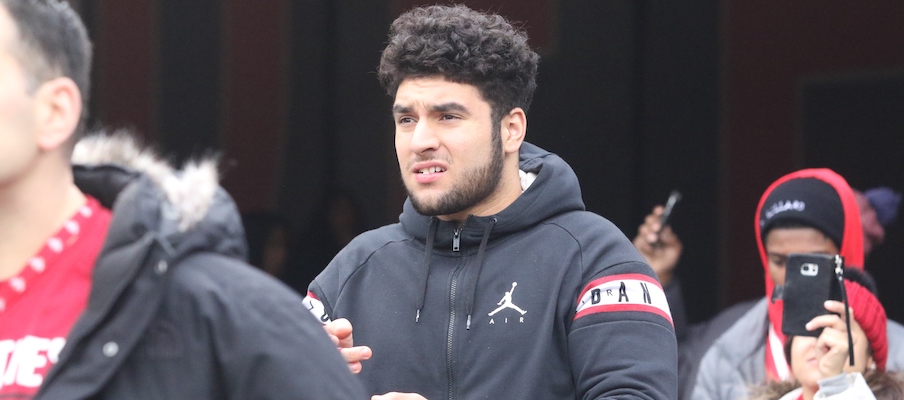 Jantzen Dunn is another defensive prospect who made the trek to the Shoe, as the South Warren (Ky.) junior drove up from Bowling Green, Kentucky, and says it was well worth the time.
"It was an amazing visit," Dunn told Eleven Warriors. "I didn't get to check out Columbus, but I loved the atmosphere and energy. Just my dad and I (visited). It was incredible."
Dunn, who has a good relationship with 2020 Ohio State defensive back commit Ryan Watts III through True Buzz Athletics based out of the Dallas-Fort Worth area, is listed as a three-star athlete. But the 6-foot-2, 170-pound junior most likely translates to defensive back at the collegiate level. He does not yet have an Ohio State offer but could get on the Buckeyes' radar over the next year.
"They talked about (an offer)," Dunn said of the Buckeye coaches. "But they want me to get a better feel for all they offer on and off the field."
Receivers galore
We detailed the rise of Jaxon Smith-Njigba and the rest of the 2020 Buckeye receiver commits earlier today, as Smith-Njigba, Julian Fleming and Gee Scott Jr. are all now ranked in the top five at their position nationally by the 247Sports metrics. 
Scott's father took to Twitter to glow about the Ohio State program.
Ill say this. My son is looking forward to coming and being around the best. Learning from Hartline and the rest of that WR room. The young men currently in that room are fantastic and are the pace setters.

— Gee Scott (@GeeScottSr) November 26, 2019
Martinez wins MLive POY
We've talked plenty of times about how underrated three-star athlete and 2020 Ohio State commit Cameron Martinez is. On Tuesday, though, he received some high recognition by winning MLive Player of the Year honors for the second year in a row.
Cameron Martinez wins the MLive player of the year for the second year in the row. #GoBigReds

— On Muskegon (@OnMuskegon) November 26, 2019
Don't be surprised if Martinez ends up as one of the Buckeyes' top players from this class. And don't be surprised if more awards follow today.