The Hurry Up is your nightly dose of updates from the Ohio State football recruiting trail, keeping tabs on the latest from commits and targets from around the country.
Visit helps keep Buckeyes at top of Pryor's list
Evan Pryor already had a great impression of Columbus, the Ohio State program and running backs coach Tony Aflord, which Eleven Warriors detailed a couple weeks ago.
Pryor left Saturday's game against Penn State with an even better feel for the program, and the Buckeyes are sitting close to the top of his list of top 10 schools following his first experience at a game in the Shoe.
Blessed to see 17 !!
-
-
Top 10 !! #Blessed pic.twitter.com/54Yd2yr1tG

— (@evanpryor3) November 7, 2019
Pryor had a Friday night playoff game, and he and his father did not wind up leaving their North Carolina home until about 3 a.m. Saturday. Pryor and his dad arrived right around kickoff, rushing into the stadium before eventually taking their seats and taking in the electricity.
"It was definitely one of the better (environments) I've been to," Pryor told Eleven Warriors. "It didn't really get too crazy, but it was really consistent. It was loud the whole game. It wasn't just loud here and crazy there. It was a great atmosphere, and all the fans were into it."
Pryor settled in by halftime and was able to chop it up with three fellow North Carolinians: Ohio State 2020 defensive end commit Jacolbe Cowan, receiver target Gavin Blackwell and offensive tackle target Michael Gonzalez. That was before Pryor went into the locker room following the Buckeyes' huge 28-17 win over Penn State, and he gave us a small sampling of the behind-the-scenes celebration. 
"Coach Day gave a speech, and I talked to some of the running backs and met some of the position coaches," Pryor said. "Coach Day's speech was just saying celebrate then move onto the next game. Stay focused and get ready for next week. ... They didn't talk about the win a lot. They were really focused on next week."
The visit and the locker room experience helped Pryor get a better feel for Day's program. Pryor already had a great vibe of the city of Columbus, and he had a chance to meet some more of the city's good people on Saturday night. That led to "a great visit overall," one that was highlighted by continued growth in his relationship with Alford.
"They're definitely at the top of the list, and getting to know coach Alford and some of the other coaches even more definitely helps out a lot," Pryor said.
Columbus today ! pic.twitter.com/8CjYIvgAe0

— (@evanpryor3) November 23, 2019
But it was because of an already-established comfortability that this visit was not the sole reason that the Buckeyes remain a top option for Pryor.
"I wouldn't say it was because of the visit," Pryor said. "Coach Alford and I have a great relationship, and a lot of people on that staff I'm cool with. Some of the players as well. I wouldn't say it was just because of the visit. The whole vibe was great."
Pryor got to visit with Alford on Sunday at the Woody Hayes Athletic Center for more than an hour. It's worth pointing out that he has trust in the coaching stuff to get him to the next level and "become a better man. Not just a better football player but a better person overall. My relationship with them and my comfort level with them is high."
With all that optimism being said, don't go assuming a commitment from Pryor to Ohio State is around the corner. Some of the best programs in the nation are still going after this top-100 talent, so there are still plenty of places who could land him, and he still has a lot of factors to consider.
One of those is determining the best place for him to earn a degree in communications so that he can achieve his post-playing day dream ... becoming a football analyst on TV.
Whether it's Ohio State, LSU, Georgia or anywhere else, frankly, it would be a shock if the well-spoken, intelligent and highly talented Pryor was anything less than a major success on and off the field.
Williams commits
As we detailed Saturday night after the game, the Buckeyes landed their 2020 running back commitment via Miyan Williams' flip from Iowa State. 
Williams is a running back who impresses many, and that includes fellow ball carrier Pryor. There's a possibility the two could be suiting up in the same backfield, able to feed off each other.
"I saw his commitment, and I've watched highlights," Pryor said. "We're two totally different types of backs, I think. I think it'd be a thunder-and-lightning type of thing. He's more of a power back who can through a brick wall. He's a really good running back. He runs through guys."
If the Buckeyes had been shut out in running back recruitment, they had planned on gunning for two RBs in 2021. They still might look to get two, but Williams' commitment means they don't necessarily have to (especially if they land someone of Pryor's talent.)
The Williams commitment also does not have any bearing whatsoever on Pryor's college decision. 
"That wouldn't be a factor," Pryor said. "Competition wouldn't bother me at all. If they were to get a five-star running back in 2020, it wouldn't bother me. It wouldn't downgrade (Ohio State) at all."
Buckeyes offer three-star DB
Damond Harmon, a three-star cornerback out of Highland Springs (Va.) High School, had been waiting patiently to announce some news to the Twittersphere and on Sunday he did just that. 
Harmon, a 6-foot-1, 178-pounder in the 2021 class, told Eleven Warriors he has held an Ohio State offer for about two months, but he finally was able to make the announcement. 
Blessed to say I have received an offer from THE OHIO STATE UNIVERSITY!!! #GoBucks @ryandaytime @CoachWash56 @CoachJeffHafley @RecruitingHSHS pic.twitter.com/KDCqGuVyGK

— Damond Harmon (@hunchoo_21) November 24, 2019
Harmon told us his high school team doesn't allow players to announce offers during the season. 
Harmon is the 18th defensive back in the 2021 class to be given an Ohio State offer, and he is the fifth junior from Virginia to get a Buckeyes offer. He joins fellow Virginians Malcolm Johnson Jr., Tony Grimes, Tristan Leigh and Bryce Steele. 
Leigh and Steele each visited this weekend for the Buckeyes' 28-17 win over Penn State. Grimes and Steele are both defensive back prospects as well. 
Holbert announces PWO offer
Devon Holbert visited the Shoe for the Buckeyes' 38-7 win over Wisconsin on Oct. 26. On Saturday, Holbert announced he had been dished out a preferred walk-on spot by Ryan Day's program.
Blessed to receive a PWO from THE Ohio State University! @brianhartline pic.twitter.com/fBCEkESzHL

— Devon Holbert (@440woo) November 23, 2019
Holbert is a 6-foot-4, 175-pound senior quarterback at Harvey High School in Painesville, Ohio.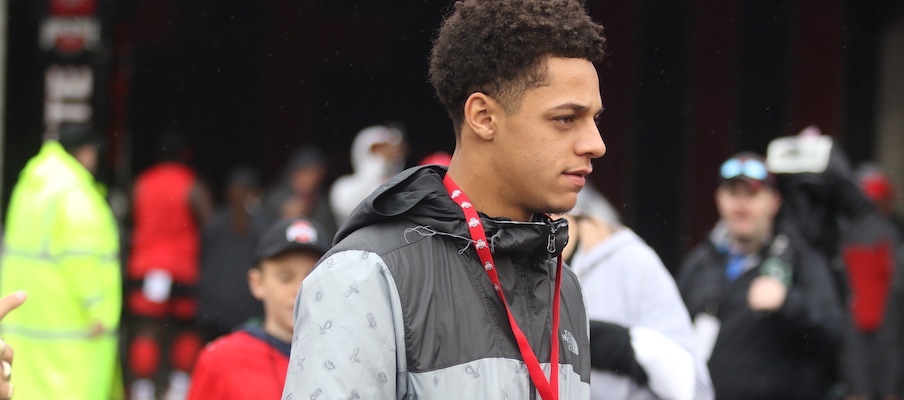 Recruits converge on Columbus
In case you missed it, we published a photo gallery of the dozens of recruits who made their way to the Shoe on Saturday. 
Among the most important visitors were Williams, Pryor, Xavier Carlton, JC Latham and Donovan Jackson.
Some of those potential future Buckeyes took to Twitter to talk about their visits. Here's a sampling of their reactions:
Thank you @OhioStateFB for the amazing experience at yesterdays game. I decided to stay an extra day & hang out with the Coaches & the Team! #TheOhioStateUniversity. pic.twitter.com/BpZ4L4RVtt

— ANDRE TURRENTINE (@KingATIII) November 24, 2019
Had a great time at Ohio State this weekend, thank you to the whole staff for the hospitality, cant wait to be back!! @CoachStudOL @CoachCookOL @OhioStateFB pic.twitter.com/bhUCaraPcv

— Tristan Leigh (@Leigh71Tristan) November 24, 2019
Had a good time in Columbus today! @OhioStateFB @OSUCoachKDub @ryandaytime @CoachSpader @J3M7v7 pic.twitter.com/JxozRkFqKp

— Jordan Dingle (@jordandingle21) November 23, 2019
It was a busy Saturday on the field for Eleven Warriors, and it was an even busier Sunday.
We talked to several Ohio State recruits who were on hand for the Buckeyes' big win, and we will be detailing those visits and recruitments more this week. Stay tuned.