The Hurry Up is your nightly dose of updates from the Ohio State football recruiting trail, keeping tabs on the latest from commits and targets from around the country.
2022 QB Allen "blown away" by visit
In recruiting, it's critical to get in on a player as early in their career as possible to establish as strong of a relationship as you can and begin the evaluation process at a young stage. 
Positionally, there's not a more important player to carve out a relationship with early in the recruiting process than a quarterback. That's part of how the Buckeyes landed an early commitment from Jack Miller as their fourth commit in the 2020 class, and when C.J. Stroud began blowing up this summer, Ryan Day was one of the first major head coaches to take notice and throw his hat in the ring.
That's how Ohio State's quarterback situation in 2020 came to be set recruiting-wise and has a good chance to get better with a potential Stroud commitment in December. In 2021, the Buckeyes are also set with Kyle McCord.
As for the 2022 class, the Buckeyes currently have offers out to just three sophomores in Maalik Murphy, Quinn Ewers and Steven Angeli, with Murphy the early five-star headliner.
But those are certainly not the only guys Day and Mike Yurcich have their eyes on, and one player who may become the fourth quarterback offered in the class was in the Shoe on Saturday.
Brady Allen is a young talent from Gibson Southern High School, a 4.5-hour drive away from Columbus in Fort Branch, Indiana.
Allen possesses prototypical size for a quarterback at 6-foot-5 and 196 pounds. He holds early offers from Virginia Tech, Cincinnati, Indiana and Purdue, with additional interest from Georgia, Notre Dame, Oklahoma State and the Buckeyes.
Allen, who has a tight relationship with Yurcich dating back to last year when he was a freshman and Yurich was at Oklahoma State, had been to Ohio State at least three times previously. He attended its game against Minnesota in 2018 and practice last spring, and threw in front of the coaches this June at a 7-on-7 camp hosted by the Buckeyes.
He was back at Ohio Stadium on Saturday to take in the Buckeyes' 73-14 demolition of Maryland. The Terrapins weren't the only ones taken aback by the No. 1 team in the nation.
"Last year was my first visit to Ohio State, and I was blown away with everything," Allen told Eleven Warriors following his unofficial visit Saturday. "I didn't really have a 'wow' moment, but I would say the thing today was just seeing how talented and in sync Ohio State is this year. 
"As always, it was great to get back. I got to go to the pregame meeting and skull session before the game. The skull session is a really cool thing to experience."
Allen says he tries to talk with both Yurcich and Kevin Wilson "every couple weeks," and though he doesn't yet have an offer from them, he's continuing to look at Ohio State as one of his top options.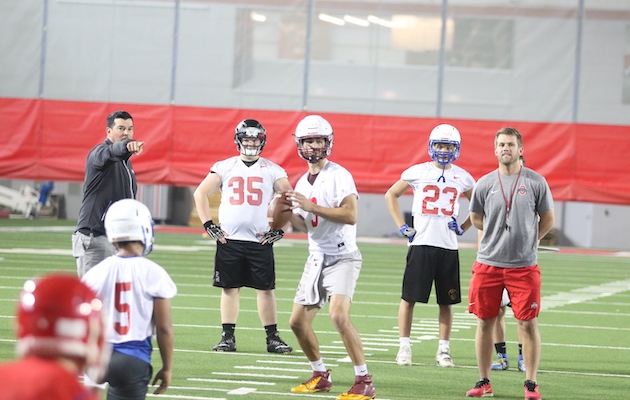 "Obviously, they're one of the top programs in the country," Allen said. "I really like what Coach Day and Coach Yurcich does with the offense, and it's appealing the guys that Ohio State puts around their quarterbacks. The main thing is finding what place fits me. I want to go somewhere where I can win and be successful."
With the way this season has been going and with how the future is shaping up, it certainly looks like he would find that in Columbus.
Sawyer now on the mend
The No. 2-ranked overall recruit in the country in 2021 is an Ohio State commit, and he's now going to have to work his way through some adversity. 
Jack Sawyer, the second-ranked player in America, has been playing quarterback since Week 3 for his Pickerington North team. He was thrust into the role out of necessity and was terrific in the role. He led his team to a playoff berth and wins five of its last six games after a 1-3 start to the season.
In the first round of the playoffs against Olentangy Orange, with his Panthers looking to pull off a big upset, Sawyer went down with a knee injury on a run up the middle near the goal line. 
Sawyer left the game and did not return. On Saturday, Sawyer told Eleven Warriors he had just undergone an MRI, and during the Buckeyes' blowout win over Maryland, he confirmed on Twitter that he would be undergoing surgery to repair a torn MCL.
Just want to say thank you to everyone who has had me in their thoughts and wishing me well. I will have my MCL surgically repaired sometime this week. If I could go back and relive it the same way I 100% would without a doubt. Im going to come back stronger then ever. Thank you https://t.co/s2e7yTtUKR

— Jack Sawyer (@jacksawyer40) November 9, 2019
Sawyer sounds very optimistic that he will make a full recovery, and his ACL is in good shape, which is great news. With Sawyer's work ethic and competitiveness, don't be surprised if he comes back just as good or better than he was.
Now, for those of you complaining that Sawyer shouldn't have been playing quarterback, or that he shouldn't be playing on offense at all, or calling his head coach an idiot for playing him at the position ... calm down. 
Just because Sawyer is going to be coming to Ohio State in two years and is projected to be a star does not mean that he should just sleepwalk through the rest of his high school career and not utilize his talents as much as possible during his preps career.
Sawyer is by far Pick North's best athlete, he's the team's biggest competitor, and he gave his team its best chance of winning. There was no better fit to be its quarterback if winning is important. And we all agree winning is important, yes?
Sawyer has absolutely loved being back at the position he played when he was a kid, and he was more than willing to step into the role.
Check out this video of Sawyer after leading his team to a huge comeback victory over Dublin Coffman on Sept. 27:
Think this was a big win for this program? pic.twitter.com/TTazIgKJ9F

— Zack Carpenter (@Zack_Carp) September 28, 2019
Doesn't look like a player wanting to coast through his high school career into college.
That win and that comeback is a memory that's going to last a lifetime for Sawyer and his teammates. That game catapulted the Panthers into that playoff berth, and they're going to remember that forever. They'll talk about that win, and how it was the start of a big turnaround this season, for years down the line with each other. Without Sawyer at quarterback, who threw two touchdowns and rushed for another in the second half after his team trailed 21-6, that comeback victory doesn't happen, and those memories would be erased. 
Sawyer showing his competitiveness by filling in at quarterback is one of the prime reasons every Ohio State fan should be excited about getting him on campus.
No Ricks flip, Maryland player decommits mid-game
LSU's impressive win over Alabama meant some bad news for any Buckeye fan hoping for the outside chance of a flip from Elias Ricks.
LSU...all I gotta say

— Eli (@Eliasricks2020) November 10, 2019
While the win in Tuscaloosa cemented the Tigers' standing on a recruit, the opposite happened for Maryland.
With the Terrapins trailing Ohio State 42-0 at halftime on Saturday, three-star offensive guard recruit Jordan White announced his decommitment from Maryland. Perhaps it was just a last-straw situation for White, but the timing of White's decision is a bit telling on where Maryland's program is right now.
With all do respect to whom it may concern, my family and I believe that it is in my best interest to Open Up My Recruitment Process and Decommit from The University of Maryland to make sure that I am making the best decision for myself and my future.

No further questions please

— Jordan White 53 (@lil_jojo19) November 9, 2019
White attends DeMatha Catholic, the same high school Chase Young attended.
Baron decision coming
It looks like there could be a commitment decision coming from four-star senior defensive end Tyler Baron.
I think Ive made my decision

— Tyler Baron (@Tylerbaron23) November 10, 2019
Baron, whose father is on the Tennessee coaching staff, visited Ohio State for the Buckeyes' win over Michigan State.
Baron is the No. 4-ranked strongside defensive end in the 2020 class. He is a native of Knoxville, Tennessee.