The Hurry Up is your nightly dose of updates from the Ohio State football recruiting trail, keeping tabs on the latest from commits and targets from around the country.
Buckeyes offer 2021 defensive tackle
Ryan Day didn't waste any time getting on the recruiting trail during Ohio State's bye week.
On Monday morning, Day made the two-hour trip up to Streetsboro High School to meet with 2021 defensive tackle Michael Hall Jr. 
The conversation lasted only about five minutes or so, but Day didn't leave before giving Hall a coveted, committable scholarship offer. It was Hall's second Big Ten offer thus far after he received a Michigan State offer this summer. 
Extremely Blessed on receiving my 2nd BIG10 offer from The University Of Ohio State...Go Bucks @rawtalentsport1 @Rivalsfbcamps @Rivals @Mark__Porter @mgoul @247Sports @OhioStateFB @ryandaytime @StrBoroFootball @markpantoni pic.twitter.com/U68JsaF8PO

— . (@MichaelHallJr_) October 28, 2019
Day's appearance and the big news left Hall extremely excited.
"Coach Day came in to the school today and talked to me for a couple of minutes, and he said he likes what he sees of me on film, and I just need to keep up the good work on the field and off the field," Hall told Eleven Warriors. 
We talked about Hall in the Hurry Up a little more than a month ago, detailing the rise of the 6-foot-3, 275-pound three-star prospect following a breakout performance at Lake Erie College's Raw Talent Sports Showcase.
That camp, plus Hall's performance at Ohio State's big man camp this summer, helped put him firmly on the Buckeyes' radar. He knew he needed to continue working hard to earn an offer, and he apparently did just that and was rewarded this week.
Hall says Day and the coaching staff love "how versatile I am as a junior D-lineman and my explosiveness of getting off the ball" and that he and the coaches discussed that he "just (needs) to get bigger, faster and stronger and keep working on technique."
We talk a lot about versatility being a factor for many recruits who are targeted by Ohio State, as Day and his staff continue searching for that trait in the players they want to bring into the program.
Hall says he is still looking at his options and won't be committing right away. He still has Michigan State, Cincinnati, Kentucky and Iowa State among his offers, but Ohio State looks like it's the frontrunner. 
Hall is not a highly rated prospect, so it might seem a bit surprising that he's getting an offer this early, but Day and company clearly like the junior's work ethic and potential to have an impact down the line.
Coaches hit the road
Day isn't the only Buckeye coach hitting the road this week, as many of the assistants are expected to be dispersed throughout the country. 
That includes offensive line coach Greg Studrawa, who visited Katy, Texas, on Monday. He visited Taylor High School, where 2021 four-star offensive lineman Bryce Foster is a potential target. Other Ohio State targets who go to other high schools in Katy include five-star 2021 defensive end Tunmise Adeleye and four-star cornerback Hunter Washington.
We would like to thank @CoachStudOL and @OhioStateFB for stopping by to talk ball and recruit the Mustangs!! #BLUE #SLR pic.twitter.com/mfHtpjY7fe

— Katy Taylor Football (@TaylorMustangFB) October 28, 2019
Studrawa's visit is part of Ohio State's continued recruiting efforts in Texas, where the Buckeyes have commitments from Jaxon Smith-Njigba and Ryan Watts and still have eyes on uncommitted 2020 Lone Star State products EJ Smith and Kevontre Bradford, plus 16 confirmed offers to 2021 players.
Saunders sees Hill comparison
K.J. Hill has been one of the more productive receivers in Ohio State history.
Even though the fifth-year senior was held to just one catch for 11 yards on Saturday, he still became the ninth player in program history to record 2,000 career receiving yards while extending his streak of consecutive games with a catch to 42 games. 
That leaves him 17 catches away from David Boston's 20-year school record of 191 career receptions. 
On hand Saturday to watch Hill's continued quest to ascend to the top of the Buckeyes' record book was a high schooler who believes he could be the next Hill – at least positionally. 
"I feel as if I would be like K.J. Hill in their offense," 2022 Westerville South athlete Kaden Saunders told Eleven Warriors. 
We talked a bit about Saunders on Wednesday and again a bit more on Friday. His recruitment is still in the very early stages, as evidenced by the fact he doesn't even have an Ohio State offer at the moment – which don't often come from the Buckeyes for in-state prospects until they're juniors, though Jack Sawyer was a justifiable exception to that rule – and no timeline for a Buckeyes offer was mentioned this weekend.
Saunders is also very high on Penn State right now, and there's a long way to go in his development as a player.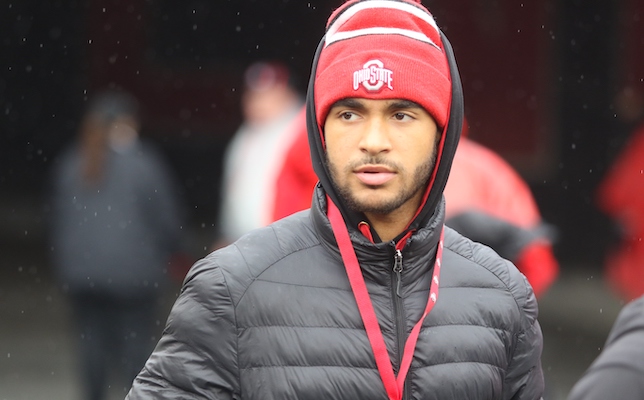 But Saunders is certainly worth keeping on the radar going forward as his speed would be a useful weapon for the Buckeyes, whether on offense or defense. 
The 5-foot-10, 165-pounder said he spent time talking with Brian Hartline and Jeff Hafley before the game – getting to know both the receiver and defensive back coaches – and fellow sophomore C.J. Hicks, who Saunders camped with at Ohio State this summer.
That was before Saunders took in the rest of Ohio State's 38-7 victory, coming away impressed by how the Buckeyes' offense "didn't change even though it was raining."
Four-star DB impressed, awaits potential offer
This weekend's visit to Columbus for New Jersey 2021 cornerback Darian "Duce" Chestnut was more about both he and Ohio State getting a feel for each other. 
In a similar way that it was for CJ Stroud, Kevontre Bradford or any other recruit whom the Buckeyes haven't had a chance to see as much of in-person as they would like, this was sort of like an interview process for the two.
"It went great," Chestnut told Eleven Warriors of the visit. "We talked about our lives outside of football. Also, they said they want to get to know me more as a person before they offer off of paper."
As for Chestnut's experience in the Shoe, that also went well, as the four-star junior prospect loved what he saw.
"This weekend was great. It was a great game by Ohio State," Chestnut said. "The atmosphere was amazing, and the fans were even better. Got a chance to meet Coach Hafley and Coach Day and even sit down and talk."