The Hurry Up is your nightly dose of updates from the Ohio State football recruiting trail, keeping tabs on the latest from commits and targets from around the country.
Buckeyes a finalist for Missouri corner
Ohio State is already on the way to landing one of the country's best defensive backs classes in 2020. With the attrition expected to come at the position after this season, it will be imperative for the Buckeyes to follow that up with another strong 2021 class. 
On Thursday night, junior cornerback Jakailin Johnson out of St. Louis announced on his Instagram that Ohio State is in his top six, which also includes Georgia, Florida, Oregon, Notre Dame and Oklahoma. 
Johnson, the top-ranked junior in Missouri, is the No. 6-ranked corner in the country and the nation's No. 69-ranked overall player.
The 6-foot, 168-pounder is a ball-hawking, fast-closing corner who isn't afraid of contact or laying a hit down and doesn't give up on plays. 
As with a few other targets who have recently included Ohio State on their final lists, the feeling is that the Buckeyes are closer to the top than the bottom of Johnson's list. Johnson visited the Shoe on Oct. 5 for the Buckeyes' 34-10 win over Michigan State and could be back for another visit soon.
Johnson is one of many defensive backs the Buckeyes are gunning for in the 2021 class, also including Tony Grimes, Jaylin Davies, Hunter Washington, Derrick Davis Jr., Hunter Wohler and Jaylen Johnson.
Jakailin and Jaylen Johnson have each already visited a game this season, and so has Wohler. Grimes and Washington have visits planned.
Cooper gets Ohio State eligibility
Following an offseason transfer between high schools, Mookie Cooper's playing status had been in limbo as awaited a final ruling from the state of Missouri. Ten days ago, he was finally ruled ineligible to play, and since then he has been watching and learning more Buckeyes football as his collegiate future awaits.
On Friday morning, Cooper learned he had been handed down a much better decision for his future, as Ohio State officially accepted him into the university. 
Hes officially accepted into The Ohio State University as of today...this has been an amazing journey since the age of 7..Thanks @brianhartline for seeing the gift that God gave him...Im so happy yall..Im officially a #BuckeyeMomH..@uheardof5 pic.twitter.com/AdwkxnwOra

— Mooksters Mom (@danitapeda) October 25, 2019
Cooper won't have to worry about that anymore, and he can enjoy his visit to Columbus this weekend even more. 
Now, let's get to a couple questions in this week's Friday Mailbag.
As always, thank you for posting these questions in the comments section and keep them coming so we can keep this thing rolling. One of these days, I'll try to not talk so much about the receivers and running backs...
Gibbs and Alabama

I talked a bit about Jahmyr Gibbs on Sunday and his situation with Alabama, plus the possibility of him committing to Ohio State soon.
I still think the Buckeyes have a good shot at him, but with Alabama now calling, that gives Ohio State plenty of trouble. 
The Crimson Tide already have two running back commits in the 2020 class in Roydell Williams and Kyle Edwards, so that's a fair question: Why would Gibbs want to be a third back in that class instead of potentially being the lone one in Columbus?
Well, frankly, one reason is that Gibbs may just be the best running back out of those three.
Williams is ranked higher on the 247Sports Composite rankings as the No. 87 overall prospect and No. 9 running back in 2020, while Gibbs is ranked No. 290 overall and No. 21 in terms of running backs. Pretty big difference. (Edwards is No. 411 overall and No. 25 at RB.)
In 247 Sports' individual rankings, however, Gibbs is rated as the better back of the two. Gibbs is ranked as the No. 128 overall prospect and No. 9 running back in the class, while Williams is No. 137 overall and No. 11 at the position. (Edwards is No. 469 overall and No. 31 at RB.)
Another reason he could want to go to Alabama is the way the program would use him in comparison to those two.
Williams and Edwards are both bigger and more physical, downhill runners. Gibbs is the shiftier, more versatile runner who looks like he'll be better used in space to make SEC, Big Ten or ACC defensive players miss. He's got tremendous balance, and he has some explosiveness with some breakaway speed.
So, looking at the 2020 class specifically, even if Williams and Edwards are the better backs, Gibbs still offers up a different skillset to where a backfield with all of them would still work – just like it would in Columbus with Master Teague III, Demario McCall, Marcus Crowley and Steele Chambers.
Whether it's at Alabama, Ohio State or Georgia Tech, Gibbs has the potential to be special, and his main role could mean being the perfect complement to a more physical runner.
Styles situation 2.0?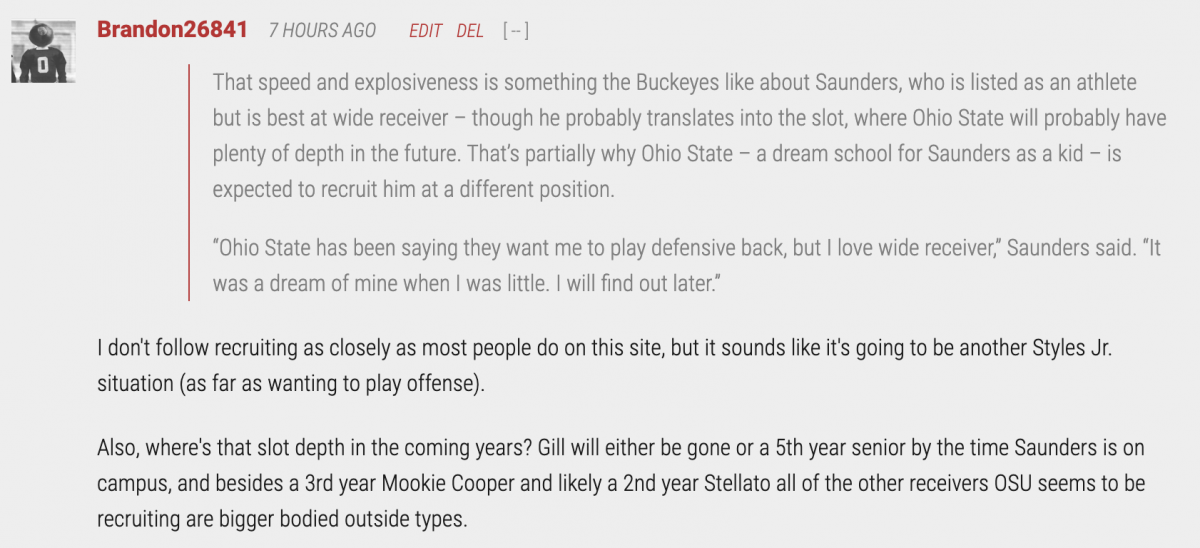 It's funny you bring that up about Lorenzo Styles Jr., because that's exactly what I was thinking from the moment Kaden Saunders told me he loves playing receiver but that Ohio State wants him at defensive back. (Also, to clarify, when Saunders said "It was a dream of mine when I was little," he meant it was a dream of his to play at Ohio State when he was little. Wanted to clear that up in case there was any confusion.)
I don't think that Ohio State coaches wanting to convert players from one side of the ball to the other will become a problem in the future in regards to prospects turning sour on the Buckeyes. But it will be interesting to monitor whether or not the situation arises again with Saunders specifically.
As for the slot depth, the guys you mentioned are who I was talking about. Jaelen Gill (assuming he stays), Cooper and Troy Stellato (if he commits to Ohio State) is depth aplenty, in my opinion. The Buckeyes only have two players listed on the depth chart at H-back/slot receiver every week in K.J. Hill and Gill, so having three in that spot I think qualifies as having depth.
Going forward, though, you bring up a great point. The Buckeyes are going to need to recruit a slot receiver type every year so they make sure to replenish the position. 
Harris a breakout player?

Jaylen Harris, who is a true junior out of Cleveland Heights, was a four-star receiver in the 2017 class, a top-30 receiver nationally and was the state's No. 4 overall prospect. 
In three years, he has yet to make much of an impact, and a lot of that is due to the ridiculous talent around him.
But you bring up a great point that next year could be Harris' time to step up and shine. 
Austin Mack, Binjimen Victor and Hill (though that's in the slot) are all gone after this season, leaving Chris Olave and Garrett Wilson as the top two receivers on the depth chart. That's a pretty awesome one-two combo to start with, but who will complement them?
I do think it's more likely that Julian Fleming or Jameson Williams who becomes that guy, but this will be Harris' shot.
At 6-foot-5, 210 pounds, he'll be the biggest receiver on the depth chart next season, and he'll have almost four years of experience being at this level. He should have a leg up in those terms so he'll get his opportunity. It'll be interesting to watch.