The Hurry Up is your nightly dose of updates from the Ohio State football recruiting trail, keeping tabs on the latest from commits and targets from around the country.
Egbuka includes Buckeyes in top 10
Emeka Egbuka, listed as the country's No. 1-ranked athlete in 2021, announced his top 10 final schools on Twitter Wednesday evening, and the Buckeyes made the list. 
Egbuka, a junior at Steilacoom (Wash.) High School, confirmed to Eleven Warriors that he will be making an unofficial visit to Ohio State for next weekend's game against Wisconsin.
1 Timothy 4:8 ..

FINAL 10 .. pic.twitter.com/2gGhnx9nvq

— Emeka 21 (@emeka_egbuka) October 16, 2019
That should excite Buckeyes fans, many of whom have asked about Egbuka's recruitment and where Ohio State stands with the 6-foot-1, 190-pound all-world talent who will almost certainly take his 4.42 speed in the 40-yard dash and 35.1-inch vertical and slide into the receivers room at whichever college he chooses to attend – and fill either the slot to go over the middle of the field or the wideout spot as a one-on-one threat up the sidelines.
But don't start thinking the Buckeyes are anywhere close to sealing the deal with Egbuka. This is a recruitment that's most likely going to stretch out over the course of the next 6-8 months, minimum, as Egbuka takes his time through the process.
"I don't think he's slow playing it on purpose," Steilacoom High School head coach Colby Davie told Eleven Warriors. "I think that's just kind of how he is. He doesn't make any rash decisions. 
"He's just such a thorough kid. He's gonna do all his research before he's even close to making a decision."
So it's likely Egbuka won't make a final decision until later in summer 2020 or in the fall.
"His timetable on when he's gonna make a decision, I would say it's probably gonna be a later deal," Davies said. "I have heard nothing about him wanting to make a decision anytime soon."
It's hard to blame Egbuka for wanting to put off a decision until after this season. Right now, his 37 catches, 827 yards and 12 touchdowns are leading the fourth-highest scoring offense in the state's 2A class, and he's focused on pushing that offense right into the program's fourth consecutive playoff berth, 18th all-time postseason appearance and perhaps its first state championship game appearance.
"Catching him in season, the only focus is his team so it's tough," Davies said. "He's definitely not the type of kid that loves the recruiting process or trying to get more attention or this or that. It's just football for him, and he's pretty focused. ... He's so focused on our season right now that I think a lot of his decision making is gonna come after this season. During the winter and spring, he's gonna figure stuff out.
"I don't think there's a timetable yet. Even putting the top 10 list out, I'm not sure if he was even in a hurry to do that, but I think he felt like kind of obligated to say, 'I should probably get this done and allow teams to know' because he's getting pressure from different places for it."
For now, that top 10 list will help Egbuka narrows his focus down from his list of 32 offers. Now, he won't have to entertain every single program asking him questions or pushing him to make a visit.
"It's not one on one (between Ohio State and Washington). I wouldn't say that."– Steilacoom High School head coach Colby Davies on Emeka Egbuka's recruitment
That list includes Washington, Alabama, Clemson, Oregon, USC, Oklahoma, Notre Dame LSU and Stanford as the other top-tier programs Egbuka has his eyes on. It's not abundantly clear, however, where each program ranks in Egbuka's mind this early in the process.
Davies is very involved with Egbuka's recruiting process. They talk all the time about different fits at certain schools. When each program offers, he doesn't sway Egbuka one way or the other, just giving Egbuka the facts based off what he knows. 
Egbuka still has several places he still wants to visit – including some on his latest top 10 list – and wants to give his due diligence to the process with more research.
That's why even though many believe his recruitment is lining up to be a one-on-one battle between Ohio State and Washington, Davies believes that's far from the case. It could be a while before such a scenario occurs.
"It's not one on one. I wouldn't say that," Davies said. "I think there's definitely a mix of teams that are near the top. It's definitely not down to two schools, that's for sure. I think every one in the top 10 is gonna be a serious contender, but then there's also kind of a first tier of 'X' amount of schools. 
"I think everyone in that top 10 he's talked about pretty frequently and have left a good impression or he's maintained a solid relationship with their coaching staff."
Egbuka is one of Brian Hartline's biggest targets in the junior class, as he could easily fit into a receivers room that would be even more stacked with his arrival. 
He remains atop Ohio State's recruiting board as one of its top targets. The Buckeyes will still be successful without him. They have enough talent that if they see Egbuka go elsewhere, it's not going to be too detrimental to the future offense. 
But it's still hard to not make bringing Egbuka onto campus a high priority, as he could bring an instant dynamic impact to the 2021 Buckeyes.
You can read more tomorrow about Egbuka's growth as a player, Ryan Day's impressive recruitment of him, where he would fit in with the Buckeyes and whether or not the high-level 2020 receivers class will make an impact on Egbuka's decision at Eleven Warriors.
Buckeye commits, targets make Under Armour All-American teams
Ohio State 2021 five-star cornerback target Tony Grimes announced he is committing to the Under Armour All-American Game. Grimes is one of the Buckeyes' top junior defensive back targets.
I would like to say, I committed to the 2021 Under Armour All-American Game @DemetricDWarren @HamiltonESPN @dhglover @BrianDohn247 @RivalsFriedman Blessed to be coached by @DeionSanders pic.twitter.com/xDLzI85Wqy

— Tony Gr1mes (@757EliteDB) October 15, 2019
Also committing the UA All-American Game was Julian Fleming. Fleming is the Buckeyes' top 2020 commit and yesterday was ranked the No. 1 overall senior recruit by ESPN.
Southern Columbia WR and top overall recruit in the nation Julian Fleming is officially committed to play in the @UnderArmour All-American Game on January 2, 2020. pic.twitter.com/nrpnuZCzI5

— Marc Malkoskie (@mmalkoskie) October 16, 2019
Wilson-Lamp, Ballard making each other better
Andrew Wilson-Lamp does not have an Ohio State offer. He may never get one. 
And though he says "it's a big goal of mine along with a lot of other football players in Ohio," even if he never gets the Buckeyes to come calling, that's going to be OK with the three-star receiver out of Massillon's Washington High School.
That's because Wilson-Lamp has still been able to gain a lot of great experiences during his unofficial visits to Ohio Stadium, of which he has made many, often alongside 2021 Buckeyes receiver commit and Washington teammate Jayden Ballard.
"If (the offer) doesn't come, being around all the time helps me understand you don't get what you want right away – or at all – all the time," Wilson-Lamp told Eleven Warriors. "It also pushes me to work harder because hard work only helps the recruiting process."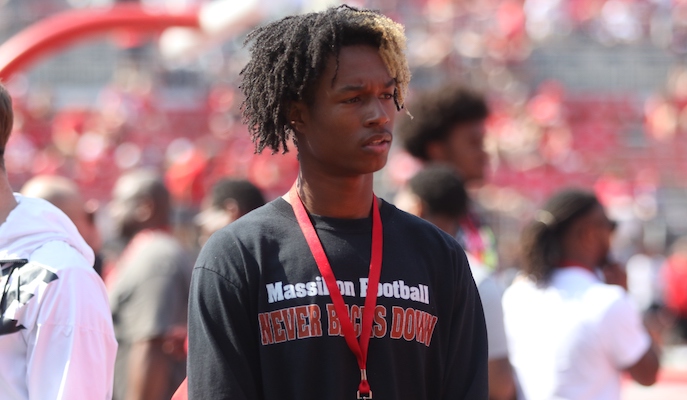 Wilson-Lamp and Ballard are cousins and have been seeing a lot of success on the field for Washington this season, as they're able to make each other better.
"Playing with him makes me way better because we always have competition, and we feed off each other," Wilson-Lamp said. "Growing up as cousins we always had that type of family rivalry I think, and being around him brings out the best in me."
The best is still yet to come for Wilson-Lamp, as the 6-foot-2, 165-pound junior looks to add to his offer sheet that features Iowa State, Pittsburgh, West Virginia, Toledo, Akron and Kent State.