The Hurry Up is your nightly dose of updates from the Ohio State football recruiting trail, keeping tabs on the latest from commits and targets from around the country.
Four-star defensive end to make decision
I just wrote yesterday about the Buckeyes' hopes of adding at least one defensive lineman to the 2020 class. 
Less than 45 minutes after that article dropped, four-star senior Jacolbe Cowan — the nation's No. 15-ranked defensive tackle, per the 247Sports composite rankings, who told Eleven Warriors he is actually a strongside defensive end — made an announcement of an announcement on Twitter. 
The time has finally come!

I will be announcing my college decision on Friday, October 4th.

Details to follow...

— J C 12 (@JacolbeCowan12) September 25, 2019
Cowan will be making his college decision at approximately 10 p.m. Friday. 
**PSA**

Jacolbe will FINALLY announce his college decision next Friday, Oct. 4th after our Homecoming game (approx. 10pm) All are welcome to come & tailgate with us pregame & celebrate with us postgame!

**There will be a live link provided**@JacolbeCowan12

— MsCowan2u (@RykeshaShamil) September 26, 2019
The Buckeyes figure to be the favorite to land his commitment.
And if you're into context clues and inductive reasoning, here's something to chew on from a pair of 2020 Buckeye commits while you wait out the week to find out Cowan's destination:
Chill on me bro

— J C 12 (@JacolbeCowan12) September 26, 2019
Much love bro! Only time will tell...

— J C 12 (@JacolbeCowan12) September 26, 2019
Sawyer enjoying turn as signal caller
When both his starting and backup quarterbacks went down with injuries, Nate Hillerich needed to find a last-minute replacement. 
Luckily for Pickerington North's third-year head coach, he's got one of the best junior football players in the nation to take the keys of the offense. 
Jack Sawyer was inserted into a Week 3 game as signal caller, and the Buckeyes' top 2021 recruit at defensive end shined. He scored four total touchdowns, leading the Panthers to their first win of the season and is now expected to be their starting quarterback for the rest of the season. 
He's loving every minute of it.
"It's definitely different. It's definitely fun," Sawyer told Eleven Warriors. "I feel like I'm on the playground at recess. I would always be the QB at recess, just running around and tossing it. Obviously, it's definitely fun, and I get to still play on the defensive side of the ball, too, so it's been great."
Went to @pnfootball practice today to talk with @jacksawyer40

Sawyer is now playing QB for the Panthers, and he's got some juice in his arm. After this throw, he yelled "That's a dime!"

I would agree pic.twitter.com/6VcLXn2YIP

— Zack Carpenter (@Zack_Carp) September 26, 2019
On the record and off the record, Pickerington North coaches believe Sawyer is exactly the type of athlete who, combined with his work ethic and dedication, could transform himself into a high-caliber recruit at quarterback if he turned his attention toward the position. 
But that won't happen. For now, and with a nod of approval from Ryan Day, Sawyer is enjoying getting back to his roots and sparking back up some fond childhood memories. 
"I never played QB for my organized team or my (Pickerington Youth Athletic Association) team growing up, but I always played on the playground in my backyard growing up," Sawyer said. "That's pretty much my QB resume.
"When I'm scrambling, I'm feeling like I'm going against my buddies in the backyard trying to find the receivers and just slinging it. It's fun."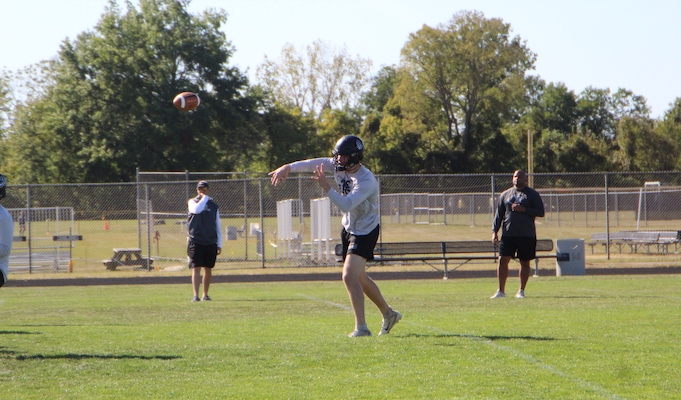 Sawyer said prior to the season he wanted to score 10 total touchdowns. He will get plenty of opportunities Friday night against Dublin Coffman, the state's No. 1-ranked Division I, Region 2 team, and Eleven Warriors will be on hand at the game.
"I think I'm at five total [touchdowns] right now, and there are a lot of games to be played still so I don't wanna say anything," Sawyer said. "But hopefully I can get there."
Hillerich says the Panthers will get Sawyer some extra rest on defense to balance his extra snaps at quarterback.
Troy keeps racking 'em up
Remember that scene in "Friday Night Lights" when Boobie Miles is shuffling through his recruitment letters and they're getting jumbled up because there are so many?
That's Troy Stellato right now. 
And you might be getting tired of my seemingly daily updates on a three-star receiver's offer sheet, but that's fine. The kid is coming off an 11-day span of being offered (in order) by Ohio State — the first school to jump on and start his offer spree, offering last Monday — Florida, Penn State, Pitt, LSU, Alabama, Georgia, Miami, USC and Georgia Tech. 
Wow this is a huge one!!! After a great talk with @kearycolbert and @CoachHarrellUSC I am extremely honored and blessed to have EARNED an offer from The University of Southern California #FightOn #GoTrojans @JohnGarcia_Jr @Redskins32 @Rivalsfbcamps @SleeperAth1etes pic.twitter.com/9cpjDBSOkj

— Troy Stellato (@troystellato) September 26, 2019
There are some higher priority 2021 receivers ahead of Stellato the Buckeyes have a good shot at getting their hands on, such as four-stars Marvin Harrison Jr. and Lorenzo Styles Jr., who picked up an offer from Northwestern last night for his 20th total offer.
The Buckeyes have a great shot at getting both, helped by Harrison being teammates with Buckeyes quarterback commit Kyle McCord and Styles being childhood friends with Sawyer, and each is getting a strong push from Sawyer and Reid Carrico.
But it would still be fascinating to see how much Stellato could grow in Brian Hartline's system, one in which the 6-foot, 170-pound receiver who ran a 4.43 in the 40-yard dash at Miami's Nike Opening Regional could potentially thrive. 
Stellato is visiting Alabama this weekend to witness another system in which he would flourish, possibly teaming up with Bryce Young — one of the top quarterbacks in the 2020 class who has the potential to carry over the torch from Tua Tagovailoa. 
On the CBS Sports Cover 3 Podcast, Barton Simmons laid down his belief of how special Young is and believes his flip from USC means Alabama will be able to keep its offense an "explosive, pass-friendly system that they've started to recruit to."
Young would have at least two years to work with a player like Stellato before moving onto the NFL, while Justin Fields will be gone by then. Young's flip, and let's not forget Jake Garcia's commitment to USC, could have a big impact in Stellato's recruitment. 
Stellato's offer announcement came about 10 minutes after Michael Drennen II announced he had also received a USC offer. 
Drennen and Dublin Coffman will be in action against Sawyer and Pickerington North on Friday night at home.