The Hurry Up is your nightly dose of updates from the Ohio State football recruiting trail, keeping tabs on the latest from commits and targets from around the country.
Jack Miller is Healthy for Senior Season
It's been a rough summer for Ohio State commit Jack Miller, who battled through a back injury – a latissimus dorsi strain – throughout 7-on-7 tournaments and the Rivals 5-Star Challenge, but he finally decided to shut himself down for the Elite 11 Finals in Frisco, Texas, which was a major disappointment for one of the top quarterbacks in the country. 
Now, though, Miller is healthy as he enters his senior season prepared to lift Chaparral to new heights. The Firebirds have gone 5-6, 7-5 and 5-6 during his career at the high school level, granted Miller was injured for parts of the 2018 season. With a healthy Miller, Chaparral could have its best season during his four years, and Miller was cognizant of that in Frisco, telling Eleven Warriors he thought about his teammates first when he considered sitting out the rest of The Opening Finals.
After not competing much in the Elite 11 Finals, Miller saw a ratings drop from some national recruiting sites, including a 65-spot fall to No. 214 overall in 247Sports' ratings. The drops combined for a 106-spot drop in the composite ratings to No. 177 overall and the No. 6 quarterback in the nation, after being considered No. 3 in July. 
That doesn't bother Miller, he told Eleven Warriors on Monday.
"The only thing that bothered me was not being able to go full-speed in practice with my team for a couple weeks," Miller said. "I don't really care about anything besides winning football games."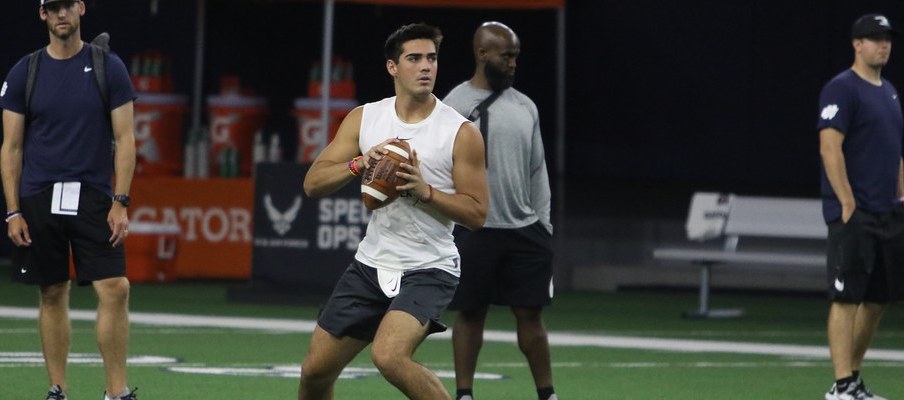 Miller sat out a few weeks to rest his back, but he is back to throwing footballs now. He said he's "all good" and is building momentum into his senior year again. 
The other news surrounding the Ohio State quarterback position is whether the staff will bring in a second quarterback in 2020. With a handful of spots left to fill, that is now a real option for the Buckeyes. But if they add a second quarterback, it won't be until the later months of 2019. 
C.J. Stroud caused some chatter around his recruitment at the Elite 11 Finals in July, and Ryan Day reached out to him. The talks there are consistent, but Stroud might be too valuable of a prospect at this point to eventually land in Columbus. With a quarterback of Miller's stature and Day's commitment to him for the future, Stroud might not want to put himself in a position where he'd be spending most of his career as a backup if other programs, like Cal, Utah, Washington State or Baylor, are looking to him as a future quarterback for their programs.
A second option still on the table is Texas quarterback Kade Renfro, who won the Elite 11 Regionals MVP award in Houston but is recovering from two serious hip injuries. He's healthy now and ready to show programs that he can play at a Power Five level, and Ohio State is waiting it out with him too. 
Three-star Pickerington Central quarterback Demeatric Crenshaw – Lorenzo Styles' quarterback and the No. 18 dual-threat quarterback – makes a lot of sense too if Ohio State does in fact go with the second quarterback option.
Shadrach Banks, Chris Thompson Commit Elsewhere
Four-star 2020 safety Chris Thompson Jr. and four-star 2021 wide receiver Shadrach Banks both announced their commitments recently. Thompson picked Auburn, and Banks chose Texas A&M.
If you never leave, you never learn... Be comfortable with being uncomfortable ~ Lebron #COMMITTED pic.twitter.com/ymEFnBS5u4

— ChrisThompsonJr (@cdotcaash_) August 4, 2019
Thompson was in Columbus for an official visit June 14, but he had been looking hard at other programs, like Alabama, USC and, obviously, Auburn. While Ohio State was certainly in the mix, it seemed like Lathan Ransom or Makari Paige would be the safeties the Buckeyes would likely land. 
Banks made his commitment a bit earlier than expected. He was originally classified as an athlete, but his latest update classifies him as a wide receiver. And Ohio State is inundated with receiver targets in the 2021 class at the moment. 
Banks included Ohio State in his top schools list, but he decided to stay in-state, which marks the first time since 2000 that a prospect form North Shore has chosen Texas A&M.
Why Recruiting is Slow at the Moment, Looking Ahead to Season
It's slow-going on the recruiting news front at the moment, and much of that can be attributed to the current dead period, slated to last until Aug. 31. It feels especially slow now after Ohio State had one of its busiest July recruiting months in recent history and piled up commitments to a total of 22, which could have been 24 at the beginning of August.
While the class could swell to more than 25, and, in fact, is expected to reach a number higher than that, the commitments will likely come in slowly at this point too. But the staff has needed to hit reset in some regards after gathering some top targets and addressing most areas already. A few areas left to look at are running back, defensive line and cornerback, where Ohio State would like to add a third prospect – preferably Elias Ricks, but Ryan Watts could be an option, too. 
Prospects always change course late in the cycle too, so, while Ohio State's commitments all seem strongly committed at the moment, that's not the case for every program's commits. There will be a surprise decommitment from a program, and depending on who it is, Ohio State could make a push if it fits. 
At the moment, though, position coaches are preparing the team for fall camp and for the beginning of the season at the end of August. That means a lot of the recruiting efforts are shifting hands to player personnel and other assistants as the season moves forward.