Ohio State quarterback commit Jack Miller won't participate in The Opening Finals, but he hopes to do some recruiting while big 2020 targets are in Frisco, Texas.
Jack Miller doesn't voluntarily sit out of many competitions. In fact, his willingness to play through an injury to get his 7-on-7 team to the finals is what led him to choosing to sit out of the final two workouts at the Elite 11 Finals.
About three weeks ago, not knowing what the pain was during a 7-on-7 tournament, he pushed through the injury until the end of the tournament, then a doctor told him it was a strain to his latissimus dorsi that was giving him pain. Miller still chose to participate in the Rivals 5-Star Challenge.
After one workout at the Elite 11 Finals, Miller chose to shut himself down and take mental reps and learn from former NFL quarterback Trent Dilfer and current Oklahoma quarterback Jalen Hurts while the other 19 quarterbacks showed their skills.
"I've been kind of thinking about my team at home and how much they've been through this season, and I put them first just because that's the bigger goal than this," Miller told Eleven Warriors after the final workout Sunday. "I know my abilities and everyone else out here knows hat I can do, so it doesn't really affect me too much. I'm just there experiencing it and soaking in all the information and learning as much as I can."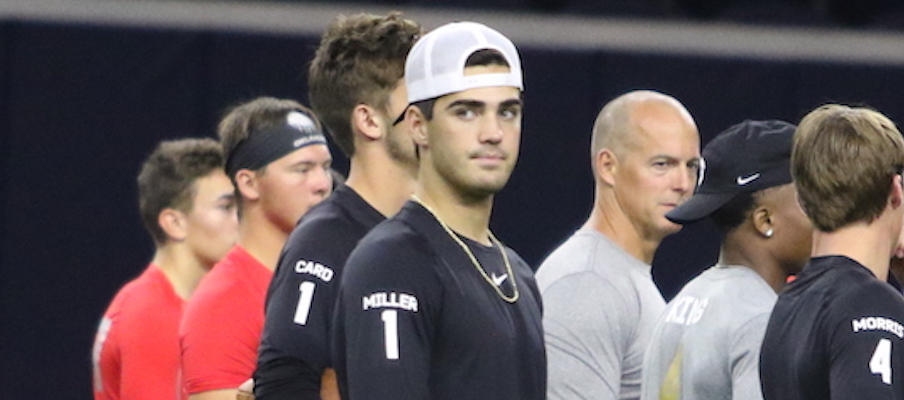 According to Miller's father, Jack Miller, the younger Miller's Elite 11 camp began much better than his stint at the 5-Star Challenge did. While still suffering through some of the pain and discomfort in Atlanta last week, Miller received some critical reviews from those who didn't know what he was dealing with.
In Frisco, however, Miller's throws began as some of the best in the competition. But after some time, Miller decided it wasn't worth it, after he was stretching and adjusting his back after every rep.
He got to break the news to Ohio State head coach Ryan Day on Saturday night.
"He text me last night and asked me how I was doing," Miller said. "He said I could do whatever I wanted. He said, 'I don't care if you go out there and throw or if you sit out. It doesn't matter to me.' It was my call. I wanted to throw yesterday and see how it went. It didn't go as I wanted it to, so there wasn't any reason to risk anything."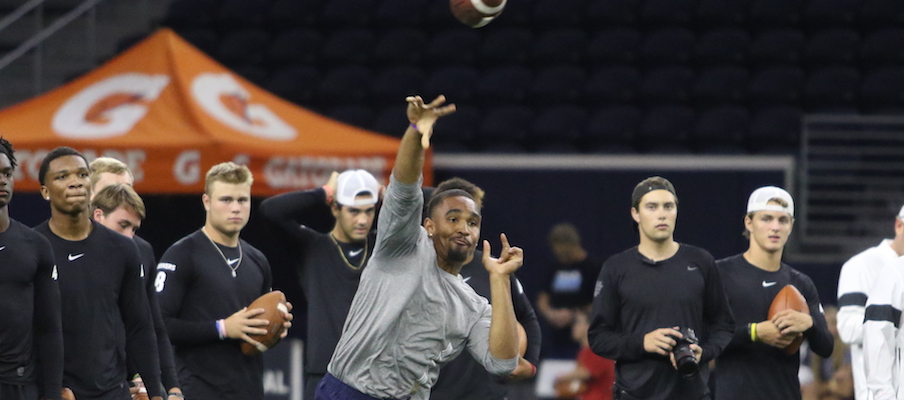 The injury doesn't threaten Miller long-term and only takes around four or five weeks to heal, but Miller's father said he only gave it "about seven days" to heal before the 5-Star Challenge. Now, Miller said he plans to take about a month off to get back to health and start his season – which is only about seven weeks away – on the right foot.
After the first camp, though, Miller received the news that both Cody Simon and Darrion Henry had committed to Ohio State, which he said lifted his spirits.
Yall, theres still more

— Jack Miller (@jackjamesmiller) June 29, 2019
Miller has been putting in work on the recruiting front for the Buckeyes, with two top 2020 recruits – five-star running back Bijan Robinson and four-star safety Lathan Ransom – in his neck of the woods.
"If everything keeps going the way I want it to, and I keep putting in that work, I would say hopefully some kids from down south – Tucson, Arizona," Miller said. "That's who I've been working on, so hopefully pretty soon we'll be hearing from them."
Even though the Elite 11 Finals have finished and The Star will transition into hosting The Opening Finals on Monday, Tuesday and Wednesday, Miller will stick around Frisco to help recruit for Ohio State. Some guys he is looking at are Missouri receiver Mookie Cooper, North Carolina defensive lineman Jacolbe Cowan and Ransom.
"Yeah, we've got Mookie, Lathan, Jacolbe. We've got everybody," Miller said about targets for recruiting.