The Hurry Up is your nightly dose of updates from the Ohio State football recruiting trail, keeping tabs on the latest from commits and targets from around the country.
Updates on the 2020 Running Back Recruiting Efforts
It's been a week since Bijan Robinson notified Ohio State he would be looking elsewhere for his commitment after being a near lock for the Buckeyes 2020 class and since Jaylan Knighton was swayed by Florida State. Both of those backs are now committed, and while Ohio State won't surrender to those commitments, the staff went back to the drawing board and began contacting nearly every running back it had developed a progressing relationship with before feeling like they'd gotten both Robinson and Knighton.
After the week that seemed like it would never end for the Buckeyes, there are another couple of running backs that look to be moving into those roles Ohio State has been looking to fill since last Sunday.
The plan for the backfield within the 2020 class is still to add a lead back – or pure running back – and an all-purpose back. Right now, the two backs that look to have the best chance at eventually being in those spots are Texas running back Tre Bradford and Dublin all-purpose back Mike Drennen.
Bradford is the No. 18 running back in the class, which is about even with some of the running backs that looked to be fitting into the second running back spot – DeaMonte Trayanum, Blake Corum, Sam Adams, Lawrance Toafili – when Ohio State was looking at adding three backs in the class. But a drop-off from Robinson is to be expected.
The positive takeaway from that tier of national running backs is that they have an unusual upside in comparison to some classes of the past. Backs like Bradford, Trayanum and No. 12 running back Seth McGowan are all top-20 running backs but have potential to be as good as any top 5-to-10 running back, as do most of the others.
Bradford has been talking to Ohio State for about a week now, and the relationship has progressed about as well as one can progress within a week. He earned his offer mid-week last week and likes the idea of leaving Texas to play football for a program like Ohio State, particularly with the opportunity to see the field early. 
Drennen is a name very familiar to Ohio State fans. The No. 5 all-purpose back has been building his relationship with Ryan Day for a long time now, longer than some current commits even. But talks with him began to cool down heading into the summer, so much so that he began expanding his interests and released a top-10 list at the beginning of July. Ohio State was on the list, but it appeared he might need to go somewhere else.
July 4, 2019
Drennen is an in-state prospect that has been willing to stretch out his recruitment to find the right place, and with a spot designated for his skillset open at Ohio State, being about 15 minutes away from home and talks between both parties ramping up in the last week, Drennen could be a good option. He won't run between the tackles like Knighton could have, but he does bring a shiftier body that could work more in slot or H-back in dynamic ways.
Obviously, the Buckeyes are not out on EJ Smith in the slightest. Smith just doesn't have the same relationship as Drennen has with Ohio State. Bradford, Drennen and Smith are the top three running backs left on the board for the Buckeye staff.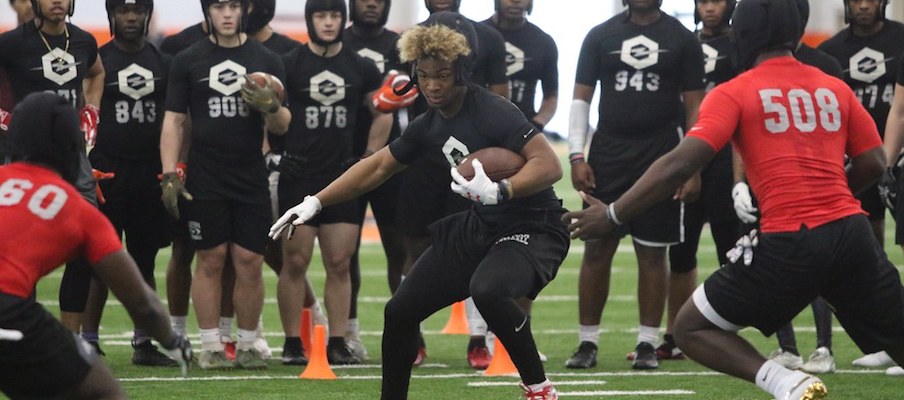 Cincinnati running back Miyan Williams told Eleven Warriors that Ohio State had not contacted him as of mid-week last week, and it appears the Iowa State commit won't be getting looks from the Buckeyes. Trayanum's relationship with Ohio State, which was strong just a couple months ago, is now deteriorating, and it seems like he will be sticking with Arizona State.
247Sports also reported that Ohio State will not be approaching in-state Kentucky commits Torrance Davis and JuTahn McClain.
Tank Bigsby Announces Commitment Date, Top Schools
When Ohio State received the news from Robinson and Knighton last weekend, there were countless numbers of possibilities Ohio State could have taken to address the newly opened spaces within their 2020 class. I listed those options, and one of those possibilities was No. 7 running back Tank Bigsby.
Bigsby hadn't decided on a top schools list or where he would want to commit, and the top-two schools appeared to be Georgia and South Carolina, who had both already added top-10 running backs. There seemed like an opportunity to jump in and start a conversation, but in the initial article, I said I thought the Buckeyes might have been just late on Bigsby, though. Over the weekend, Bigsby proved that to be a correct assumption. 
Rivals reported that he will be committing Friday at 6:30 p.m. and will be choosing between Auburn, LSU, South Carolina and Georgia. He's already chosen the school he wants to play for, and it's likely Auburn. 
Once Bigsby commits, Zachary Evans and Jalen Berger will be the only top-10 running backs remaining undecided in the class. Evans could land anywhere, but it doesn't seem like it's Ohio State. Berger has been said to be viewed as a prospect who likely won't play in a lead-back role at the college level.