The Hurry Up is your nightly dose of updates from the Ohio State football recruiting trail, keeping tabs on the latest from commits and targets from around the country.
Grant Toutant Makes Trip to Columbus with Family
Ohio State commit Grant Toutant took his official visit to Ohio State the weekend that he flipped from Penn State in June, but he wanted to bring his whole family to meet the coaching staff and see the campus last weekend. So he brought his parents and his three siblings. His two sisters and one brother hadn't seen Ohio State yet.
"It was great," Toutant told Eleven Warriors. "I got to spend pretty much the whole time with Coach (Greg Studrawa) talking football. My Family went on a tour while I did that. Then all of us sat down with Coach (Ryan) Day for about an hour and talked about everything."
One thing that should be known about Toutant is that he values his family as much or even more than most prospects, so this trip was important to him. He said he sees his aunt and his grandparents nearly every day. So seeing his little siblings interact with Day and the staff was important.
On the visit, he played basketball with Studrawa and Ohio State commit Josh Fryar, as well as his sister, Hannah, who is getting looks at the college level from programs like Yale, Purdue and Youngstown State. Apparently, his sister beat everyone.
Toutant's other sister, Hailey, who he described as "developmentally delayed," also had an interaction with Ryan Day.
"She went around pointing out all the blue she could find in the building," Toutant said. "She asked Coach Day why they had yellow on the charts in the weight room if they don't like blue and yellow. He told her because it's gold, like a gold medal. Then she told him it should be gray, like platinum and their colors, and platinum is better than gold. He legit didn't know what to say, so he called (Director of Player Development Ryan) Stamper and said that had to be discussed."
Toutant's brother is entering high school this fall, and Toutant is convinced he will play somewhere eventually. His brother participated in a Penn State camp over the summer, and the Nittany Lions' staff like him, "but I'm sure that's over now," he said.
Overall, the visit was an opportunity for Toutant to sit down with Studrawa, watch film, discuss how he can improve and prepare as a senior and talk about football with the staff. He also spent some time with Ohio State commit Paris Johnson Jr., who was in Columbus from Cincinnati.
"It was fun and relaxed," Toutant said. "Just great to get back. It feels comfortable and like home. Sometimes still can't believe I'll be playing there."
Chief Borders Makes First Trip to Columbus
Georgia athlete Chief Borders has been hoping for an Ohio State offer since he first talked with Eleven Warriors in April and then again in May. Now, it appears his patience could be rewarded sooner rather than later, after he took a visit to Ohio State last weekend. 
"Man, it was great. I had a great time," Borders told Eleven Warriors. "It was dope, for real. Real fun."
O H ... I O Man I Had A Great Time At The Ohio State University @OhioStateFB @CoachWash56 @BALLERSCHOICE1 po
Thank You #GoBucks pic.twitter.com/ziKJV4rxwO

— H F M K (@ChiefBorders) July 30, 2019
I saw him baffle other prospects at the Under Armour Cincinnati All-America Camp in April. He's part of the hybrid group that can play linebacker – where he is being recruited by Ohio State – but also play running back and wide receiver. His size, at 6-foot-3, 211 pounds, combined with his speed and athleticism is fairly rare. 
He breezed by linebackers trying to cover him in Cincinnati but also out-muscled defensive backs, and that's not even where he's being recruited to play. His ability to stay attached to the hip of running backs seemed easy and natural. He eventually got the offer to play in the Under Armour All-America Game.
Greg Mattison and Al Washington have been in talks with Borders since they were both at Michigan, so the relationship has transferred over to Columbus, and Borders feels confident that he will get the offer soon.
"They're ready to offer me, and they know what I can do," Borders said. "Right now, it's a matter of time."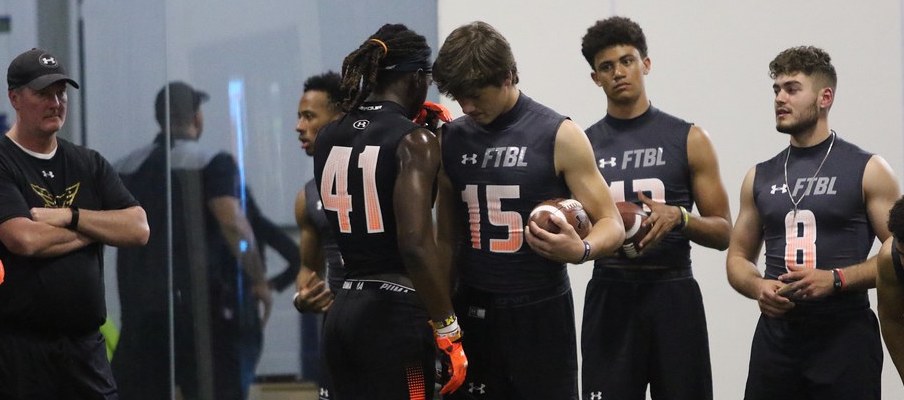 If there is a prospect campaigning for himself, it is Borders. He's been everywhere, including Georgia, Florida, Alabama, Clemson and Illinois. He saw his offers list rise from single-digits to 22 in just a few months, including offers from Tennessee, Georgia, Oregon, Auburn, Arkansas, Nebraska and others. 
The good news for Ohio State in terms of standing out to a Georgia prospect with serious offers from the SEC is that Borders spent much of his childhood in Chicago and still has family living there. He is considering playing for teams outside of the SEC, which is a good thing for other conferences because when discussing the future at the linebacker position – a bigger, yet athletic body that can stretch the field laterally with his speed and length – Borders fits the mold.
"Education really means a lot to me in my career," Borders said. "I'm going to be a pediatrician, so for Anthem to have a medical center on deck for pre-med students is a blessing. And Ohio State is also known for winning. They are known for Big Ten Champions, and they have a brotherhood no one can break. It was great."
ESPN300 Ratings Released
ESPN released its Top300 ratings for the 2021 class, and they are – different.
This is how several Ohio State targets included in the ESPN300 were rated in the top-100 for the Worldwide Leader in sports.
After the ESPN ratings were applied to the 2021 class' composite ratings, Jayden Ballard finished at No. 94 overall, meaning all four of Ohio State's 2021 commitments are top-100 prospects.
Jack Sawyer is also no. 1 overall in composite ratings for the first time.