The Hurry Up is your nightly dose of updates from the Ohio State football recruiting trail, keeping tabs on the latest from commits and targets from around the country.
Recruiting the DMV – District-Maryland-Virginia – area used to be much easier for Maryland. A large part of the Terps' rosters throughout the program's history have been comprised of the best athletes from that region of the country. But since 2017, when Maryland put together the 18th-best class in the nation with three of the top-five players coming out of Maryland and three top-20 Virginia prospects, Maryland hasn't recruited the area as well.
"It's become  a lot more competitive," Maryland head coach Mike Locksley told Eleven Warriors on Thursday at Big Ten Media Days. "It used to be a big secret about the DMV. The area is super talented with players."
Even when Maryland was bringing in those prospects, like Anthony McFarland, Deon Jones and Jaelyn Duncan, Ohio State was still able to pluck out some of the top players in the states, as Isaiah Prince chose the Buckeyes as the top Maryland recruit in 2015 and Chase Young in 2017.
But what marked the major drop-off by the Terrapins was when Locksley, the former offensive coordinator and quarterbacks coach at Maryland, left the program for Alabama once D.J. Durkin took the reins in 2016.
That's when former Ohio State quarterback Dwayne Haskins became less tied to the program and to his verbal commitment to Maryland – the commitment he made the month before National Signing Day in February 2016.
The two had and have a close relationship. Locksley attended Haskins' draft party in April, met him for his birthday and still gets dinner with Haskins' father from time to time. Had Locksley stayed on at Maryland, it wouldn't have guaranteed Haskins signing with Maryland but would have certainly slowed the process of his flip to Ohio State.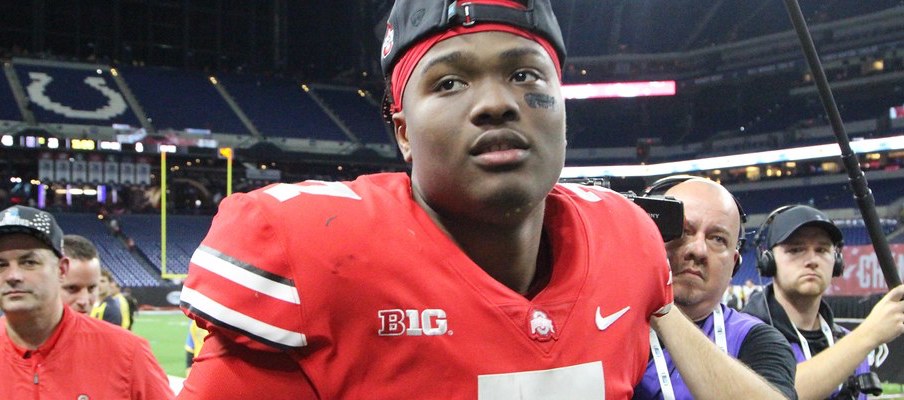 After the first, and frankly impressive 2017 signing class for Durkin, his next signing class in 2018 was less impressive, as Maryland finished 28th in the country and still didn't sign the top Maryland recruits, though bringing in the No 6 and No. 7 prospects from the state. That same year, Maryland's No. 2 prospect Taron Vincent signed with Ohio State.
In 2019, things began to unravel for Durkin and the recruiting class showed it. Though they finally landed the top recruit in the state in safety Nick Cross, only two other top-20 Maryland prospects signed – the three were the only other top-20 DMV signees in their respective states. The class finished 47th in the nation, and 2020 isn't shaping up any better, as Locksley takes the helm again, after serving as interim head coach in 2016.
No top-20 Maryland prospects are verbally committed to Maryland yet, and Mitchell Melton, who is rated as the No. 19 recruit in the state, committed to Ohio State earlier this month. That's not too much of a concern for Locksley, though, because he not only has strong ties to Maryland recruiting, perhaps some of the strongest in the country, he also understands the Durkin era took a toll on in-state recruiting.
"We'll need to develop those same types of relationships with the players in the DMV area, which we've begun to do," Locksley said, referring back to his relationship with Haskins. "A lot of people say, 'Well you don't have a lot of local guys.' Well, as it was with Dwayne, the recruiting process is a two-year, three-year cycle."
It's become a lot more difficult to bring in the top recruits in the area, harking back to the competition that Locksley mentioned. He once had eventual All-Pro NFL linebacker Shawne Merriman commit to his program as a sophomore in high school. Merriman didn't take any other visits than his visits to Maryland. Locksley did the same with eventual NFL tight end Vernon Davis as well, and former Minnesota Viking linebacker E.J. Henderson signed with Maryland as a two-star commit to Buffalo who the staff flipped and developed.
Now, in the 2020 class, MarShawn Lloyd, who attends DeMatha Catholic, where Anthony McFarland and Tino Ellis went and where Chase Young attended as well, committed to South Carolina after not being taken by top programs in the country like Alabama and Clemson. Recruits are also headed to more national programs than ever before too – schools like Clemson, Alabama, Oregon, LSU, Tennessee and Texas A&M.
While Maryland is reeling in the DMV, Ohio State is taking advantage. The Buckeyes have offered most of Maryland's top 2021 prospects and a few top Virginia recruits as well. Those are some of the strongest relationships Ohio State has in the class already.
Tony Grimes, the No. 1 2021 Virginia prospect and the No. 2 cornerback in the country, has visited Ohio State and is close with the staff. Current Ohio State linebacker Teradja Mitchell, who is also from Virginia Beach, is a crucial part of Grimes' recruitment with Ohio State. Ryan Linthicum, Bryce Steele, Monkell Goodwine and Greg Penn are all top targets for Ohio State in the class too.
"I grew up watching Maryland play, Stefon Diggs and guys like that, so I always wanted to go there My school was only like five minutes away from Maryland," Maryland cornerback Tina Ellis said. "Usually it's about they just want to get away from home. That's usually what they say. I'm fine. I like being home. I like playing in front of my family and friends."
While Locksley will surely get a grip on DMV recruiting sooner than later, the door is open for Ohio State to take in a rare group of talented players from the region, which could pay dividends in the long run for the Buckeyes.