The Hurry Up is your nightly dose of updates from the Ohio State football recruiting trail, keeping tabs on the latest from commits and targets from around the country.
Kourt Williams Still Weighing Options
Four-star linebacker Kourt Williams knows his decision is coming soon, but he doesn't know exactly when or even exactly where he will choose to go. Despite having one of the longest official visit seasons of the 2020 class – from April 26 (Texas A&M) to June 21 (Ohio State) – Williams told Eleven Warriors on Monday that he is "still not sure yet."
The California standout said his decision is about a week away but isn't committed to a date at this point because he is still deciding on which program is best for him. 
"It's more of 50/50 with the schools," Williams said about what is preventing him from making a decision. "I just know it's coming up soon."
After heading back to California from Columbus following the Buckeye Bash & Barbecue, Williams began to have conversations with his family about where he would choose to go and has kept the product of those conversations close to his chest.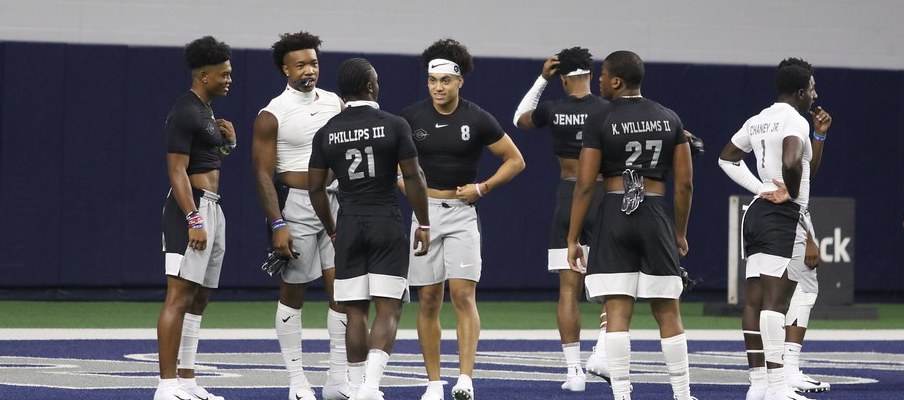 The bullet position – its youth within the Ohio State program, the opportunity for playing time and its exact match for his skillset – has been a driving force in separating Ohio State from the other five programs he's considering. 
But secondary coach Jeff Hafley, with his ties to the West Coast, has proven that Williams is a priority for the Buckeyes by continuing to develop his relationship with Williams. That continued through Williams' second visit to campus in June, when he was also able to see how the program is progressing as a whole.
"My relationship with the coaches and the direction their program is going," Williams said about what has stood out to him about the program recently.
Ohio State commits also did their best to recruit Williams at The Opening Finals, but Williams sat out mots of it because of a minor shoulder injury. Clark Phillips was able to spend some time with him in Frisco, though. 
The safety-linebacker hybrid prospect is deciding between Texas A&M, Tennessee, Penn State, Oklahoma and Ohio State, and the Aggies made a big impression in April. But he's whittled his way down to an unknown number of schools, he said Monday.
Ohio State's chances of earning the commitment of Williams is positive but not particularly a lock, as some of the language surrounding his recruitment has indicated recently.  
Lathan Ransom Commits to Ohio State
In case you clicked into this article via social media or before you saw much of the other site (I could only hope for that much enthusiasm for the Hurry Up), four-star Arizona safety Lathan Ransom has committed to Ohio State.
Ransom is a physical force at his position and, when considering the top coverage safeties in the country, he has to be considered the best. His ball tracking skills and the way he reads an offense's passing strategy this early in his development is second to none. 
One play that stands out was one he made at The Opening Finals, when he tracked a ball near the first pylon on the right side of the field with great closing speed. He leapt to challenge the receiver and Elias Ricks and took the ball away from both of them. His disregard for his body for the sake of making plays in coverage will be what separates him form other defensive backs in the Big Ten.
Lathan Ransom is a true ball hawk. This is his second interception in 7-on-7 play. Its a good one. pic.twitter.com/YgMPqIdvTz

— Taylor Lehman (@TaylorRLehman) July 3, 2019
He can also certainly contribute in stopping the run and is a physical defender that any opposing player needs to account for. 
Ransom's commitment pushes Ohio State's recruiting class to No. 2 in the country, passing LSU and Alabama.
Vernon Broughton Postpones Commitment
Texas defensive tackle Vernon Broughton was expected to commit on his 18th birthday Monday, but he announced via Twitter that he has postponed that commitment in hopes of enjoying his birthday.
At this time Im post-poning my commitment announcement, to enjoy my 18th birthday with family & friends!

— Vernon Broughton ll (@thekid_bigv) July 16, 2019
The defensive tackle all but eliminated Ohio State from his decision by announcing his top-two of Texas and Texas A&M via Instagram over the weekend. That news isn't particularly surprising, as he's been a prospect that has been expected to stay in-state unless an opportunity persuaded him out. 
It's unknown when exactly he will make his announcement now, but it should be sooner rather than later.