The Hurry Up is your nightly dose of updates from the Ohio State football recruiting trail, keeping tabs on the latest from commits and targets from around the country.
Amari Daniels Visits Ohio State During Camp Season
One of the visitors that fell through the cracks of Ohio State's June camps coverage was Miami all-purpose back Amari Daniels. Daniels is rated as the No. 2 all-purpose back in the 2021 class and made the trip to Columbus with his mother for the second one-day camp June 15. 
"They made it feel like home," Daniels told Eleven Warriors. "They were basically just saying why this program is a fit for me and why I should come there."
Even though Daniels is classified as an all-purpose back and can catch the ball out of the backfield, he is certainly a potential pure running back at the college level. He missed three games as a sophomore in 2018 for Miami Central, but in six games he carried the ball 44 times for 332 yards and five touchdowns – on pace for 498 yards, a productive number for a sophomore. He caught just five passes.
He is getting a lot of Power Five attention but said schools that are near the top of his early list are Ohio State, Georgia, Texas A&M and Florida State. He said he's also "working it out" with Miami.
On his visit to Ohio State, he had conversations with Ryan Day and Tony Alford, who he's developed a good relationship with at this point.
"He was telling me, 'This is RBU,'" Daniels said about Alford. "He's coached some of the greats like Ezekiel Elliott and (Mike) Weber. They produce a lot of running backs, so he was basically just telling me that this would be a good fit for me."
Florida and Miami schools tend to get to Miami's top recruits early in the process, and for Daniels, it hasn't been different, but Daniels had been hoping to get out of state for visits to experience something new, he said.
"Most of it is experiencing more than just Florida," Daniels said. "I just want to expand my horizons and see how other schools look. At first, I did really look at the schools in Florida, but it's nothing I haven't really seen before. So I go out of state and see states like Georgia, Texas, Ohio, Tennessee."
Daniels participated in one camp this summer at Texas A&M but rested his foot, where he suffered a minor injury in late-spring that kept him out for about a week. He wanted to be fresh for his summer workouts that he's now started.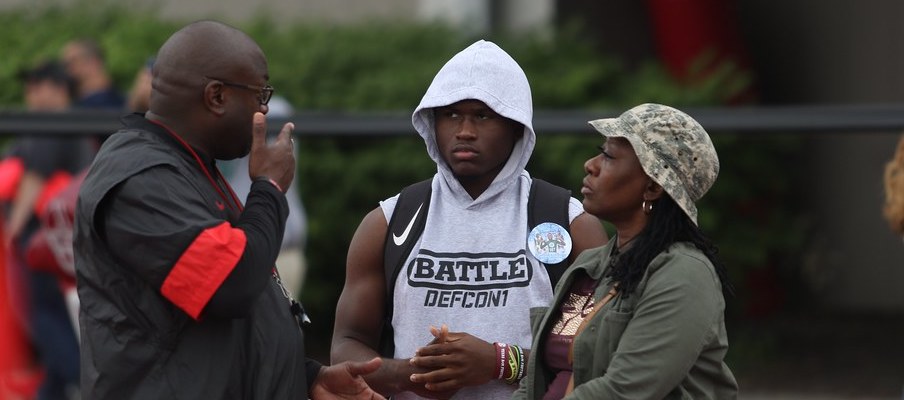 Both of Daniels' parents are educators in Miami, so academics are a crucial part of what Daniels is looking for in a school, and he's intrigued by Ohio State's architecture program in addition to its football program. 
He has scheduled a visit for Ohio State's game against Michigan on Nov. 30 but doesn't have any other games scheduled for the season, though he said he will be visiting other schools for games.
"They're building a new program because they have new coaches," Daniels said. "Coach Day is getting it right for the players on and off the field. Ohio State is near the top of my list right now, so they're looking good."
Elias Ricks Transfers, Will Play With Lejond Cavazos
Five-star cornerback and LSU commit Elias Ricks announced Wednesday afternoon that he will be transferring to IMG Academy, meaning he will be playing next to his good friend and Ohio State commit Lejond Cavazos.
A roster update to the IMG Academy 2019 roster included an "Eli Ricks," who is expected to be a senior and play cornerback this fall. IMG is one of the schools rumored to be a landing spot for the LSU commit who is transferring from Mater Dei in California in order to graduate early.
Cavazos, who is one of the best 2020 commit-recruiters for Ohio State, hasn't been shy in recruiting Ricks to Ohio State, and Ricks has a strong affinity for the Buckeyes, dating back to Urban Meyer's time as head coach. It will take an extended recruitment and an impressive official visit on Nov. 22 for Ohio State to flip Ricks, but both of those are on the table on top of Cavazos warming him up for it all as well.
Ricks is looking primarily at LSU, Ohio State, Alabama and USC.
Ricks and Cavazos both talked to Eleven Warriors at The Opening Finals about Ricks' situation.
Ohio State Receiver Commits at The Opening Finals
It's no secret that Ohio State's 2020 wide receiver commits put on a show at The Opening Finals last week. It's been well-documented. But Ronny Torres, the director of player personnel for The Opening, released the top-10 ratings for wide receivers at the event based on their overall ratings in the five combine tests – 40-yard dash, three-cone shuttle, vertical jump, max power and ball toss – and it added to the eye-popping impressions they left on the country.
#TheOpening Finals
TOP 10 WR Testing Ratings pic.twitter.com/DanlVD6hxI

— Ronny Torres (@RonnyTorresSS) July 9, 2019
Torres missed five-star Johnny Wilson's rating, which would have placed eighth, in the graphic he tweeted, so Julian Fleming finished first for the position (second overall), Jaxon Smith-Njigba finished 10th and Mookie Cooper finished 11th. Gee Scott Jr., who had a slight disadvantage with his size – 6-foot-3, 207 pounds – placed a score of 115.83, just a handful of points behind Cooper.
The fact that Fleming is No. 1 isn't too surprising, but his 4.45 40-yard dash was fairly surprising. Cooper breaking in at No. 11 at 5-foot-8 is impressive but also not surprising either. Smith-Njigba's rating is perhaps the most impressive of the bunch. He went into the event with something to prove. I wrote about that last weekend.
ESPN High School Football Kickoff
The ESPN High School Football Kickoff released its weekend schedule for its 10th annual airing Aug. 23-Aug. 25, and it will feature some Ohio State commits and targets.
St. Thomas Aquinas, a well-known high school for Ohio State fans for its Bosa alumni, will play De La Salle at 9:30 p.m. EST on Friday, Aug. 23, in California. While the 2020 targets like Marcus Rosemy and Derek Wingo are pledged elsewhere, Marcus Dumervil is a dominant 2021 offensive tackle Ohio State is targeting and 2022 offensive tackle Julian Armelia is one of only a handful of prospects to ever start for St. Thomas Aquinas as freshmen.
Running back target Jaylan Knighton will play for Deerfield Beach against Carol City on 4 p.m. on Saturday, Aug. 24. Linebacker target Kourt Williams will play for St. John Bosco against DeMatha, which is led by Clemson running back commit MarShawn Lloyd, at 9 p.m. No. 1 quarterback and Clemson commit D.J. Uiagalelei plays with Williams for St. John Bosco.
Later that night, running back target Kendall Milton will play for Buchanan against Narbonne at 11 p.m.
Rounding out the games for the weekend is Ohio State wide receiver commit Julian Fleming and his Southern Columbia team, which is trying to win its third consecutive state title. Fleming and his teammates will play Hammond School in Columbia, South Carolina, at 2 p.m. EST on ESPN2.