The Hurry Up is your nightly dose of updates from the Ohio State football recruiting trail, keeping tabs on the latest from commits and targets from around the country.
Gee Scott Jr. Developing Into a Leader
Gee Scott Jr. went in to The Opening Finals with a few objectives in mind – develop relationships, represent Ohio State's 2020 class and prove he is the best receiver in the country.
"Seeing guys that are going to be future teammates of mine and guys that are going to be opponents, it's just kind of cool to level my game against theirs and see where my game is at against them," Scott Jr. told Eleven Warriors on Sunday. "It's just making a statement. From my point of view, I feel like I'm the best receiver in the country, so it's just my job to prove that. I can sit there and say that all day, but when it's time to compete, what am I going to do?"
If Scott Jr. didn't prove that he was the best receiver in the 2020 class, he certainly proved to be one of the most dangerous ones through his consistency. The Washington standout made 25 catches, which was second among all other receivers, and caught five touchdowns, which tied for second behind fellow Ohio State commit Julian Fleming. 
While Fleming and Scott played on the same team, Scott was the most productive receiver on the team, sine Fleming was not on the field for as many snaps. The No. 1 wideout made just 15 catches, seven of them for touchdowns. 
It was Scott who worked through a versatile role on the team and often bailed out or made it easier for his quarterbacks Bryce Young and CJ Stroud – who was named to 247Sports' Dream Team as the top quarterback at The Opening Finals. The No. 13 receiver split out wide and made several difficult catches deep down the sideline, worked in motion before the snap, caught the ball up the middle and recorded yards after the catch and made multiple one-handed grabs that stole the show on a team with two of the most athletic receivers in the country – Fleming and Texas A&M commit Demond Demas.
There was no mistake during the showcase – Scott had the best hands in Frisco. And he's continued to develop while being committed to Ohio State since Christmas Day 2018.
"People ask me every day, maybe 10 times a day – why Ohio State?" Scott said. "If there was just one reason, I wouldn't go to Ohio State. Like if it was just because I like (wide receivers coach Brian) Hartline – well, what about everything else?"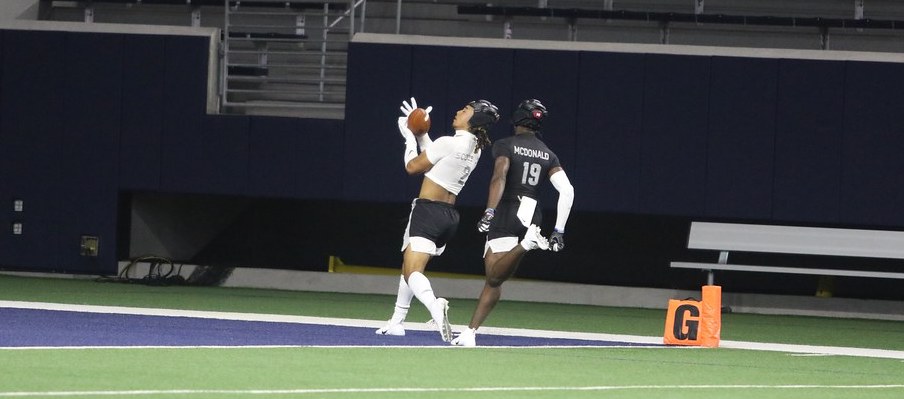 Scott made note of the tradition, the uniforms, the facilities, the reputation of Ohio State's wide receivers room and other reasons as legitimate reasons to commit to Ohio State, but what he's found since developing relationships with guys like Fleming, Lejond Cavazos, Jack Miller and Jaxon Smith-Njigba, is that it's about the guys he's entering the program with. He went as far as calling Smith-Njigba a "brother." 
While they'll be focusing on winning games when they arrive in Columbus in 2020, Scott said they were all on missions to recruit the best guys to Ohio State in the meantime – guys like Mookie Cooper, Elias Ricks, Lathan Ransom and others.
"You get guys like Clark Phillips, he's the No. 3 cornerback in the class," Scott said when Phillips approached him during the interview and called him "the GOAT." "Other guys see that and say, 'Man, Clark Phillips is at Ohio State? I want to go there too.'"
Scott was the fifth commitment of the class for the Buckeyes, even after Smith-Njigba, but Scott is taking it upon himself to be one of the strongest leaders on a national stage for the Ohio State class. He's developed good relationships with players like Clemson defensive tackle commit Tre Williams, not to persuade them to flip to Ohio State but to keep relations friendly with as many people as possible. An effort that can't hurt in the long run.
But Scott said his efforts are simply to better the class. 
"Just everyone committing and being in that environment, that's leadership," Scott said. "I feel like everyone who's committed has kind of taken on a leadership role within the 2020 class."
Tunmise Adeleye Releases Top 10
Tunmise Adeleye, the No. 48 overall player in the 2021 class, released his top-10 Friday, and Ohio State was included. He also listed Florida, Oklahoma, Auburn, Florida State, Alabama, Miami, Texas, Texas A&M and Michigan.
Top ten... #TheMarathonContinues
Edit via: @JTSchoenemann pic.twitter.com/zKAiuwNXOI

— Tunmise (@tunmiseadeleye) July 5, 2019
Adeleye was in Columbus for the June 21 Buckeye Bash & Barbecue, and he left with an extremely positive impression of Ohio State.
He has developed a close relationship with Greg Mattison after having met Kenny Anunike at a Houston camp and being put in contact with Larry Johnson. 
Ohio State is close to the top of the No. 4 defensive end's top-10 list, since Ohio State has been a "dream school" of Adeleye's since a young age. But the Katy, Texas native said he is taking his time during the recruiting process and hopes to commit around June 2020, a typical time to commit during his cycle.