Several new names popped up after Ohio State's 7-on-7 camp.
Ohio State hosted a 7-on-7 camp that feature pool play and a single-elimination tournament at the Woody Hayes Athletic Center on Monday. Schools like Massillon, who 2021 wide receiver Jayden Ballard plays for, and Perry, who 2021 running back Jaylen Anderson plays for, were competing.
Anderson's team advanced to the final, but Kenton won the tournament. It wasn't the tournament play that really jumped out for Ohio State recruiting, though. Several names, new and old, were prominent for the day.
These are a handful of notes taken from the long day of 7-on-7 football.
Jayden Ballard
Massillon wide receiver Jayden Ballard continues to be the best wideout at every event he competes in, and that was no different Monday. Most of the other 7-on-7 defenses didn't stand a chance against him, as he moved wherever he wanted and caught nearly every ball thrown his way.
While he was playing Monday, he was wearing gloves donning Ohio State's block-O.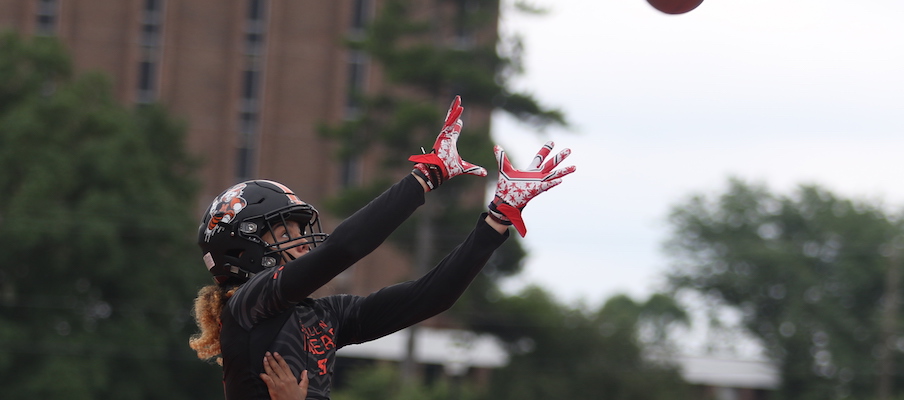 Late in the day, Ballard came up limping but played three games on the mild injury. Brian Hartline wasn't near him the entire day but made conversation with him on a few occasions and stayed until Massillon was eliminated from competition.
The fact that Hartline felt comfortable not being close to Ballard at all times shows the type of relationship the two have. It wouldn't be surprising if Ballard committed to the Buckeyes early in his recruitment.
Jaylen Anderson
Perry High School running back Jaylen Anderson was at Ohio State last week for a private workout with running backs coach Tony Alford that he said he'd been preparing for for a long time. Coming off of a serious knee injury, Anderson has been trying to prove that he has the explosion he once had and is deserving of an Ohio State offer.
At the 7-on-7 camp Monday, he showed some dynamic abilities. It can be difficult for a running back to find his place on a 7-on-7 team if he is not capable of catching passes, but Anderson is not that type of running back. He was the best weapon Perry had, and it used him to the max on its way to placing runner-up in the tournament.
Anderson played both ways, as a slot receiver on offense and as a linebacker on defense, and he made crucial plays that helped Perry defeat Massillon in the quarterfinals of the tournament. He caught two difficult balls to help Perry tie the game and send it into overtime, then deflected a pass from Jayden Ballard in the endzone and caught the game-winning score. For a running back that weighs 220, Anderson can work in the passing game.
After the championship round, Tony Alford called Anderson over and had a short conversation with him. Alford wasn't able to watch much of Anderson's day because he was welcoming in four-star 2020 running back DeaMonte Trayanum on his official visit.
"He just caught the end of it, but he said to just get back up here in the fall," Anderson told Eleven Warriors after the camp.
Anderson expressed displeasure with his conditioning after his workout with Alford last week but said that a day like Monday helps him get to the level of conditioning he hopes to be at by next season.
After his appearance at the second fundamental camp Thursday, Anderson made it to Bowling Green for another camp and left with an offer. He said he will be at West Virginia on Friday and at Penn State the day after for camps as well.
Hunter Wohler
Top 2021 Wisconsin recruit Hunter Wohler made the trip to Columbus to compete in the 7-on-7 camp for the top house team – which is a group of players, typically from out-of-state, that compete without belonging to a school.
Wohler was the standout competitor on the house team.
He played safety on defense and wide receiver on offense, and made at least two interceptions. While the Ohio State coaching staff paid closest attention to the house team for obvious reasons, Wohler seemed to get the most attention, as defensive coordinator Greg Mattison remained close with him between matches.
During the final match of the day for the house team, Mattison pulled Wohler out of the game and took him back into the Woody Hayes Athletic Center. As of the publishing of this article, Wohler has not been offered, but he will likely receive an offer from the Buckeyes at some point, in large part because of his performance Monday.
He has offers from Iowa, Minnesota, Michigan State, Iowa, Iowa State and Wisconsin, which seems to be the frontrunner at this point. Most teams are recruiting him for safety.
Derrick Lewis
Texas linebacker Derrick Lewis made the trip up to Columbus to compete in Monday's 7-on-7 for the house team as well. His father, uncle and other family members live in Columbus, so he was able to visit them too.
Lewis came to the camp in an attempt to show his skills in front of Ohio State coaches and assumed he'd need to do that through working in the 7-on-7 tournament. However, before the camp began, linebackers coach Al Washington took one look at his physique and pulled him to the side to work him out.
"I just came into the camp thinking that this is my audition," Lewis told Eleven Warriors after the camp. "I was not expecting to work with (Washington) at all. He just pulled me over, and that was just me trying to make my dream."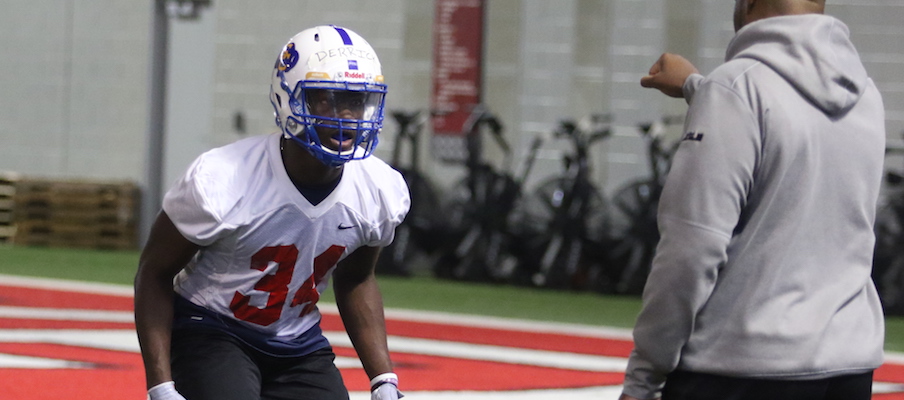 At 6-foot-1, 200 pounds, Washington told Lewis that his physique is one that would fit what he's looking for in his linebacker room. Lewis plays inside linebacker but showed enough speed to cover on defense and also catch passes on offense. His family said he jokes that he can still carry the ball from the running back position, and he probably could.
Lewis is rated as the No. 31 inside linebacker in the 2020 class and did not receive an offer from Ohio State on Monday but did catch the attention of Washington.
"He told me he likes that I'm physical, and he just told me to work on my feet in tight spaces and my hands," Lewis said.
Right now, Nebraska seems to be the frontrunner for Lewis, as his summer visits include Nebraska, Kansas, Texas Tech, Oklahoma State and another visit to Ohio State after a dead period.
Other notable recruits
Indiana 2022 quarterback Brady Allen caught the attention of Ryan Day and Mike Yurcich on Monday. Allen also played for the house team and already stands at 6-foot-5, 200 pounds. He has smooth footwork and showed an ability to work through a progression – with receivers he had just met earlier that day.
Allen has an arm too. Day sat in on two series with Allen at quarterback, and on the first series, Allen threaded a ball through tight coverage to Wohler in the endzone.
Day, Yurcich and Kevin Wilson all spoke with the quarterback throughout the day, and while he has the tools to play quarterback, it remained too early for Ohio State to extend an offer after having extended an offer to 2022 quarterback Steve Angeli on Saturday.
Walker Merrill, the No. 5 Tennessee recruit out of Brentwood, had a rare one-on-one workout with Brian Hartline before the tournament got underway. The first notable thing about the 6-foot-1, 180-pound receiver was the matured footwork for a wideout of his size. While working through some tight cutting drills, Hartline noted that as well.
Local defensive back Carl Allen out of Groveport Madison also played for the house team and got to show off his speed. At receiver, he found his way behind most cornerbacks on go routes and he made some good defensive plays toward the end of the team's day. Jeff Hafley talked to him a few times, but the 2022 recruit's day ended with some hamstring soreness.