Following his commitment to Ohio State, Julian Fleming provided an honest detailing of his recruitment process.
When 2020 No. 1 wide receiver Julian Fleming decided he was going to be committing to Ohio State, he said the most difficult call he needed to make was the call that declined Penn State's offer. Fleming had grown up just 90 miles – an hour and a half – away from State College and the Nittany Lions had jumped on him early, creating some of the deepest relationships he had.
But, ultimately, Ohio State wide receivers coach Brian Hartline caught Fleming's attention and performed one of the biggest recruiting upsets of the 2020 cycle, as Fleming announced Friday that he has chosen Ohio State.
"They spoke their piece, asked if I would come for more meetings and stuff," Fleming said about Penn State in a press conference on Saturday. "It was to the point where I just felt like it was over with. I was like, 'I really don't want to come have anymore sit-downs. I'm getting this over with. I'm not taking anymore visits. It's set in stone.'"
Final destination...... 4s out pic.twitter.com/bX3qjQEA8R

— 0J4 (@julian_040) May 31, 2019
Fleming was going to take all of his official visits – one to each Alabama, Penn State, Georgia, Clemson and Ohio State. He took the visit to Alabama on April 12 and had an official visit planned to Georgia on May 31, but he said he had already known that he was committing to Ohio State going into the first one. The stress and some other factors caused him to cut his recruitment short and commit to the Buckeyes after just one of the five visits, though.
There were points leading up to April when Fleming thought he would commit to Penn State, Clemson and Ohio State. He said he had felt set on Penn State the longest, particularly in the early stages of his recruitment.
When he walked down the streets of Pennsylvania, people would recognize him and toss out a "Go to Penn State," and for a while, Fleming was going to. But factors began to add up. Suddenly, the disparity between what Penn State didn't have and what Ohio State could offer began to expand.
In the last three years, Penn State has filled the wide receivers coaching role with three different coaches – Josh Gattis, David Corley and Gerad Parker. Ohio State promoted Hartline to the wide receivers coaching role after Zach Smith's departure last season, but Hartline quickly filled the gaps and has exploded onto the recruiting scene. Fleming really connected with Hartline during a visit in November and then again in March.
The 2017 No. 1 wide receiver, Justin Shorter, signed with Penn State and suffered a nagging knee injury early in the season. He played in just four games to maintain his redshirt and only caught three passes for 20 yards. Fleming noticed the lack of Shorter's usage, and it did play a negative role in his perception of a hypothetical future at Penn State, he said.
"They got the No. 1 receiver last year, and, he had a little injury in spring ball or whatever, but for him not to be utilized at all throughout the offense, I did see that throughout the year," Fleming said. "I didn't agree with it,"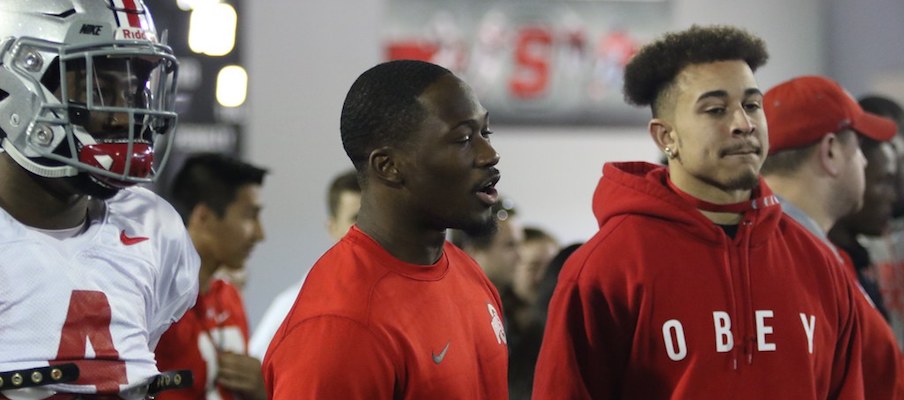 Also, Justin Fields' transfer played a part. Fleming said the quarterback position was a serious consideration during his recruitment. For a short time in spring, it appeared Ohio State would be thin at the position, but Ryan Day shored it up and also earned a commitment from 2021 quarterback Kyle McCord. Now, upon Fleming's arrival in January 2020, Fields will be going into his junior year while Miller will back up as a freshman.
Most of all, though, Fleming said Ohio State provided an "at-home" feeling – more than Penn State, the school that was nestled nearby while he grew up and the school that appeared cemented to earn his commitment. Hartline and Day were cornerstones in that relationship, but Fleming also appreciated the players, particularly former Buckeye wideouts Parris Campbell, Terry McLaurin and Johnnie Dixon, who all continue to text him.
"They're right down the road. I've been there 20 times at least. We started early. It did hurt a little bit saying no to them. They were a little hurt by it," Fleming said about Penn State. ""Coach Day and Coach Hartline are my two people. Coach Hartline played there, and he played in the NFL for a long time. He's back there coaching now, and I don't see a reason for him to leave. And Coach Day stepped into a stable spot for Urban Meyer, who was there for a while."
Ultimately, Fleming said he felt like he got to know Ohio State for the program it was versus the facade of what coaches believe he wants to see, he said. The Brand U program and the Real Life Wednesdays – two programs that have jumped out to many Ohio State targets – also jumped out to Fleming.
While he already owns many of the records in his district, currently sitting at career numbers of 183 catches, 3,942 yards and 55 touchdowns, Fleming can now put his recruitment behind him and focus on his final season at Southern Columbia, as they go for a third consecutive state title.
"I was just like, 'I'm tired of the recruiting process,'" Fleming said. "'I'm tired of the text messages and the phone calls and everything. I'm ready to have it over with and just live a regular person's life.'"