The Hurry Up is your nightly dose of updates from the Ohio State football recruiting trail, keeping tabs on the latest from commits and targets from around the country.
Sammy Anderson Might Need to Wait for an Offer
Dayton-native 2020 cornerback Sammy Anderson could be an in-state option for the Buckeyes to shore up the 2020 class and also add depth to the cornerback position.
Anderson was in Columbus for the Ohio State spring game in an effort to continue shaping a relationship with the Buckeyes. He doesn't have an offer yet, but in typical in-state recruiting fashion, he could receive one late from the top program in his home state.
"I just feel like they'll offer late because I'm in Ohio, so I'm not too worried about it," Anderson said.
Anderson's most recognizable offers come from Penn State, Michigan, West Virginia, Indiana, Purdue and Georgia Tech – his most recent coming from Penn State. The No. 42 cornerback in the class is a prime depth add with high upside at an athletic 6-foot-2, 170 pounds.
Like most in-state recruits, Anderson is talking with Ohio State linebackers coach Al Washington and made the switch from Taver Johnson to Washington when Johnson left for the Oakland Raiders and Washington moved in from Michigan.
"It's more than just Coach Al," Anderson said. "I've got almost the whole staff in my phone, and we text on the daily."
Anderson has been in contact with Ohio State since his sophomore year, and the No. 620 overall 2020 recruit said he plans to commit sometime before his senior football season but doesn't know for sure when the Buckeyes plan to offer him.
"It'd mean a lot," Anderson said. "It is one of my dream schools."
Amir Taylor Fighting the Undersized Tag
It's fitting that Georgia 2021 cornerback Amir Taylor, who was invited to and attended the Ohio State spring game, wants to model his game after former Ohio State cornerback Denzel Ward.
The 5-foot-9, 175-pound high school sophomore understands that his size jumps out to people in a negative way, but it doesn't stop him from wanting to compete at the highest level.
"I look at Denzel Ward because his height (5-foot-11) isn't bad, but it's not where DBs usually want to be at. His weight (190 pounds) is pretty small though. He still goes out and plays like he's a dog. That's who I want to mirror."
Taylor spent his sophomore year as the starting cornerback at Grayson High School in Loganville, Georgia, and that not only pitted him against good competition but also worked him every day in practice against two three-star wideouts. He saw 6-foot-6 2019 Texas A&M signee Kenyon Jackson and 6-foot-3 2020 Georgia Tech commit Ryan King every day.
"It was a good experience, and it's only going to make me better for the next season," Taylor said. "Georgia is probably the best state in the nation in football at high school."
While at Ohio State for the spring game, Taylor said he had a good discussion with running backs coach Tony Alford, who mad it seem like it didn't matter whether Taylor was undersized or not, he said.
The 2021 product still has no offers but has interest from several schools, including Florida State and South Carolina, who is pushing the hardest. But Taylor has family around the Cincinnati area that keeps his interest in Ohio State strong, as well as it's defensive back pedigree.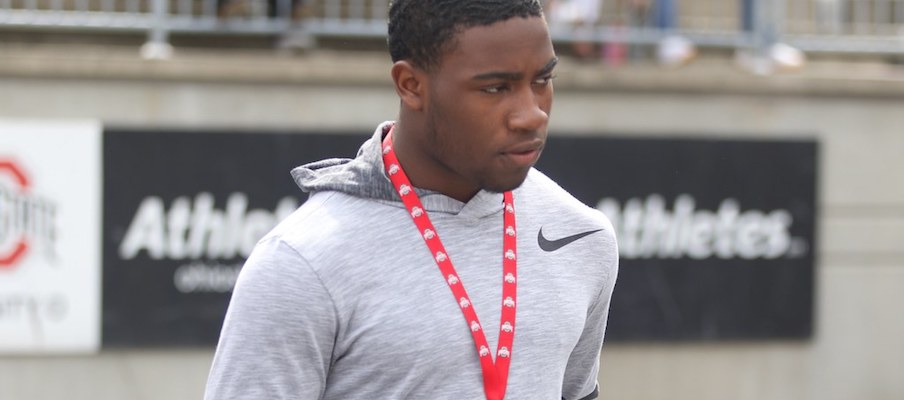 "I like their history at DB and my family is kind of around there too, so that heps out," Taylor said. "They're a winning program, so that's why I'm fit to be there."
While at the spring game, among several recruits at the event, Taylor was able to connect with 2019 signee Jaden McKenzie, and McKenzie was able to give the sophomore sound advice.
"He said he loves it and that it's way different than any other college in the nation," Taylor said. "He told me to keep working and keep my grades up."
Izayah Cummings Excludes Buckeyes
Izayah Cummings, a 2020 Kentucky wideout who visited for Ohio State's March 23 Student Appreciation Day, released his top-six, and it did not include the Buckeyes, though he does not have an Ohio State offer yet.
Cummings included Louisville, Wake Forest, West Virginia, Kentucky, Purdue and Virginia.
I want to thank all the coaches who have recruited me throughout my recruiting process... but these are my top 6 teams All Glory To God ...RECRUITMENT IS STILL OPEN #godsplan pic.twitter.com/AB2HDcbpzH

— IC8 (@IzayahCummings) April 22, 2019
The 6-foot-3, 195-pound wideout is a very good prospect for a lower-level Power Five program because of his combination of size and speed and his ability to climb the ladder in traffic, but he would simply be a depth add for Ohio State if he were to receive a late offer and choose the Buckeyes.