The combined number of days between in-state offensive tackles Jakob James and Trey Leroux's respective commitments and their offers was three. Both tackles knew that when they got their Ohio State offers, they would be committing. Leroux waited just a few days to discuss with his family, while James waited only a few hours before committing the same day.
"I got the offer and then three days later, I committed," Leroux said. "That's because my family had already talked about it. If Ohio State offered, what would happen? My family made that decision a long time ago that Ohio State was one of my top choices. It made the decision really easy."
After their decisions, both three-star tackles became two of four offensive tackles committed to Ohio State's 2020 class, including No. 1 center Luke Wypler and five-star tackle Paris Johnson Jr. And they both find themselves in similar situations heading toward the end of their high school careers.
While neither impresses with their ratings – James is the No. 73 offensive tackle in the class, and Leroux is No. 111 – neither 2020 Ohio recruit is concerned about the ratings.
"A lot of people love to look at stars and stuff, but I'm one of those guys where it doesn't matter," James said. "It doesn't really come across my head. I know what I can do and what everybody else can do."
Both James and Leroux are faced with the same task before they graduate from Elder and Norwalk high schools, respectively – they must get themselves in the best shape possible before stepping foot on campus as members of Ohio State's football program.
Leroux comes in as one of the biggest tackles in the class, weighing 355 pounds. With that size, Leroux is still able to display some agility and good footwork from the tackle position, so he won't need to lose all of the excess weight, but he will surely look to lose some of it before making it to Columbus.
James, who committed to Ohio State on Jan. 21, weighed just 240 pounds a year ago, but he has gained 40 pounds since then and wants to continue adding more in the healthiest way possible, he said. That means consuming 3,000 calories a day – four-to-six eggs in the morning, a snack before lunch, lunch, a pre-workout snack, a post-workout snack, dinner and then a snack after dinner.
Ohio State commits @jakobjames00 and @trey_leroux (both on the right in these two reps) getting in work at the Under Armour All-America Camp in Cincinnati today. pic.twitter.com/G0Z1JPQ40B

— Taylor Lehman (@TaylorRLehman) April 14, 2019
With that diet, he's already able to relate to current Ohio State tackle Nicholas Petit-Frere, who arrived on campus weighing 268 pounds and now consumes 8,000 calories per day to add weight. James said he saw Petit-Frere discuss that diet and immediately understood it wasn't just him trying to bulk up.
"Just to see somebody else in the same position, it's cool to hear," James said.
James was the seventh commitment of the 2020 class and has been around the program frequently since that day, when head coach Ryan Day extended the offer and he took the opportunity immediately. Now, he's beginning to feel more at home with every visit, something he said Leroux will feel as time passes as well.
The two tackles were able to meet at the Ohio State spring game Saturday, while James has already met Wypler – who, like James, is also rehabilitating from a torn labrum – during a spring practice in early April, and has played against Johnson his entire high school career.
"We have a group chat," Leroux said about the offensive line commits. "We have workouts planned to do together. We play video games together. We have quite a good connection so far."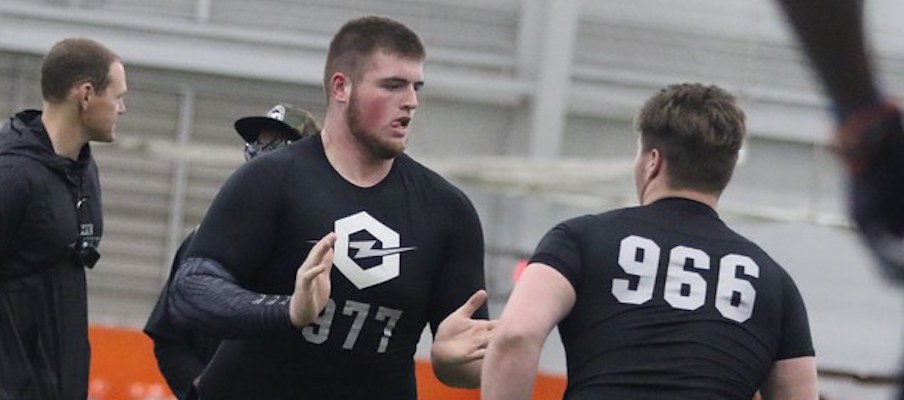 Together, they've also been tackling the camp scene. Both James and Leroux competed side-by-side the entire day Sunday at the Under Armour All-America Camp in Cincinnati, and Leroux was at The Opening Regional in Massillon on March 31. They both led their offensive line groups throughout the days.
James said he has been able to talk with coaches more as he continues to study film during his visits, and he said Day and offensive line coach Greg Studrawa have ensured him that the ratings attached to his recruiting profile don't influence their perceptions of him, just like they don't affect their perceptions of Leroux either.
Each tackle, whether coming in weighing 280 pounds or 355 pounds, will be transformed physically, but in other areas, James and Leroux continue to work, such as Leroux's punches or James' film study. And so far, the Buckeye coaching staff likes what it sees.
"I'm mainly just getting ready to be a Buckeye and for Coach Studrawa to change me even more and make my game even better," Leroux said.