The Hurry Up is your nightly dose of updates from the Ohio State football recruiting trail, keeping tabs on the latest from commits and targets from around the country.
Drake Maye: OSU is "A Great Place to Play Quarterback"
North Carolina four-star quarterback Drake Maye was in Cincinnati on Sunday for the Under Armour All-America Camp, and he left the event with an invitation to the Under Armour Future 50 in Orlando.
The Future 50 Camp takes place the same week as the All-America Bowl and has featured prospects like Michigan's Rashan Gary and Houston's Ed Oliver. The top underclassmen that attend Under Armour camps during the regionals are selected to attend.
Maye is a high school sophomore and threw for 3,201 yards, 36 touchdowns and five interceptions for Myers Park High School in Charlotte, North Carolina. His father played quarterback for North Carolina, and his brother, Luke, just finished his collegiate basketball career with North Carolina as well.
"It's a blessing," Maye said about his North Carolina offer. "Pretty much my whole family lives in North Carolina. I've always loved North Carolina. There are a lot of other schools interested. North Carolina has had a few rough years in football lately, so we'll see if they can turn it around."
One of the other schools interested in Maye is Ohio State. The Buckeyes offered Maye in November 2018, and Maye has kept a close eye on the program ever since.
The No. 6 quarterback in the 2021 class made a visit to Ohio State in late-March when his brother played in the NCAA Tournament games hosted in Columbus. He left feeling good about head coach Ryan Day as a coach and Ohio State as a program, saying it is "a great place to play quarterback."
He echoed those same words after the UA camp on Sunday.
"We talk about every week," Maye said about Ohio State. "Thought they had a pretty good spring game. Coach Day is great. It's a good spot for a quarterback to play at."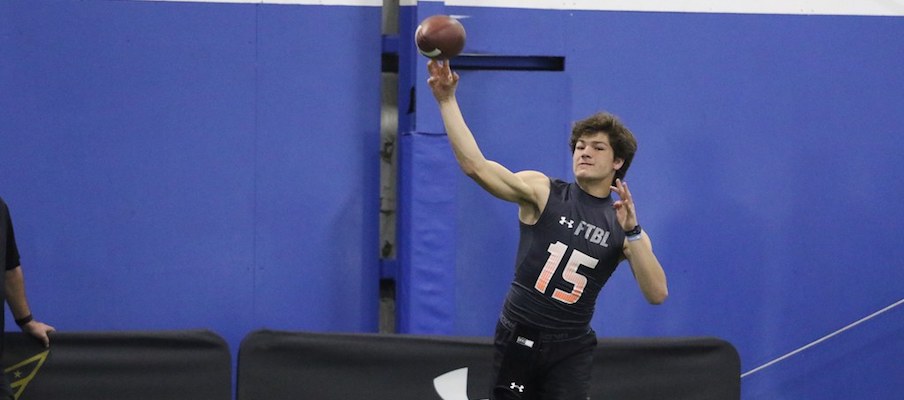 Maye couldn't make it to Ohio State's spring game because he was at North Carolina's spring game, but he was able to catch up with highlights, he said.
Ohio State is close with several 2021 quarterbacks, including Philadelphia four-star quarterback Kyle McCord, who said Ohio State was at the top of his list heading into his spring game visit. No. 2 2021 quarterback J.J. McCarthy is also very high on Ohio State, particularly after he was in Columbus for the March 23 Student Appreciation Day spring practice.
That typically breeds some kind of competition between the quarterbacks, as usually one top-tier quarterback will want to choose a program at a time. Maye gave some thoughts on a situation like that.
"If they happen to go there, I'd be happy for them," he said. "There's a little bit of pressure to see who gets to schools. I know Ohio State is a really good place to play quarterback. It's a little early for me right now, so I'm just waiting it out."
Corey Kiner Has Been an OSU fan Since He Was a Child
Ohio State is getting in early with 247Sports' No. 5 2021 running back Corey Kiner. The Cincinnati product made his third visit to Columbus during the Scarlet and Gray Spring Game on Saturday and left feeling as though he'd added to what is a budding relationship with the Buckeyes.
"I'm beginning to develop a relationship with them," Kiner said. "It was very fun at Ohio State and the UA camp was great."
Kiner was one of just a couple recruits to make the visit to Ohio State Saturday and then turn around and participate in the Under Armour All-America Camp in Cincinnati on Sunday. As much as a prospect can at a camp, he showed the ability to be a three-down type of running back in college and showed good hands in one-on-one drills.
Kiner is still working on relationships with Ohio State running backs coach Tony Alford and linebackers coach Al Washington, but he said early on, he can tell both coaches are very high on him.
"They like everything I can do," Kiner said. "But they know I can be great."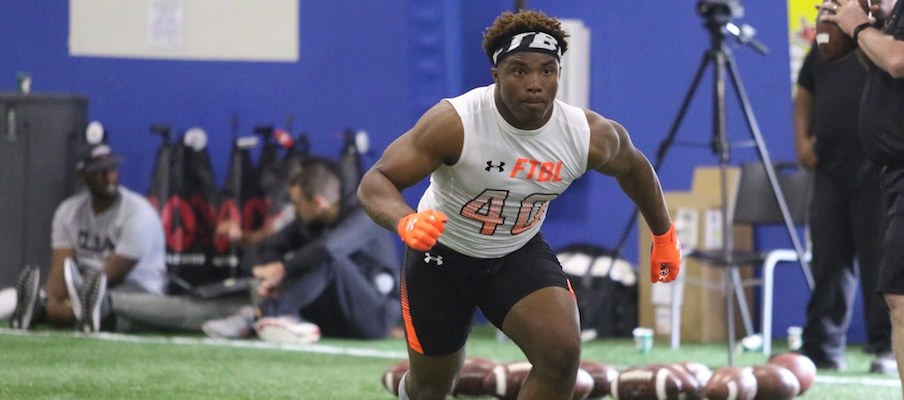 Being from Cincinnati, Kiner said he has been an hi oSate fan since he was a kid. However, a school that is really standing out to him as far as receiving interest is Michigan.
In January, Michigan was one of the first of the top Power Five schools to offer Kiner, and Kiner made his way to Ann Arbor in late-March for a visit. Ohio State has still not offered.
In 10 games, Kiner set Roger Bacon school records with 204 carries, 1,740 yards and 28 touchdowns as a sophomore in 2018. He was also named Second Team All-State.
Lathan Ransom Sets an Ohio State Official Visit
Arizona four-star safety and top Ohio State 2020 safety target Lathan Ransom told Eleven Warriors he has scheduled an official visit with Ohio State for June 21. The No. 4 safety in the 2020 class is also the teammate of No. 5 running back Bijan Robinson, who also has an official visit to Ohio State scheduled in June.
Though Ransom is the No. 4 safety in his class, he brings the most size paired with his ability at the position, as the 6-foot-2, 200-pound safety could also be utilized at the bullet position if the Ohio State staff finds it necessary.
Ransom cut down his offers list to 14 in March, which included Ohio State, LSU, Oklahoma, Notre Dame, Texas and Stanford – all schools with heavy interest from the Salpointe Catholic safety.
He expressed a desire to play with Robinson at the next level to Eleven Warriors following his February visit to Ohio State.
DeaMonte Trayanum is a Strong Man
Akron running back DeaMonte Trayanum hit the gym on Friday and showed why he's already received an invitation to compete at The Opening's Finals in Texas in June. 
2020 RB/DB @Chipperrz_ benching 295 lbs x 7 reps = 365 lb Max Bench!!! Strongest bench press on @HobanFootball pic.twitter.com/RrOUo7dCEt

— HOBAN STRENGTH (@Hoban_Strength) April 19, 2019
2020 RB/DB @Chipperrz_ 435 lbs x 11 reps = 595 lb MAX!!!! #BeastMode pic.twitter.com/dUViCh6D8s

— HOBAN STRENGTH (@Hoban_Strength) April 19, 2019