The Hurry Up is your nightly dose of updates from the Ohio State football recruiting trail, keeping tabs on the latest from commits and targets from around the country.
Marvin Harrison Jr. Has Buckeyes at the Top
After Pennsylvania four-star wideout Marvin Harrison Jr. made the trip to Columbus for Ohio State's spring game Saturday, the No. 6 receiver in the 2021 class told Eleven Warriors that there's not much competition for his commitment. Ohio State is at the top of his list "by far."
The son of NFL Hall of Famer Marvin Harrsion Sr. cited two reasons for why he is so enamored by the Buckeyes – wide receivers coach Brian Hartline and the coaching staff and the recent emphasis on Ohio State's passing attack.
"I've talked to (Hartline) multiple times, and he just knows so much about the receiver position," Harrison said. "He's just a phenomenal coach, probably the best receivers coach in the country. Also, obviously Ohio State has changed their offense over the last couple years. They're more of a passing team, and that speaks when you look at their numbers."
The St. Joseph's Prep sophomore said what really kicked off his interest in Ohio State was the first time he met Hartline in January. He said Hartline asked him if he wanted to be great, and that's a question Harrison hadn't been asked at that point.
Harrison Sr. made his second documented appearance on Ohio State's campus when he made the visit with his son Saturday. The previous time was when he visited during Ohio State's Pro Day in March and former Ohio State receiver Terry McLaurin tweeted about their meeting. What has drawn Harrison Sr. to Ohio State, Harrison Jr. Said, is his affinity for Hartline.
"He likes Coach Hartline as a coach," Harrison Jr. said. "He knows that if I were to go there, he doesn't have to worry about me not getting the right coaching. He and Coach Hartline agree on a lot of things and have a great relationship."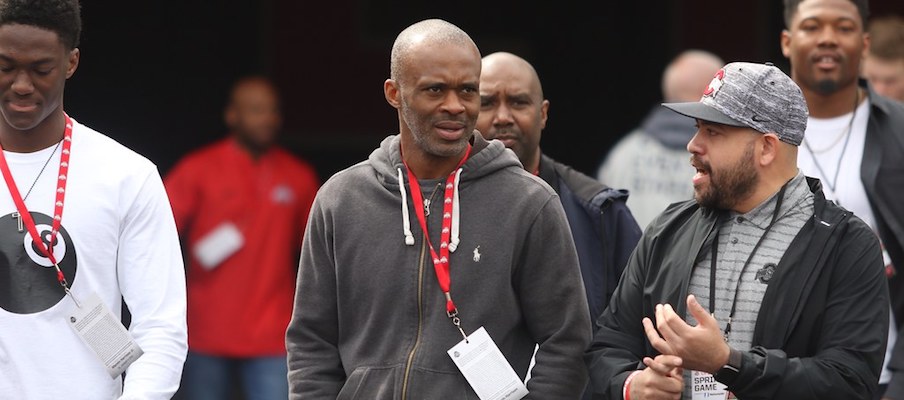 Harrison Jr. said it's not only Hartline's energy or his knowledge about the game and position, but it's his ability to connect with his receivers. Harrison Jr. said he's already felt that connection.
"He has talked to me a couple times about just changing my mindset and how I think when I play," Harrison Jr. said. "A lot of coaches can tell you to catch the ball or do this or do that, but he will approach those situations differently. I've seen him at practice, he would ask the receiver what was he thinking on this play and the after the player's response, he would say, "Okay, well how about we attack that situation differently so we can get a better result. His mind just works differently and that's what they preach in that wide receiver room – being different – and he certainly is a good example of that."
It's more than Hartline too. Harrison Jr. had the opportunity to talk with the rest of the coaching staff and many players over the weekend. He said he can tell there are "great people" involved in the Ohio State program. He highlighted meeting former Buckeyes Michael Thomas and Dwayne Haskins, saying there's "nothing (he) really dislikes" about Ohio State.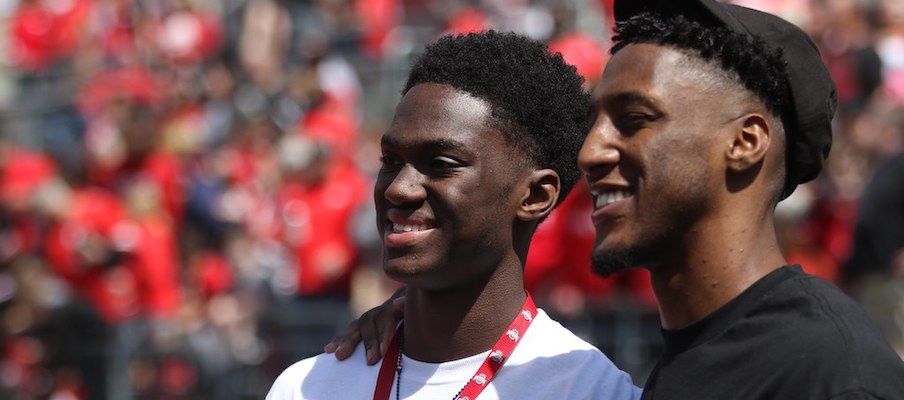 With being said, Harrison Jr. and his quarterback, four-star No. 8 2021 quarterback Kyle McCord, who is also heavily interested in Ohio State, are planning on making a couple visits to Clemson this summer, where Harrison Jr. said he is expecting an offer. No decision regarding a commitment is expected before those visits.
"I don't know about Kyle, but if it feels like (Ohio State) is the best school for me out of all the schools, I see no reason to not commit," Harrison Jr. said.
McCord completed 201-of-302 passes for 2,883 yards and 38 touchdowns as a sophomore, and Harrison Jr. – 50 catches, 725 yards and eight touchdowns – was a large part of that. The dup led St. Joseph's to another state title.
Ian Stewart Likes to "Smack People" and "Crack Dudes"
Earlier this week, three-star 2020 Michigan prospect Ian Stewart announced his top-seven, which included Ohio State. Stewart also included West Virginia, Kentucky, Purdue, Penn State, Louisville and Michigan State.
What makes Ohio State's recruitment of Stewart unique to the No. 18 Michigan recruit is that, while he's classified as a wide receiver and most schools are recruiting him as such, the Buckeyes like him at safety and potentially as a candidate for the bullet position. That approach is actually what made Stewart include Ohio State in his cut list.
"The thing that I really like about Ohio State is they want me to play defense," Stewart said. "We're still getting stronger, getting to know each other more, but they like me a lot."
The No. 541 player overall in the 2020 class made two visits to Ohio State within a week of each other in late-March, one for the March 23 event and the second as a mid-week visit.
Stewart said the idea behind taking two visits so close together was because the first one was meant to get Stewart back around campus and the facilities. He hadn't been in Columbus since making two visits during the season. In that first visit during spring practice, he was able to become more familiar with the Woody Hayes Athletic Center and watch a full practice, as well as sit down with co-defensive coordinator Greg Mattison and watch film. On the second visit, he watched film with co-secondary coach Jeff Hafley.
What the coaches like about him is his unusual athleticism and ability play tall – at 6-foot-3 – within both the passing game and the running game. He didn't play much defense until his sophomore season in 2017. Now that he has two years of defense under his belt, he appreciates that side of the ball.
"I like to come down into the box and smack people," Stewart said. "And in this role, you can still score the ball and get interceptions because you can play in coverage, but you're almost like a linebacker cracking dudes. That's what I like to do."
THE Ohio State University pic.twitter.com/wfipnBtJeP

— Ian Stewart (@ianstewart219) March 24, 2019
He plays wide receiver and has lined up in the backfield as both a running back and a quarterback, but he has developed into a quality outside linebacker, where he began receiving offers after his sophomore year. That sparked his interest in defense.
He's also been in contact with Mattison for more than a year, dating back to when Mattison was at Michigan, so he's carried that relationship into Ohio State as well.
While he hasn't started thinking about his official visits too much, he said he does want to commit to a school before his senior season begins.