Braiden McGregor is beginning to ask the tough questions.
As the final spring season begins to come to a close for the 2020 class and with his plans to enroll early wherever he goes, the No. 11 defensive end out of Port Huron, Michigan, has begun to ramp up the heat on schools that have most of his interest.
"Can you show me your depth chart?" McGregor said as an example. "Not just tell me, 'You're going to be playing freshman year.' Show me your depth chart. I want to see that. I want to see the freshmen you're bringing in, and I want to see the other recruits. I want to talk with players that are there now. I want to talk to third-string players that don't get on the field and see if they still like it."
This is a drastic change from the approach that McGregor took when he initially began taking visits to schools, back when he was hoping to receive offers from schools he traveled to and counted the number of offers he could accumulate – the total is 36 now.
None of that matters to the No. 201 overall prospect anymore. He's focused on finding a football home now, and finding the right place involves asking the toughest questions.
"It's just getting different," McGregor said. "It's definitely getting harder, but it's getting closer to the end, so that's better."
The four-star defensive end put those questions to the test when he made several visits in the South recently. He hit Alabama, Clemson, Florida, Florida State and LSU – then made his way to Penn State the day before performing in The Opening Regional in Massillon, Ohio, on March 31. All of those schools except Florida State made the top-10 list he released April 1.
Thank you to all of the schools that have recruited me. By no means was this easy to narrow my list. I am blessed to have had the opportunity to build relationships with everyone that has recruited me. With that being said, here are my top ten schools. pic.twitter.com/DTq7JQVNWE

— Braiden McGregor (@BraidenMcgregor) April 1, 2019
"That's kind of why I took the visits down south – to go ask the hard questions and figure it out," McGregor said. "There are a lot of schools in my top-10 that are down south just because I liked what I saw, and they were honest with me. That's why I'm taking a visit to Ohio State, Michigan and Notre Dame again – the Midwest schools that have been recruiting me the hardest."
The No. 4 Michigan prospect in his class took his first official visit Friday to Notre Dame, and he said he plans on visiting Ohio State in April or early May.
He's developed a close relationship with Ohio State defensive line coach Larry Johnson, as he has with many of the other coaching staffs as well. But McGregor recalls one time during the summer of his sophomore season, when he visited Ohio State and Johnson pulled up his tape.
The adidas All-American had been false-stepping, taking a wasted step not in the direction he was headed at the point of attack, on every snap. Johnson gave him and his Port Huron Northern coach some pointers on avoiding the mistake, and during his junior year, he never false-stepped again. Neither did his teammates.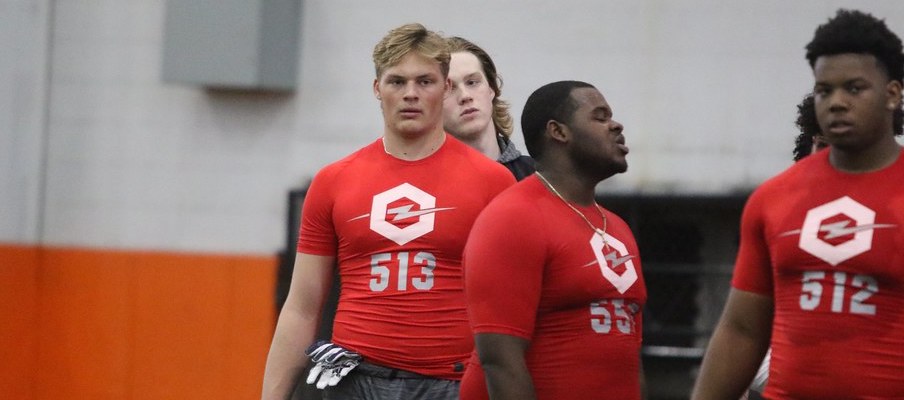 This is the pain-staking process McGregor has been working through as he tries to improve to the level that Power Five programs expect. Outside of playing the No. 36 offensive tackle in the 2020 class, Grant Toutant, who stands at 6-foot-6, 315 pounds, once in 2018, McGregor typically plays linemen that are six feet tall and weigh around 220 pounds. He recorded 99 tackles, 13 tackles for loss, eight sacks, two blocked punts, two interceptions and he hit the quarterback 29 times against the competition as a junior.
To combat the lack of resistance, he has been working with a personal trainer and also with Team USA hockey player Jacob Truscott. He and Truscott have been friends since sixth grade.
"We do some hard workouts to the extreme where I don't know if I can get up the next morning," McGregor said. "Last year at (The Opening Regional), I didn't win one rep. This year, I think I Iost one rep."
While McGregor easily earned his invitation to The Opening Finals in Texas on June 30-July 3, he understands that he needs to gain weight to play early at the next level. He currently weighs 250 pounds but hopes to get to 260-265 by the time he ends his senior season.
"It's kind of like. 'Okay, well, what I've been doing, I've got to bump it up a notch,'" McGregor said. "I want to get better. I don't want to stay complacent and be the same guy I was two months ago. That's kind of the big thing for me in getting bigger, faster and stronger."