Ohio State takes on Nebraska on Ohio Stadium's turf Saturday afternoon but the future of the program will be fought for on the sidelines. Multiple top-level prospects have announced their plans to make a visit to Columbus this weekend, making Saturday's contest, arguably, the most important recruiting gameday so far this fall.
Here's a look at the biggest names making their way to Ohio's capital city to take in the game.
CLASS OF 2019
ZACH HARRISON, OLENTANGY ORANGE (LEWIS CENTER, OH)
We're all familiar with Zach Harrison by now and we all know what he brings to the table. The five-star defensive end is the state's top prospect in 2019 and is ranked as the nation's fifth-best overall prospect. He's the real deal.
Harrison has, of course, been subtle about his recruiting process but he's confirmed that Ohio State, Michigan and Penn State are the final three leaders to land his pledge.
This past Wednesday, Harrison received his All-American jersey, which signifies his participation in the All-American Bowl, to be played on Jan. 5, 2019 in San Antonio, Texas. Saturday, he'll be making his first visit to Ohio State this season after going to Michigan and Penn State. That comes almost a week after Urban Meyer and Larry Johnson attended his final regular season high school game.
Harrison's presence is a good sign. But one can never really know what he's thinking. It's Ohio State's job to crack the code. The Buckeyes will have an excellent chance to do so.
DEONDRICK GLASS, KATY (KATY, TX)
After Sampson James decided to flip from Ohio State to Indiana, the Buckeyes were left in a tight spot within their backfield. But if they could land a pledge from a player like Deondrick Glass, James will be a distant memory.
I still don't know how @deondrickglass stayed inbounds #txhsfb #showtyme #katyfootball pic.twitter.com/Is6SpcUiE3

— Oscar Owen (@The_Oscar_Owen) October 13, 2018
Glass is a four-star running back that's ranked as the 13th-best nationally in the class of 2019. He's made a living off making opposing defenses look silly as he's racked up 1,543 rushing yards and 22 touchdowns in eight games this season.
Getting a #BOOM from a player like Glass, who will be on an official visit, would certainly give Ohio State's '19 Dynasty recruiting class a boost and it would sure up the concerns in the backfield. 
MARCUS CROWLEY, TRINITY CHRISTIAN (JACKSONVILLE, FL)
Speaking of running backs, Marcus Crowley will also be in attendance this weekend after Tony Alford visited him in Florida during Ohio State's bye week. Crowley, a Miami (FL) commit, is ranked as the nation's 35th-best running back in the class of 2019.
Check out this video!https://t.co/EDsaWbmIGu

— Marcus Crowley (@marcus_2334) October 29, 2018
While Crowley's commitment to the Hurricanes seems to stand firm, things happen fast in the recruiting world and if he wasn't at least semi-interested in what Urban Meyer and company have to say, I doubt he'd be getting on a plane and flying north.
Crowley has rushed the football 151 times this season for 1,550 yards and 20 scores. The 6-foot-1, 200-pound back popped up on Ohio State's radar once James decommitted. Since, Alford has been hot on his trail. This weekend will be an official visit for Crowley.
CLASS OF 2020
JULIAN FLEMING, SOUTHERN COLUMBIA (CATAWISSA, PA)
Speaking of top recruits, wide receiver Julian Fleming will make the trip to Ohio State after Brian Hartline paid him a visit in Pennsylvania last week. In the class of 2020, Fleming is the ninth-best overall prospect and, like Harrison, he's said to be his state's top overall recruit.
A 6-foot-2, 205-pound five-star receiver with offers from Penn State, Clemson, Georgia and USC, among many others, Fleming tallied 69 receptions for 1,462 yards and 20 touchdowns as a sophomore. Currently, out of 12 crystal ball predictions, Penn State has been granted all 12.
Fleming released a top six over the summer, one that included Ohio State. He even said that he favorited the Buckeyes. But that was before Urban Meyer was placed on administrative leave. When that took place, Fleming reacted by deciding to "take a step back" and evaluate his options.
Here's the deal: Fleming seems to like Urban Meyer and was impressed with Ohio State's campus and athletic facilities when he visited. If Ohio State can make a lasting impression yet again this weekend, the Buckeyes are certainly not out of the race.
Oh yeah, and 2019 Ohio State commit Garrett Wilson is expected to be in Columbus as well. Wilson has been a strong advocate for Ohio State's recruiting efforts. The opportunity for those two to have a discussion is certainly imminent.
CHRIS BRASWELL, ST. FRANCES ACADEMY (BALTIMORE, MD)
The five-star visits don't end with Harrison and Fleming. 10 spots behind Fleming in the class of 2020 overall rankings stands defensive end Chris Braswell at No. 19. Braswell is a 6-foot-3, 211-pound end that's considered Maryland's second-best recruit ... behind Ohio State target Bryan Bresee (Damascus, Md.).
The Buckeyes offered Braswell on Oct. 3. Larry Johnson has been in contact with him as well and we all know what type of impact Larry Johnson can have.
Blessed to receive a offer from The Ohio State University #GOBucks #B1G @BrianDohn247 pic.twitter.com/2IGwshQUOd

— Chris Braswell (@Chrisbras410) October 4, 2018
Ohio State has historically been superb at landing talent on its defensive line. As of now, Braswell has offers from Alabama, Florida and Georgia but, as of now, Alabama seems to be the favorite to land his commitment. Out of six crystal ball projections, all lean towards the Crimson Tide. But this Saturday is Braswell's first visit to Columbus. That could definitely throw a wrench in Nick Saban's plans. Time will tell.
JAXON SMITH-NJIGBA, ROCKWALL (ROCKWALL, TX)
After receiving an offer from Ohio State on Sept. 17, Jaxon Smith-Njigba has done nothing but ball out. The four-star 2020 receiver has skyrocketed into the national spotlight in a season where he's recorded 1,296 receiving yards and 16 touchdowns on 70 catches.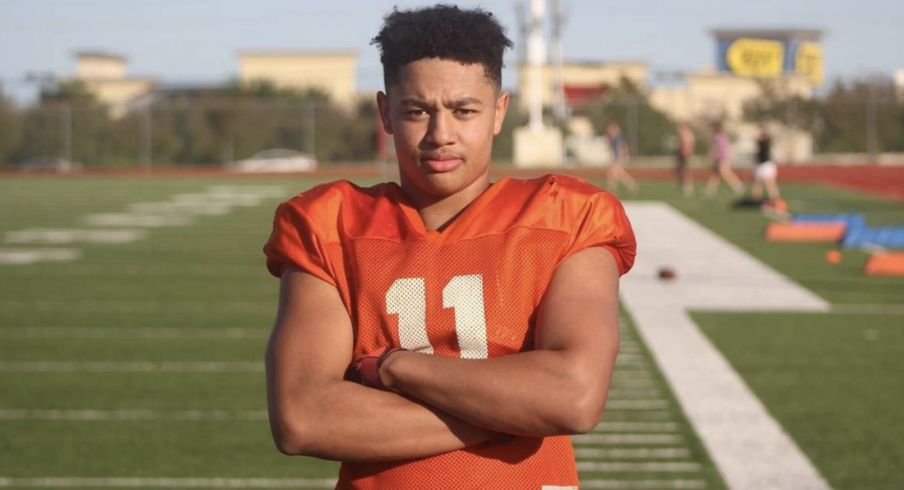 Upon receiving his offer, Smith-Njigba said he'd been in regular contact with Brian Hartline and Keenan Bailey and that he'd be looking for "how a school treats me like family, what their plans are for me, and how they plan to develop and play me."
Saturday, the Buckeyes will have their chance to communicate all three traits to him. Smith Njigba also has offers from 17 other schools including Nebraska, Notre Dame and TCU. You can only expect that list to continue growing.