The Hurry Up is your nightly dose of updates from the Ohio State football recruiting trail, keeping tabs on the latest from commits and targets from around the country.
IT'S THE BUTLER
In Sunday's Hurry Up, we covered Ohio State running backs coach Tony Alford's visit to Jacksonville, Florida to meet with Trinity Christian Academy running back Marcus Crowley on Monday. But with the Buckeyes on bye this week, he's certainly not the only assistant coach on the road.
With other visits scheduled, defensive line coach Larry Johnson was in Toledo Monday talking with Whitmer defensive tackle Cavon Butler, who's already committed to Kentucky. Butler is a three-star prospect, considered to be Ohio's No. 40 ranked recruit and the nation's No. 57 ranked defensive tackle in the class of 2019.
Butler was on hand for the Buckeyes' 49-26 win over Indiana on Oct. 6, the same day he was offfered. He's also set up an official visit to Columbus for Nov. 24 when Ohio State faces Michigan. The 6-foot-4, 265-pound tackle committed to Kentucky on Aug. 3 but crystal ball projections are 88 percent in Ohio State's favor, out of eight predictions.
The fact that Johnson is visiting Butler, alongside two visits in two months, is telling.
HARTLINE VISITING ROBINSON
If you haven't heard how bad Ohio State wants 2019 Western Hills (Ky.) athlete Wandale Robinson yet, you might be living under a rock. The relationship between the two parties has done nothing but strengthen over the past two months.
However, the four-star skill player is far from a "lock." In fact, 247Sports' Steve Wiltfong changed his crystal ball pick to Nebraska early Monday morning and Alabama, Purdue (too soon?), Kentucky and Duke are all still in the fold.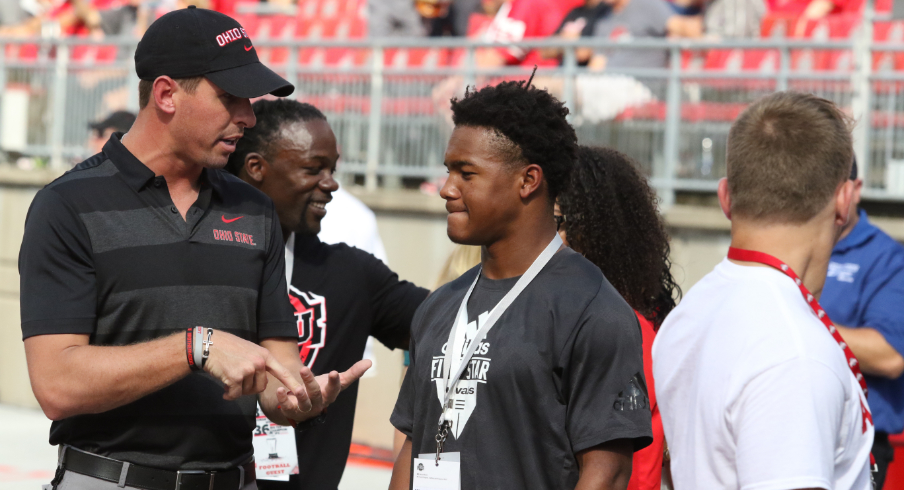 But there is good news ... or so it seems. Wide receivers coach Brian Hartline is scheduled to visit Robinson this Friday, attending Western Hills' Week 10 contest against Harrison County. If you recall, Hartline and Robinson talked on the sidelines for a good while before the Oct. 6 contest against Indiana. Hartline even brought his wife over to meet Robinson.
On Oct. 10, Robinson tweeted "Just for clarification, I will be making my decision based on what's best for me and family, nobody else. Unless I give you insight about my recruitment please don't speak on it." Sunday night, he tweeted, "Can't go wrong with your gut feeling."
He's expected to make his decision on Nov. 1.
FRIDAY NIGHT LIGHTS
Speaking of Robinson, he had quite the performance this past Friday ... again. In a 54-35 loss, the senior ran for 189 yards and two touchdowns on 26 carries. His season totals to this point? 37 total touchdowns and 1,749 rushing yards on 176 attempts, an average of 9.9 per pop. Now, please salivate in unison to this clip of Robinson's performance ...
And he wasn't the only Ohio State target that had a big night.
Olentangy Orange (Lewis Center, Ohio) defensive end Zach Harrison caught four passes for 134 yards alongside four tackles and 2 1/2 sacks in a 17-3 win over Olentangy Liberty.
Permian (Odessa, Texas) quarterback Peyton Powell, who was at Texas Tech this past weekend, rushed for 57 yards, passed for 204 and scored three times in a win. Powell is being recruited by Ohio State as a defensive back.
IMG Academy (Bradenton, Fla.) running back Noah Cain carried the ball three times, gaining 21 yards, and had three receptions for 94 yards and a touchdown in a 52-7 win. 
Other top targets to enjoy victories were Cleveland St. Ignatius linebacker Tommy Eichenberg (27-20 over Cincinnati St. Xavier), Florida Benjamin cornerback Kaiir Elam (44-0 over St. Andrew's) and Texas Bowie wide receiver Elijah Higgins (49-28 over Akins).