Ohio State commit Garrett Wilson, a five-star wide receiver from Austin, Texas, has agreed to give Eleven Warriors exclusive access into his senior season with the Cavaliers.
He'll join us every week to assess his own play, as well as his team's, while giving Ohio State fans continuous updates as his senior prep season rolls along.
Wilson's first entry comes just hours before Lake Travis hosts Akins in a District 25 matchup. A win would be the Cavaliers' 12th in their last 13 tries, dating back to 2017.
---
Garrett Wilson's first 44 receiving touchdowns certainly all had meaning to them. But his 45th ... well, that one took on a new level of significance.
In a 42-21 win over Bowie in both teams' District 25-6A opener, Wilson's 45th career touchdown reception came on an early strike from Texas quarterback commit Hudson Card. It broke Lake Travis' career receiving touchdowns record of 44, previously held by Fred Robinson, who set it in 2005.
Wilson said he didn't know about being in reach of the record until that morning, but after setting a new mark, he didn't quit there. 
He ended the night with five catches for 172 yards and two touchdowns, including an 87-yarder in the second quarter, and an 11-yard touchdown pass. All came in just the first half as the Cavaliers took a 42-7 lead into the break. After the game, he told the Austin American-Statesman that the last time he caught a touchdown pass longer than 87 yards, he was a fifth-grader at Glacier Ridge Elementary School in Dublin, Ohio.
"Last Friday was an awesome environment, being our first game in the Austin area," Wilson said. "I was unaware of being in reach of the school receiving touchdowns record until the morning of the game. It feels good to have my name beside a record at a prestigious offensive school like Lake Travis. [The win] was a big statement for us as a team."
The win moved Lake Travis to 3-0 after victories over Martin (35-14) and Mansfield Summit (14-0) to start the year. The Cavaliers are currently the No. 2 ranked team in Class 6A.
Still, Wilson says his team has plenty to work on.
"We're off to a good start, but we know we have to get a lot better if we're going to reach our goal we have every season," Wilson said. "We're very strong throwing the ball and not surrendering points on defense. We've also caused a good amount of turnovers. As an offense, we can get more clear with what we're doing and get rid of our mental errors."
Wilson also said, personally, he's working on "a lot of downfield blocking and building up my body to be a college football player."
That's good news for his future team, the Ohio State Buckeyes. Wilson said he watched the Buckeyes beat TCU by a 40-28 final this past weekend in Arlington, Texas. He'll also be watching this weekend when his future head coach Urban Meyer returns to the sidelines.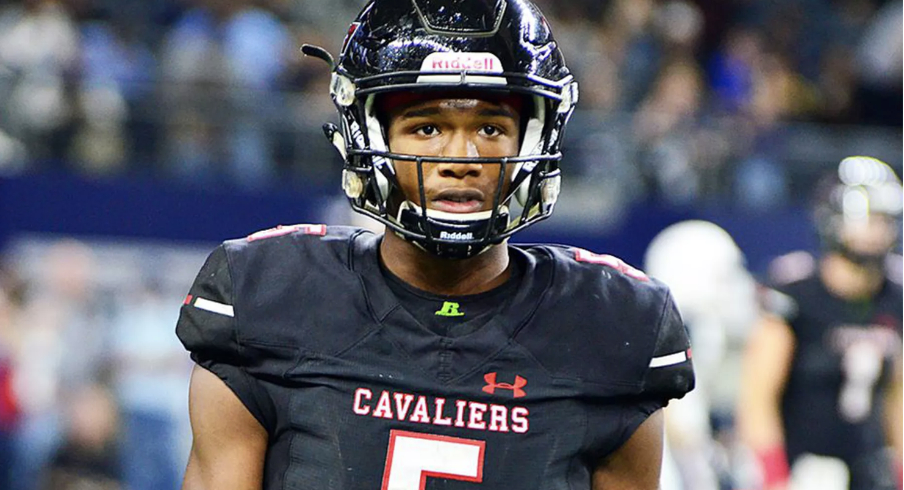 "Being a future Buckeye, I'm excited to see Urban back on the sidelines for the players and Buckeye community," he said. "The last game without Urban surprised me. I knew the offense was good, but wanted to see them against a high-level defense like TCU. I came away impressed with the way they played for how early it is in the season."
When watching the Buckeyes, Wilson of course pays close attention to the receiving corps. While he can't pick a favorite "for his own good," he said Johnnie Dixon "exhibits a lot of things I like in a receiver."
Ohio State's receivers are led by former NFL receiver Brian Hartline. Before Wilson committed to Ohio State, Hartline had quite the impact on his recruiting process.
"The wide receivers have looked good this year, which is good to see, knowing I'll be joining that group next year," Wilson said. "Coach Hartline has been awesome to talk to and get to know better. I'm looking forward to learning from a person who has already accomplished all the things I hope to accomplish as a player."
---
Next up for Wilson and Lake Travis is a district matchup with Akins at Cavalier Stadium in Austin. While last week was the first game for the Cavaliers in the Austin area, this week's contest serves as its true home opener.
So far, Wilson's season statistics sit at 18 catches for 305 yards and five touchdowns.
"We fully expect to win big," Wilson said. "We plan to win by just playing Lake Travis football and converting our opportunities. The goal is 4-0."