Seven Ohio State signees took the field for one more game before they become Buckeyes when they participated in the U.S. Army All-American Game in San Antonio on Saturday.
The East squad for Saturday's game included six future Buckeyes – running back Jaelen Gill, tight end Jeremy Ruckert, offensive tackle Max Wray, defensive tackle Taron Vincent, linebacker Dallas Gant and cornerback Tyreke Johnson – but the individual star among the Buckeyes' class of 2018 in Saturday's game was Tommy Togiai, the lone Ohio State signee to play for the West squad.
A 6-foot-3, 290-pound defensive tackle from Pocatello, Idaho, Togiai showed excellent feet for a man of his size. Togiai chased down Trevor Lawrence (a Clemson signee) to make multiple downfield tackles, forcing a fumble on one of them, though it was recovered by the East. He also brought pressure to help force multiple sacks and was in on at least three run stops around the line of scrimmage.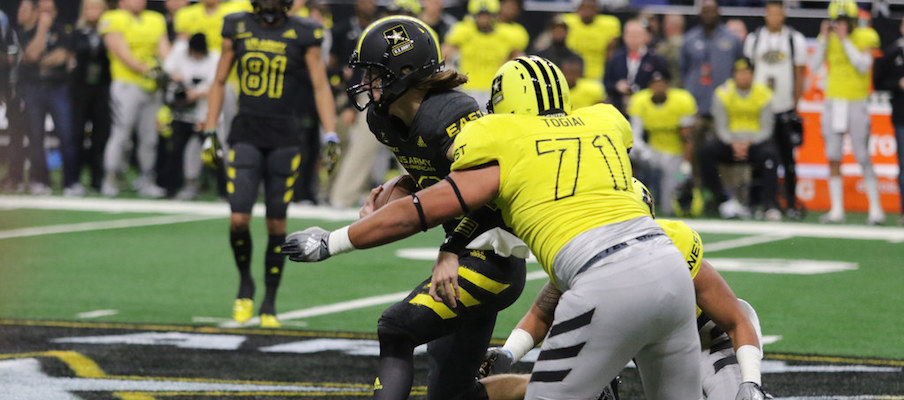 In what could be a precursor for Ohio State's defensive tackle tandem of the future, Vincent also had a solid showing, bringing inside pressure against West quarterbacks in pass-rush situations on numerous occasions throughout the game.
Gant showed his playmaking ability in the third quarter, when he combined with uncommitted five-star cornerback Tyson Campbell – who Ohio State is still recruiting – on a tackle in kickoff coverage inside the 10-yard line. Gant combined with defensive lineman Jayson Ademilola (Notre Dame signee) for a tackle for loss on the subsequent defensive play.
Wray started for the East squad at left tackle, while uncommitted four-star recruit Rasheed Walker – another Ohio State target – started for the East at right tackle. Wray, who started ahead of former Ohio State target Jackson Carman on the East depth chart, appeared to have a strong showing in pass protection while also showing quick feet when asked to pull block. Wray was penalized for a false start, however, while playing right tackle late in the game, which led to an unsuccessful two-point conversion that the East squad needed to win the game.
Gill had multiple opportunities to run the ball and catch a pass out of the backfield, but was not able to turn any of those touches into big plays, while he also dropped a pass. Ruckert finished the game without a catch.
Togiai's West squad won Saturday's game, 17-16, in front of an Army All-American Bowl record crowd of 41,017.
In addition to Togiai, two other Buckeye signees would have played for the West squad but were sidelined by injuries. Wide receiver Kamryn Babb is continuing to recover after tearing his ACL prior to his senior season at Christian Brothers College High School (St. Louis), while safety Josh Proctor missed the game with an ankle injury.
Other uncommitted participants in Saturday's game who are still being recruited by the Buckeyes include four-star offensive lineman William Barnes, who played right guard for the East, and five-star recruits Patrick Surtain Jr., who started opposite Campbell for the East at cornerback.
While Ohio State has often had on-air declarations from recruits during past U.S. Army All-American Games, the Buckeyes did not have any commitments during Saturday's game. With 22 players already signed or committed, however, they weren't expected to. While four-star wide receiver Rondale Moore had an Ohio State hat on the table for his declaration – and briefly feigned an Ohio State commitment by picking up that hat before committing to Purdue – the Louisville, Kentucky product was not being actively recruited by the Buckeyes before Saturday's game.