The Hurry Up is your nightly dose of updates from the Ohio State football recruiting trail, keeping tabs on the latest from commits and targets from around the country.
HIS SIDE OF THE STORY
When five-star defensive end Micah Parsons stepped on campus for his official visit in early September, Ohio State rolled out the red carpet in hopes of securing his commitment.
He was already quite familiar with the program — having visited six times in less than a year — and had formed a strong relationship with several commits, including five-star running back Jaelen Gill and four-star quarterback Emory Jones. All signs pointed toward him becoming a Buckeye, it was simply a matter of when.
Things abruptly changed after that visit, however.
Parsons, who had long been under the microscope for reported maturity issues, sent an ill-advised tweet advocating for a change at the quarterback position following Ohio State's 31-16 loss to Oklahoma. Communication became limited thereafter, and he eventually recommitted to Penn State in December.
This morning, I sat down to have breakfast with Parsons, who is set to play in Saturday's U.S. Army All-American Bowl. He was extremely genuine, well-spoken and open about his recruitment and how things unraveled with Ohio State, a place he once truly envisioned himself playing.
Parsons admitted his feelings for the program only got stronger with each return trip to Columbus, and that — as well as the negative comments he received from fans for taking visits while committed — was a big reason he backed off his pledge to the Nittany Lions back in April.
"It was looking bad on me and the program," he told Eleven Warriors. "I just backed off just to make sure my heart was where it wanted to be."
Parsons made his first trip to Ohio State as an uncommitted prospect for Friday Night Lights in July, where he spent a considerable amount of time with defensive line coach Larry Johnson. The two became very close throughout the process and Parsons believed Johnson could help mold him into a man both on and off the field.
But that all came tumbling down following the Buckeyes' loss to the Sooners. Parsons hit send on that tweet and the program was hit with a recruiting violation for giving him a tour of ESPN's College GameDay and allowing him to take photos with host Kirk Herbstreit and guest Eddie George on the set.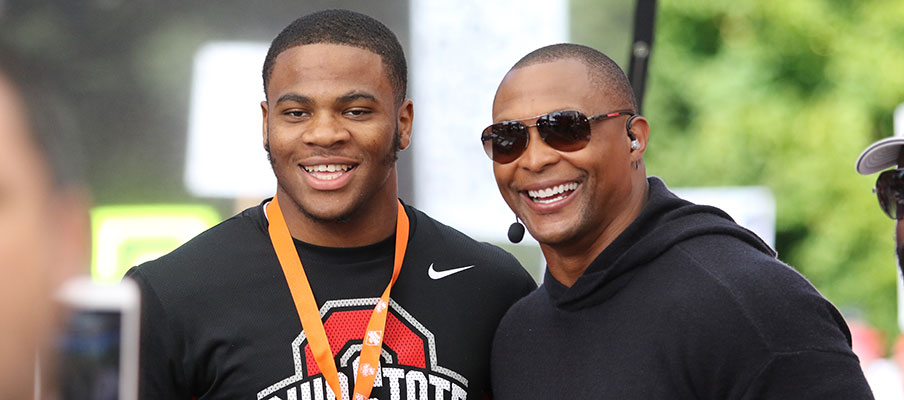 It was reported that Parsons requested to stop at the set of the ESPN production, but he tells a different story.
"This is the honest to God truth, [but] we were at the hotel [the team] stays at and they asked if I wanted to go see GameDay. I was like, 'Yeah, sure,'" Parsons said, noting recruiting assistant Ed Terwilliger gave him and his family the tour. "He knew the guy at the gate and said, 'Hey, I got this recruit and his parents here. Can they come back here to look at the set closely?' And when he got us closer to the stage and when they went on break, he asked me if I wanted to go up there."
The violation didn't come to light until just days before the Early Signing Period, and sources close to the program told Eleven Warriors several months ago the program had decided to move on from Parsons independent of the tweet and the recruiting violation, indicating a string of off-field issues as the biggest reason. Parsons, however, believes that to simply be a convenient excuse.
"Before that, they were trying to rush me to commit. I wasn't trying to [make a decision yet]. Maybe everything happens for a reason," Parsons said. "Before I left, Larry Johnson called me into his office and was like, 'When do you plan on committing?' I said I wanted to take all my visits first. He was like, 'There's no need. At some point, you need to stop all this stuff.' I guess they didn't like how I wanted to do my recruiting."
As for those reported maturity issues, Parsons isn't sure why he continues to have such accusations attached to his name.
"People might have taken their recruiting more seriously, but I'm a kid. I have fun."– Micah Parsons
"People might have taken their recruiting more seriously, but I'm a kid. I have fun," he said. "I just used it to travel, have fun. I mean, outside of recruiting, how have I done anything wrong? Yeah, I transferred schools because of a racial [social media] incident and some other things that were never talked about. But academically, I'm graduating early. Where am I not mature? I talk fluently, I know what I'm doing and how I'm doing it. I'm just playing football and people get mad about it. Yeah, I'm going to have fun."
And when it comes to relationships off the field, Parsons believes coaches and some people in the media like to use the city he grew up in and his brother's past legal troubles against him.
"How would you respect someone who would perceive me because of my brother. If anything, I learned to be different from my brother," he said. "I saw my brother be like me and have a chance to do big things, but couldn't because of his issues. I actually learned a lot from my brother, to be different. We talk about this all the time. It's not like I'm following after my brother. I've never been in legal trouble, I've never been in any fights, I never did anything where people can say I've been [immature]."
Parsons eventually found out home was where he wanted to be all along. And while Penn State is only a little more than an hour from Harrisburg, he traveled quite the long, winding road to get there.
And yes, his pit bull puppy, Brutus — coincidentally named for Ohio State's mascot — is going with him.
"Do you know how many people want to name their dog Brutus," Parsons asked."I could be talking about shoes, these scarlet and gray Nikes. 'Oh, he's going to Ohio State.' I could get some navy blue Jordans. 'Oh my gosh.' He's going to Michigan. [The recruiting process] is crazy."
BIG MONTH AHEAD
With a glaring need at offensive tackle following Fairfield five-star Jackson Carman's commitment to Clemson, Ohio State is set to get one of its top remaining targets on campus for an official visit sometime this month.
"I've been talking with coach Tony Alford. He came down a few weeks ago, talking to me, saying that he wants me to come up there for a visit," Apopka, Florida, four-star offensive tackle William Barnes told Eleven Warriors during Wednesday's U.S. Army All-American Bowl media availability. "I have a visit set, but I'm not sure what the date is, though."
The 6-foot-4, 312-pound Barnes is considered the fifth-best offensive tackle and No. 46 prospect overall in the Class of 2018. He included the Buckeyes in his Top 7 back in July alongside Alabama, Auburn, Florida, Florida State, Georgia and North Carolina, but put his recruitment on the backburner as he finished out his senior season.
Barnes made his first and only trip to Columbus for a spring practice in early April, and it certainly resonated with him and his family.
"It was definitely a great experience talking with the players and seeing what their feel for it is. They love it up there. Talking to coach Urban Meyer and coach [Greg] Stud[rawa], the offensive line coach, they're great guys, too," he said. "The program and all of the stuff they have to build on the character that you need to be [really stands out]. Life after football and all the stuff they do for their players is just amazing up there."
The Gators are the perceived favorite at this point in time, but the official visit could surely change a lot. Barnes doesn't plan to make a decision until Feb. 7, and if the Buckeyes can impress upon him their value of an education and show him more about the Real Life Wednesday program, they have a chance.
"Probably the education side of it [will be the biggest factor in my decision," Barnes said. "Me and my family always talk about life after football."