The Hurry Up is your nightcap of Ohio State recruiting news, catching you up on the day's events with an ear on the ground for what's next.
---
LINDSEY, GARRETT, BISHOP GORMAN CHECK OUT USC AND UCLA
Ohio State commitment Haskell Garrett, top 2017 wide receiver target Tyjon Lindsey and his former five-star quarterback teammate, Tate Martell, were among a group of Bishop Gorman standouts that hit up Los Angeles this weekend to see USC and UCLA.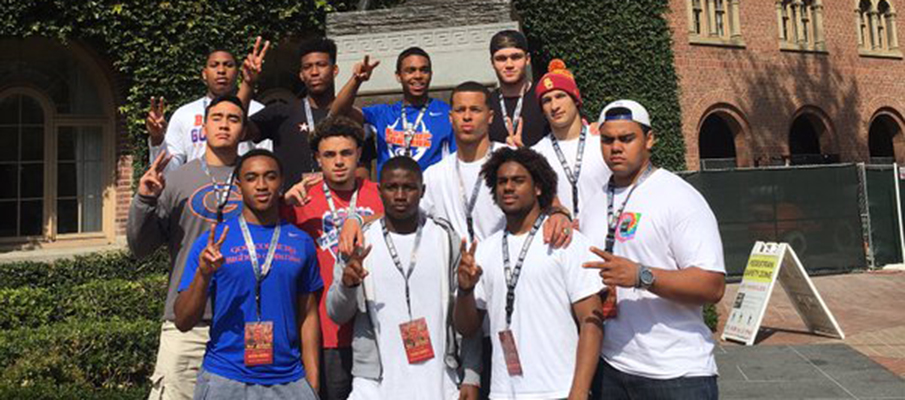 The visits preceded The Opening's regional camp in LA, and gave the Gaels' teammates a chance to see two schools that are certainly going to be involved with a number of them, but none that could be more impacted by USC than Lindsey, who recently moved back home to Southern California and has seen an uptick in communication with the Trojans.
This weekend's trips are one of what will be absolutely be many visits to USC and UCLA for Lindsey, but–at least until the football season–likely only going to be one opportunity to visit Ohio State. That appears to be happening, at least tentatively, sometime in the next few weeks.
From BleacherReport.com:
He'll travel to Columbus alongside former Bishop Gorman teammate and 4-star Buckeyes defensive tackle commit Haskell Garrett.

"My relationship with the team's staff is great, and we talk a lot. Now I just need to experience Ohio State in person and find out if it's a good fit," Lindsey said.
Lindsey told me that there's no definite dates selected, but he feels confident the trip will happen.
"I'm pretty sure," Lindsey said of the March trip. "I need to come out with a top schools list soon."
Two months ago, the five-star wide receiver was eager and anxious to talk recruiting, but as 2016's signing day came and went, the attention and spotlight shifted entirely to the 2017 class. Since then, Lindsey has seen offers from all over the country pouring in, including Notre Dame, Auburn, Tennessee and others that are throwing their hat into the ring. 
The Buckeyes, thanks to Lindsey's relationship with Zach Smith, are still the team to beat in my mind but USC is going to be a major obstacle in this race.
Lindsey and another Ohio State target, 2017 defensive back Darnay Holmes, both were named positional MVPs at the regional camp in Los Angeles. Lindsey, Holmes, Garrett, and Martell all earned invites to The Opening.
Positional MVPs in LA include Darnay Holmes (DB), Tyjon Lindsey (WR), Ezekiel Noa (LB), Michael Saffell (OL) and Chase Garbers (QB).

— Tyler Donohue (@TDsTake) February 28, 2016
RIVALS CAMP UPDATES FROM ORLANDO, MIAMI; PRYOR WINS DB MVP
A number of Buckeye commits and targets were on hand for this weekend's Orlando and Miami Rivals Camps. 
There's been a lot of talk about Isaiah Pryor and his future position in Columbus. The 6-foot-2, 190-pounder continues to impress at defensive back, the position he ultimately would like to play in college. On Saturday, he took home defensive back MVP honors at the Orlando Rivals Camp. The fine folks over at Rivals were also able to provide some video of the event. 
The Rivals Camp has a new series of events that serves as an obstacle course of sorts in order to test the athletes' speeds. Pryor and another Ohio State commit, Marcus Williamson, were the two standouts in the event. 
Further south in the Sunshine State, the Buckeyes' top wide receiver target for 2017 also took home some honors. Trevon Grimes was named as the event's wide receiver MVP. The five-star then took some time to talk a little recruiting with BuckeyeGrove.com's Kevin Noon.
OHIO STATE TARGETS IN PENNSYLVANIA THIS WEEKEND
On Friday, we talked a little bit about Penn State's Junior Day which took place Saturday in Happy Valley. A couple of Ohio State's top defensive back targets were on hand for the Nittany Lions' event, and both were in Pittsburgh on Sunday checking out the Panthers. 
5-Star CB Lamont Wade is #PennState #1 Priority in the Class of 2017. https://t.co/TChDJ3iRwk pic.twitter.com/lAiutJzIyp

— Rivals.com (@Rivals) February 28, 2016
Cincinnati's Amir Riep (Colerain) spent some time with Pat Narduzzi, a guy who knows a thing or two about coaching defensive backs. 
With the main man and bros pic.twitter.com/hYMNYOtX6p

— Amir Riep (@Riep_Amir) February 28, 2016
Riep is scheduled to check out Tennessee next weekend and will be in South Bend on March 19th. As for Lamont Wade, the Buckeyes appear to still be in a great spot, but the Nits and Panthers aren't going to make things easy.
NO SHAUN WADE IN THE CLASS? WHAT GIVES, BIRM?
So....
This morning, Andrew wrote a story about the Ohio State 2017 recruiting class wherein he gave his, and I gave my, predictions about how the class could finish, as of today.
Many of you noticed quickly that neither Mr. TeddyHeisman nor myself included Jacksonville five-star cornerback Shaun Wade, who has been committed to the Buckeyes since January…of 2015.
I've decided to try and explain my decision for not including Wade, despite his consistent assurances that he's "100 percent committed" to Ohio State. 
First and foremost, there's no doubt that the 6-foot-2, 185-pounder really likes the Buckeyes and they are working very hard to keep him in their class. He's a game-changer and truly one of the country's elite prospects. Kerry Coombs, Tony Alford, Urban Meyer–everyone–is working to build the best relationship they can with Wade, because why?
Because #ComfortandRelationships, of course. We all know that's the first rule of recruiting, right? Wade talks to the Buckeyes in some capacity nearly daily and there is not a single drop of complacency in their recruitment of him. That said, there's a second rule of recruiting that is almost as important as Rule No. 1. 
Rule No. 2: What a recruit does means a lot more than what a recruit says.
If Wade were "100-percent committed" the repeated trips to SEC powerhouses and schools around the country would not be happening. He's clearly researching and thoroughly vetting every opportunity he has (which he 100-percent should do) and one them, and one of his favorites, is Ohio State. 
So, if it eases any fears, don't worry that I didn't include Wade in my prediction for 2017 because it doesn't mean that I think he's out of the class, it's because in my mind he's not yet been in the class, if that makes any sense. Getting him back on campus soon will be an important factor for the Buckeyes.
Hope that helps.