The Hurry Up is your nightcap of Ohio State recruiting news, catching you up on the day's events with an ear on the ground for what's next.
---
OHIO STATE: WHERE THEY'VE BEEN TODAY
There's no doubt the Buckeyes coaching staff would rather be preparing for the Big Ten championship game rather than recruiting.
November 30, 2015
(Well played, Sparty.)
Still, with no game to play this weekend, they are recruiting nonetheless. Where were the coaches Monday? Here's what we've been able to gain confirmation of.
Tony Alford – along with Larry Johnson – are spending the early part of the week in Florida. Alford was expected to visit Clearwater 2017 running back Adarius Lemons.
Ohio State will be in the area tomorrow to check out Clearwater 4* RB @adariuslemons (Adarius Lemons). @CT_Pride_ @CoachMesick @blindzchs

— Lynden Ostrander (@lynden_o) November 29, 2015
Wide receiver coach Zach Smith was in Virginia, checking in on Lake Taylor High School in Norfolk where he visited with Buckeyes 2016 commitment Wayne Davis and his 2017 teammate, defensive tackle Darnell Ewell. Smith was also expected to spend some time near Virginia Beach, so a stop at Ocean Lakes High School where 2017 stars Khalan Laborn, Tahj Capehart and Eric Crosby, along with Bayside High School where 2018 linebacker Teradja Mitchell plays are likely.
Ed Warinner was in Southern Ohio today. He went to Portsmouth and checked in on Buckeyes' 2016 commit Tyler Gerald and 2018 offensive lineman Blaine Scott. He stopped in the Cincinnati area as well. Tuesday and the rest of the week you should expect to hear about Warinner on the East Coast, where he's likely to visit Paramus High School and the country's top-ranked recruit Rashan Gary –– don't be surprised if Urban Meyer and Warinner try to arrange an at-home with Gary this week. It'd not be shocking if the Buckeyes' offensive coordinator visited Kareem Walker as well, but I wouldn't expect that to lead to anything major happening.
Chris Ash should be in New Jersey this week as well, checking in on Jordan Fuller among others. He's expected to make the long trip to California this week as well to visit with Brandon Burton, who took his official visit to Ohio State for the Michigan State game.
Kerry Coombs traveled to Baltimore and Virginia Monday, seeing Kareem Felder among others.
We'll have more on different recruits visited by Ohio State throughout the week.
BUCKEYES EARN FIRST TEAM ALL-STATE HONORS
Last week Jake Hausmann was named to the Army All-American game and today he earned first team All-Ohio Division I. He was joined on the first team by fellow Ohio State commitment Jonathon Cooper. 
Class of 2017 commitment Marcus Williamson (honorable mention) and his 2018 Westerville South teammate Jaelen Gill (second team) were each honored as well. Gill was the only sophomore to be named in Division One across the lists.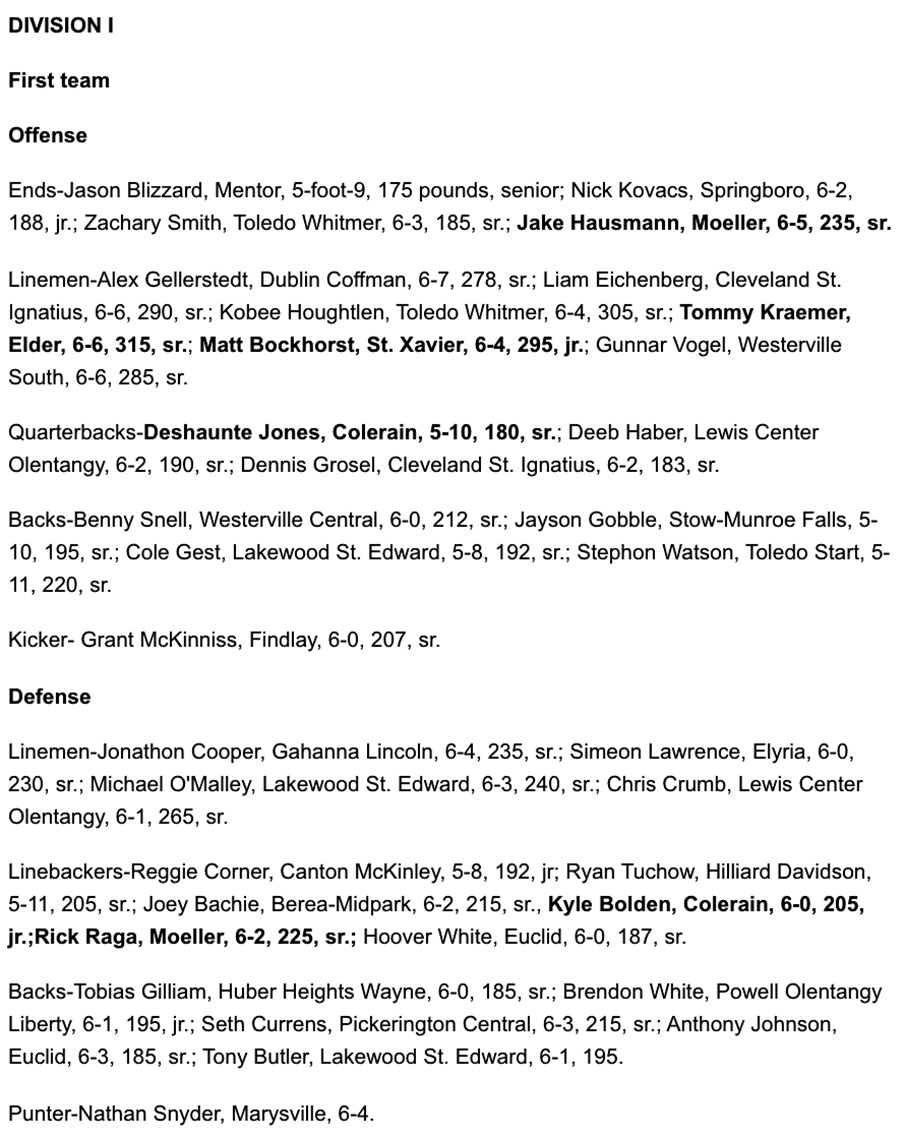 In Division II, Ohio State defensive tackle commitment Jerron Cage and offensive lineman Josh Myers were named to the first team list.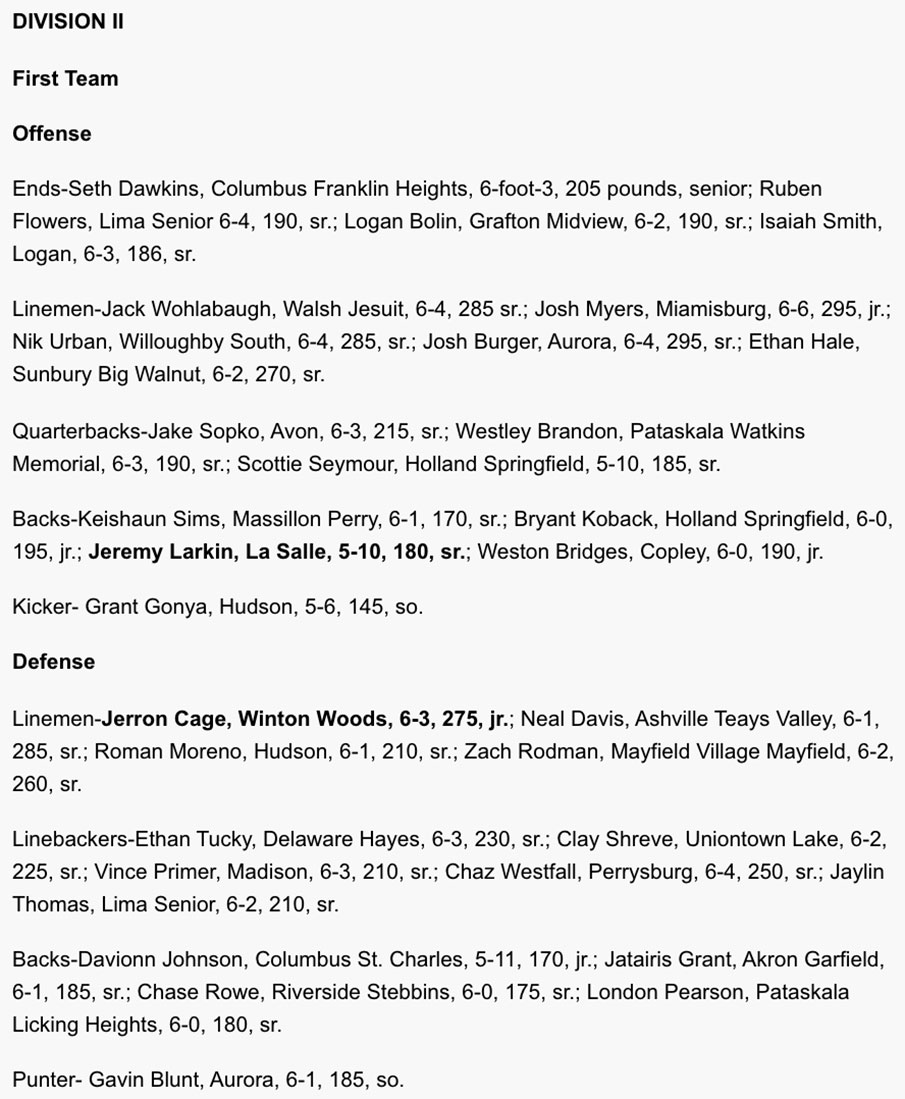 The rest of the All-State teams will be released throughout the week.
HAYES WILL SEE MEYER THIS WEEK, DECISION COMING
The race for Daelin Hayes is entering its final leg. 
On Thursday of this week, Ohio State head coach Urban Meyer and Tony Alford–who has been recruiting Hayes since his time at Notre Dame–will make their final pitch for the four-star linebacker. 
Notre Dame, who visited Hayes today at Ann Arbor's Skyline High School, remains the favorite to land the 6-foot-4, 235-pounder and they'll take their final at-home visit with him next Monday. Hayes—who will enroll in January—took to Twitter this evening to lay out his announcement plans.
I will be announcing my Commitment December 10th at 12:30 p.m.

— Daelin Hayes (@DaelinHayes_24) November 30, 2015
There are some close to the Buckeyes that feel they're in a good spot to scoop in and land Hayes but there's been no letdown in confidence from South Bend. Thursday night will be the decider for Ohio State but it's going to be hard to defeat the Irish here.
NEW OFFER: 2017 FOUR-STAR DEFENSIVE END ZACHARY TAYLOR
While in Florida Monday, Tony Alford made a new offer in the 2017 recruiting class. 
Four-star defensive end Zachary Carter from Hillsborough High School (Tampa) is the country's 5th-ranked 2017 end. He's 6-foot-5 and 240 pounds and has offers from Florida, Clemson and Penn State among his early group. 
Carter told Eleven Warriors that he's been hearing from the Buckeyes for a while, but Alford visited the school and extended the offer.