The Hurry Up is your nightcap of Ohio State recruiting news, catching you up on the day's events with an ear on the ground for what's next.
---
COACHES COMING AND GOING
For most of the college programs around the country, the end of November signals the end of the regular season. For some that brings with it a difficult decision: do we cut ties with our head coach? For some schools, like Rutgers, that decision seems to be an easy one. Some, like Georgia, aren't as black and white and are sure to be met with resistance from segments of the fan base, the boosters and–as we talk about here–the recruits.
Wow

— Richard LeCounte III (@LilEasy_35) November 29, 2015
That, of course, is Georgia's Richard LeCounte, commenting and lamenting the separation of Richt from the Bulldogs. The five-star 2017 prospect is a high-priority target for Georgia and Ohio State, and the timing of Richt's dismissal–weeks ahead of LeCounte's expected decision–shows exactly how stressful these choices are. Yes, Richt has been a very successful coach for 11 years, but at a place like Georgia (and Nebraska a year ago), there's a belief that winning nine or 10 games just isn't enough. Richt is one of the game's most respected men, not just a coach, and there's no guarantee (as Nebraska showed) that you're going to necessarily do better than you had when you hire a new guy. 
Georgia has the country's fourth-ranked 2016 recruiting class, including a pledge from Jacob Eason, the fifth-ranked overall prospect and second-ranked quarterback. Losing a five-star like Eason is a possibility if a new coach isn't procured quickly, but just as important are in-state beasts like Derrick Brown, who may find himself following fellow Georgia five-star Kyle Davis to Auburn. 
There are now 15 FBS head coaching jobs open, and naturally, there's bound to be some interest in a few of Ohio State's assistants, with Ed Warinner and Chris Ash being the most likely to be poached. What continues to work in Ohio State's favor, especially on the recruiting front, is that Urban Meyer's job security is tighter than Fort Knox and everyone knows it.
We'll have more in the next few days on recruits from other schools that the Buckeyes could consider trying to get back in the game for.
NOTES FROM RIVALRY CONTESTS AROUND THE COUNTRY
With a handful of the country's greatest rivalries being renewed this weekend, it's hard to find one single weekend all season that carries the potential recruiting weight this one did. A number of Ohio State recruits, especially the top remaining 2016 targets, were at a some of college football's best venues for the best games this weekend.
Antwuan Jackson visited the Florida Gators, choosing to head to Gainesville for an official visit rather than taking another trip to Auburn and see the Iron Bowl. 

Flordia Visit was Lit #GatorNation pic.twitter.com/cGdJ7zIa7j

— Antwuan Jackson (@Hercules__52) November 29, 2015

Jackson is supposed to visit Auburn officially Dec. 11. There is some discussion a decision could come before then, so we'll keep watching.
Maryland commit Dwayne Haskins also took an official visit to Florida and the longer Maryland operates without a head coach, the more tenuous their hold on the gem of their class becomes. However, former LSU pledge Feleipe Franks committed to Florida Sunday night. He had been considering a flip from the Tigers even before the Les Miles debacle of the last week.
Florida added a commitment from wide receiver Dre Massey and they continue to try and recruit Nate Craig-Myers and Binjimen Victor. Victor was slated to visiting Florida this past weekend but did not.
Michigan added a commitment from Top 100 defensive tackle Jordan Elliott, who made his official visit from Houston.
The Wolverines also could be helped this weekend by the Richt firing as it will certainly impact the recruiting of five-star tight end Isaac Nauta. Georgia has been the heavy favorite since Nauta decommitted from Florida State over the summer.
Donnie Corley and his 2017 teammate at Martin Luther King, Ambry Thomas, each visited Michigan as well. The Crusaders teammates won a state championship on Friday in Detroit and chose to visit Michigan instead of heading to East Lansing to see Michigan State. Corley is still hoping to get back to Ohio State before making a decision, which is scheduled for Dec. 8.
Damar Hamlin and Lamont Wade visited Pittsburgh and watched the Panthers take on Miami at Heinz Field.
GAVIN CUPP THROWBACK
With The Game taking place yesterday, I thought it'd be cool to show off this photo of 2016 Buckeye commitment Gavin Cupp.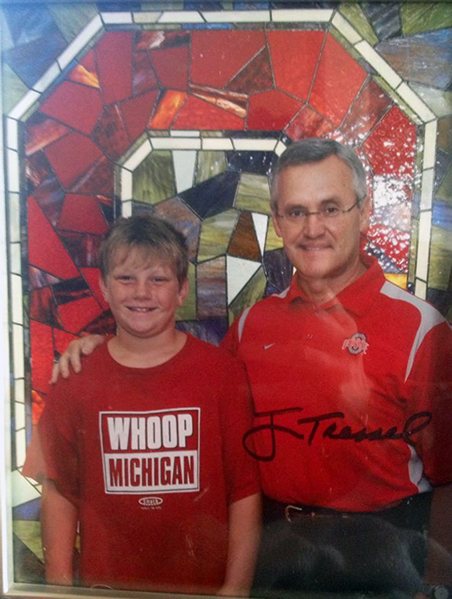 Cupp, from small-town Leipsic, Ohio, will be taking totally different pictures of him with Buckeyes' coaches in the near future.
OHIO STATE COACHES WILL BE HITTING THE ROAD
Monday, Ohio State coaches will be making their out of Columbus and hitting the recruiting trail.
Eleven Warriors will bring as many updates as possible on where the coaching staff has been, is at, and will go during what's sure to be an exceptionally busy week.
LYNN BOWDEN HIGHLIGHTS
One of Ohio's most exciting athletes and a name to watch in-state for 2017, Warren G. Harding's Lynn Bowden, has released his junior year highlight tape.
It's easy to see why Bowden, 6-foot-1 and 185-pounds, has six early offers and is quickly becoming a serious offer candidate for the Buckeyes.