The Hurry Up is your nightcap of Ohio State recruiting news, catching you up on the day's events with an ear on the ground for what's next.
---
HOW A LOSS IMPACTS RECRUITING
To state the obvious, no one likes to lose. It's even less appreciated, and subsequently handled even more poorly, when it's something you almost never do. The facts are that in the last 52 games, Urban Meyer and the Buckeyes have lost four times, two of them during huge, showcase, monster-recruiting-weekend, home games. The question I was asked a number of times last night was "how does this impact a weekend like this?"
There are, of course, a number of ways to look at it. The first and most simple answer is this: a loss during a game doesn't really impact a visit at all. The kids who are in the stands, watching, imagining their role on the team, etc. aren't concerned about a loss. They have lost games, they will lose games, everyone loses games–even if it's just once every two years–and that's part of being a competitor. 
Does a player venting–and in my opinion doing it the wrong way–show dysfunction and an underlying locker room malfunction? Does that impact a recruiting visit? No, of course not. Frustration after a disappointing loss is natural, and even if the public outburst is less than ideal, it's what people are feeling anyway.  So no, a recruit isn't going to read into that display as a microcosm of a larger issue inside of the program.
What about less-than-ideal weather for players from warmer climates? Does that impact a visit? Nope, not one bit. What about an anemic and awful offensive or defensive performance? No, recruits are smarter than they're given credit for. They see the game as a football player, not a fan, and aren't prone to overreaction when a game plan goes awry.
"OK, Jeremy, what does impact a visit in a negative way?" 
When a recruit hears 109,000 people booing their undefeated, defending national championship football team on Senior Day when they're in a nationally televised game against a Top 10 opponent.
Period.
/rant
DORN, SINGLETON UPDATES
Two of the six official visitors this weekend, defensive backs Myles Dorn and Dylan Singleton, are newer names to the average Buckeye recruiting fan and it appears, at least for now, they can stay off the list of "need to know" guys.
According to a source at Ohio State, neither Dorn nor Singleton are in the imminent plans for the Buckeyes and vice versa. 
Singleton, who made the trip north with 2017 teammate Isaiah Pryor, is committed to Duke and will make an official visit to Durham next weekend. 
Dorn has been a real consideration in the last few weeks but at this point it seems unlikely for him to end up in Columbus.
HOW A LOSS CAN ACTUALLY HELP
Lamont Wade is the country's seventh-ranked cornerback in the 2017 class, the 58th-ranked overall player and his team, the Clairton Bears in Clairton, Pennsylvania, are preparing to try and win a state title this upcoming Saturday. Saturday, Lamont and his father–Carlton Wade–were on hand in Columbus and watched the Buckeyes, who lead in the recruitment for the four-star, get upset by Michigan State. The loss may actually go a ways towards helping Ohio State with Lamont, because for the first time the family can see how the Buckeyes deal with this level of disappointment.
"I think it's good for recruits to see the ups and downs of a program," Carlton Wade told Eleven Warriors. "To sit back, to see how they handle it."
For the Wades, the visit still went well even though they weren't able to talk to Urban Meyer following the game as they'd planned.
"(The visit) went well," he said. "Ohio State is a class program. We were supposed to talk to Urban after the game but no one said anything so we left."
Mr. Wade said he thinks too much is being made of the game's outcome, at least from an outside perspective.
"(Ohio State) has been struggling on offense all year," Wade said. "They lost to a good team. I don't see what the fuss is about."
ANTJUAN SIMMONS TALKS VISIT
One of the fastest-rising prospects in the 2017 recruiting class in Ann Arbor, Michigan, athlete Antjuan Simmons, who made his second visit to Ohio State this season on Saturday. Ohio State and Michigan State are two of the schools who've offered him recently–he's received almost 30 offers since the summer–so this visit was a big one.
"It was great," Simmons said of the visit. "I always have a great time in Columbus." 
For the 6-foot-1, 205-pounder, the trip was another opportunity to get closer to the Ohio State coaching staff.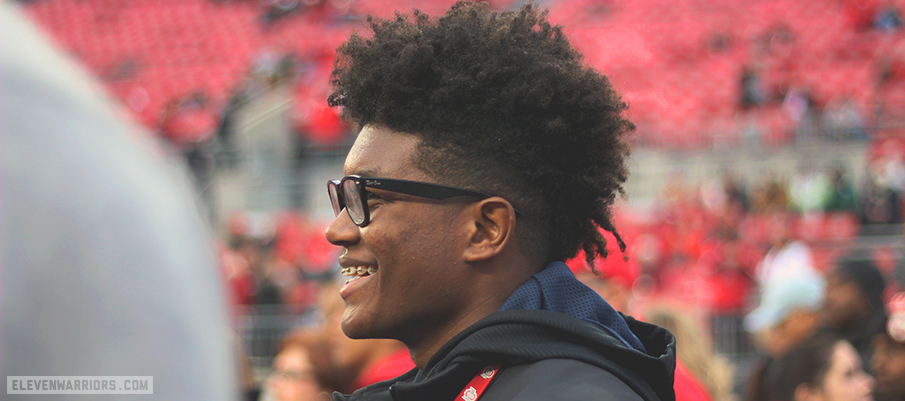 "I got to speak to a lot of the coaches and all the committed players; maybe some future (commitments) also," he said. "The atmosphere, and the fact that a lot of the recruits were cool with each other–like everybody knew somebody and was having good conversations with them–I haven't really seen that anywhere else yet. You could tell they're a family now even though they aren't on the same team yet."
Does the Ohio State loss change how he viewed the visit?
"No," Simmons added. "It depends on how you look at it. You can really kind of see where you could help."
LECOUNTE'S FINAL TWO SEEMS TO BE PRETTY CLEAR
Richard LeCounte wasn't able to make it to Ohio State this weekend, but it appears the Buckeyes were still on his mind. At the very least, they were on his hands.
Before the game #OhioSt gloves... During the game #Georgia gloves... #GoBucks vs. #Dawgs for Richard LeCounte pic.twitter.com/g3kKbTkyHb

— Chad Simmons (@ChadSimmons_) November 21, 2015
Ohio State and Georgia each hope to land the now five-star athlete, ranked as the top athlete in 2017. He's expected to make a decision in December.