The Hurry Up is your nightcap of Ohio State recruiting news, catching you up on the day's events with an ear on the ground for what's next.
---
GRIMES WILL BE IN COLUMBUS FOR PENN STATE
For the last few months, the question about Ohio State and 2017 Fort Lauderdale wide receiver Trevon Grimes has been more "when will he" than "will he?" 
When will he visit again? When will he commit to the Buckeyes? In July, many thought that the answer to both of those questions would be Friday Night Lights, but Grimes – the country's top-ranked 2017 wide receiver – didn't make the trip. Since then, Ohio State tried a number of times to get the 6-foot-3, 180-pounder, whose family relocated to Florida from Indianapolis, back to the Midwest. It appears that's finally in the works...again. When Nick Bosa and Sam Bruce are making their official visits to Ohio State on Oct. 17, Grimes is expected to be traveling with them.
"As far as I know, Trevon is going," a source at St. Thomas Aquinas shared with 11W. "I talked yesterday with all of them about the trip. Trevon is looking into flights to match up with Nick and Sam."
According to a couple of people close to Grimes, it wouldn't be a huge surprise if that weekend ended with a bang: Grimes committing to the Buckeyes.
VICTOR WVU TRIP A BIG BOOST FOR 'EERS
One of the bigger remaining targets for the Buckeyes in 2016 is wide receiver Binjimen Victor from Coconut Creek, Florida. Victor, the country's eighth-ranked wide receiver, made his first official visit this past weekend and headed to Morgantown, West Virginia to check out the Mountaineers. It appears that the visit went pretty well.
Four-star WR Binjimen Victor says his #WVU official gave him chills. Moves WVU up his list - http://t.co/kRhIZcpO10 pic.twitter.com/Zv8gNxL4FS

— WVSports.com (@WVSportsDotCom) September 28, 2015
Obviously, most official visits are going to be a real good time, but there's some smoke that the 'Eers really did move up the list for Victor, who has been listing the Buckeyes, Florida and Tennessee as the primary factors in his recruitment up to this point.
West Virginia has a very strong presence in South Florida and Victor's pre-existing relationship with a handful of Mountaineer players gives them a bit of familiarity despite being a relatively new name in his recruitment publicly.
Victor will likely take his official visit to Ohio State Nov. 21 when the Buckeyes take on Michigan State. 
NEW 2017 RUNNING BACK OFFERS
Ohio State already has one 2017 commitment from a running back – Akron's Todd Sibley, Jr. – but they are relentlessly pursuing others, signaling clearly that the goal is to add more depth to a backfield that will get real thin after the 2016 season.
The Buckeyes are very much in the mix for Georgia's Trey Sermon, who we've talked about a bit here in the past. Sermon is the fourth-ranked tailback in 2017 and is right at the top of the Ohio State wish list. Even though they're in good shape with Sermon, Ohio State is not idly sitting by, offering two other backs in his class in the last week.
First, it was Alabama commit Cam Akers, who visited Columbus and participated during Friday Night Lights in July.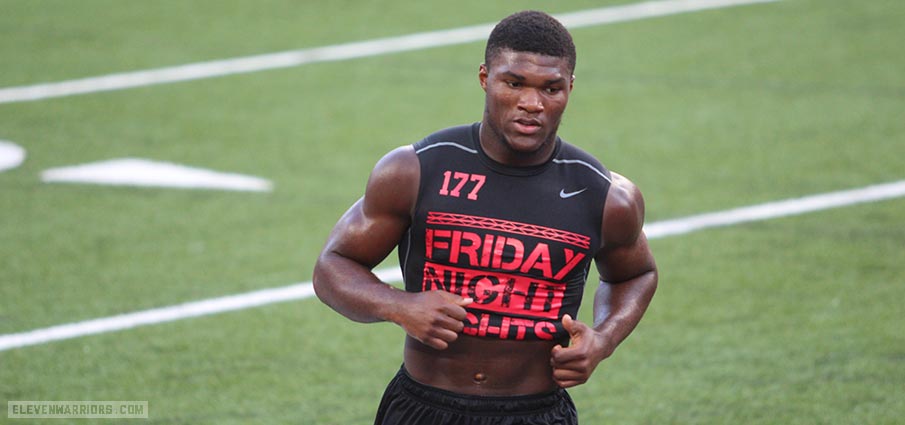 Akers, 5-foot-11 and 200-pounds, committed to the Crimson Tide about 10 days after his trip to Ohio State and is the fifth-ranked running back.
Late last night, it was Florida back Adarius Lemons, a 6-foot-1, 185-pounder from Clearwater who added an Ohio State offer to his docket.
Uh oh!! Just got offered by the university of (Ohio State!!) extremely blessed gotta think the man above.

— adarius zabri lemons (@adariuslemons) September 29, 2015
Lemons, a three-star prospect, has seen his interest skyrocket as his junior season unfolds.
He named Michigan his leader after an offer last week from the Fighting Khakis.
BUCKEYES BACK TO WORK IN MICHIGAN
Another potential 2017 running back – who could also be a linebacker – who has added a Buckeye offer is Ann Arbor Pioneer's Antjuan Simmons. 
Extremely honored & blessed to say that I have received my 13th offer from The Ohio State University! pic.twitter.com/Yb4XQS0spG

— antjuan simmons (@_antjuan_) September 29, 2015
Simmons is 6-foot-1, 205-pounds and his highlights showcase a player that, similar to the build and style of Jerome Baker in the 2015 class, could do a number of different things come college.
Notre Dame has already offered Simmons, but as of now both of the in-state powers have held off.
Like most players in lower Michigan, Simmons is being recruited by Ohio State's Kerry Coombs. He will make his next trip to Columbus to check out the Buckeyes Oct. 10, when the Buckeyes take on Maryland.
"I've been to Ohio State three or four times," Simmons told 11W. "Me and Coach Coombs have been talking since April. This offer is huge, it's definitely an honor and it means a lot to me and my family."
Despite growing up in Ann Arbor, Simmons says he never had a rooting interest in a college football team.
"I never had a favorite (growing up)," Simmons said when asked if the Buckeyes were trying to play catch up with the locals. "I loved watching The Game because of how hyped it was. I just want to play football and get a great education."