Welcome to The Hurry-Up, which runs Sunday through Thursday, serving as your last stop for recruiting news and notes nightly. We'll recap the day as it happened and preview the days ahead while keeping our ear to the ground on the Ohio State recruiting scene.
---
MATT BURRELL HONORED, DECISION COMING SOON?
Today in Woodbridge, Virginia, Ohio State 2015 lineman target Matt Burrell was honored as a US Army All-American. Shortly thereafter, 247Sports.com reported that a decision for Burrell would be coming soon, maybe even as soon as tomorrow. According to Matt Burrell, Sr. his son was considering an announcement today, but there were still some questions and potentially another official visit to sort out.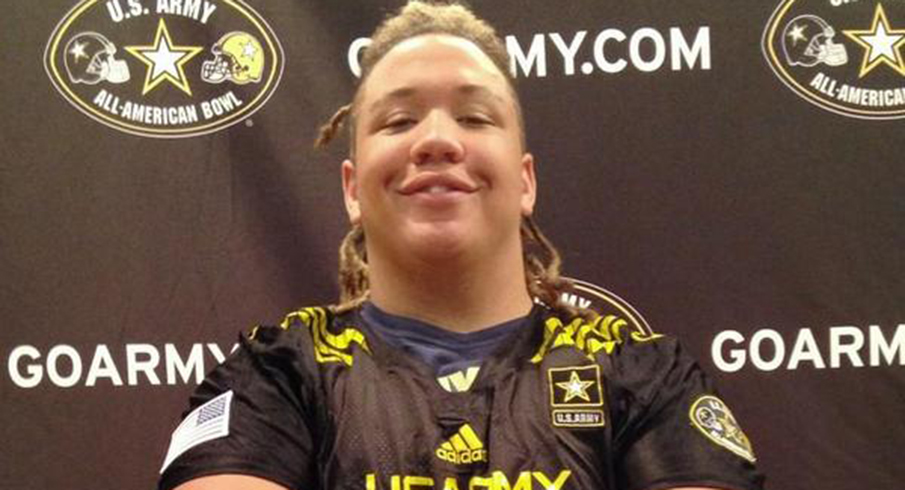 "I'm dealing with an impulsive teenager," the elder Burrell told Eleven Warriors jokingly. "But we'll see. Matt wants to replace the Florida official visit with one to LSU, and I agree with him. He said he was announcing on this day previously, but he's not. There are still some things we have to work out."
Sources close to the Buckeyes are not any more clear about Burrell's plan. They don't expect an announcement this week, but the nation's 5th-ranked guard is as enigmatic as he is affable, so anything is possible. 
Bottom line? Expect the winner of the Matt Burrell sweepstakes to be notified sometime soon.
ANTHONY MCKEE CHECKING OUT BUCKEYES THIS WEEKEND
One of the state's most versatile and talented players, Marion-Franklin's Anthony McKee, will visit Ohio State this weekend. The visit, an unofficial visit, is interesting. McKee is a highly-regarded linebacker prospect and the timing — two days after we found out Ohio State told Malik Jefferson it had no more room at the position — is curious. I talked to McKee and here's the breakdown.
"Coach Fickell asked me to come visit," McKee said. "They're talking to me about playing linebacker and safety."
A 6-foot-2, 190-pounder, McKee at safety is a more likely avenue to a potential Buckeye scholarship. He's a Top 300 player nationally, but despite being down the street from Ohio State, the Buckeyes haven't pulled the trigger. He's visited Oklahoma officially and will head to East Lansing next weekend when the Spartans host the Buckeyes. He has been offered by Michigan State.
JOSH NORWOOD BETTER THAN HIS RANKING?
One of the key official visitors in town this weekend is Valdosta, Georgia's Josh Norwood. A former Cincinnati Bearcat commitment, Norwood is a consensus three-star prospect but a source close to the Buckeyes says he's being overlooked by pretty much everyone.
"I really think Norwood is being overlooked by people because of his 'stars', because he was committed to Cincinnati, etc. He's really good," the source told 11W. "His senior film is excellent, but he didn't camp anywhere over the summer so his name didn't really get out there."
Asked if he thought Ohio State could take both Norwood and Virginia's Garrett Taylor, there was no clear-cut answer, but it appears the Buckeyes could.
"I think there's at least two more defensive back spots left," the source added. "There's so much uncertainty at safety. The perception that all of these defensive backs are trying to grab one spot that's left isn't right, I think it's likely two or three could get in."
RASHAD ROUNDTREE DISCUSSION
The uncertainty at safety in Ohio State's 2015 recruiting class could turn quickly to certainty depending on how Georgia standout Rashad Roundtree's official visit to Columbus goes this weekend. My discussion with the source regarding Norwood turned to the 6-foot-1, 200 pound Roundtree.
"I think it's likely two or three could get in," the source said. "Especially if one is Roundtree, who we obviously wouldn't turn away."
The 247Sports.com "crystal ball" for Roundtree is heavily slanted towards Georgia, but the Buckeyes have seen this play out before and are hoping for a similar conclusion.
"Right now, I'm not overly optimistic on Roundtree, but you never know," he continued. "The Vonn Bell comparison has some merit. Vonn had shown a lot more interest throughout his recruitment though, even came up to camp and worked out, something that the top guys from far away almost never do. We'll see, Ash has done a good job to even it get it to this point."
The scuttlebutt from down south is that Georgia is less and less confident they land Roundtree, who will decide next Friday, November 7th. The timing of his announcement certainly doesn't hurt Ohio State's chances.
BAKER, LAYNE TO VISIT FOR ILLINOIS GAME
Cleveland Benedictine 2015 linebacker commitment Jerome Baker and 2016 wide receiver Justin Layne will visit Ohio State this weekend, according to Layne.
"Coach Drayton told me to come down to a game whenever I want," Layne told 11W. "We just decided we'd head down this weekend."
Ohio State offered Layne just about two weeks ago and is hoping to make up some ground with one of the state's top overall prospects for 2016.