Heading into this summer, Fort Wayne (Ind.) junior Auston Robertson was a tight end prospect without any major offers. After giving defense a try at some summer camps, Robertson is now considered to be one of the nation's rising underclassmen prospects.
Robertson attended Notre Dame's prospect camp on June 24, and the 6-foot-5, 230-pound defensive end soon landed an offer from the Fighting Irish. Notre Dame joined Akron, Indiana and Toledo as schools to offer the Hoosier State prospect.
Thanks to the camp performance and Notre Dame offer, Robertson's recruiting rankings have soared. He's now the nation's 236th-ranked prospect and the second best prospect in Indiana, according to 247Sports composite rankings.
The four-star prospect continued his camp tour with a trip to the Friday Night Lights camp last week, his second camp with the Buckeyes. Even though he left FNL without a scholarship offer in-hand, Robertson raved about his experience.
"One-on-ones, all the competition," Robertson said he liked most about FNL. "It was better competition than other camps, but I could have done better. The competition level here is way better than what I've gone against. This is probably the best camp I've been to all summer. I liked the tempo, the game speed and the coaches."
At Friday Night Lights, Robertson worked out with the defensive linemen. While he performed well, he's hard to evaluate since most of his film is as a tight end. Last week, he had an opportunity to speak with Larry Johnson Sr. about his lack of offers.
"I talked to Coach Johnson," Robertson said after the camp. "Why I'm struggling getting offers is because I don't have much film. Once I get film, I think I'll get more offers."
Ohio State plans to wait for some defensive film from the rising junior prospect before they offer. In the meantime, the Buckeyes are considered the favorite for some of the nation's top defensive ends in Robertson's class, including Nick Bosa, Kyree Campbell, Johnathon Cooper and Prince Sammons.
While the Buckeyes would like to see some more film, Michigan is moving quicker with Robertson. The fast-rising prospect camped at Michigan in mid-June, and the Wolverines extended a scholarship offer over the weekend.
Immediately after attending Friday Night Lights, Robertson made the trip up to Ann Arbor for Michigan's annual barbecue recruiting event at The Big House. During Saturday's event, he landed an offer from the Wolverines. This latest offer, paired with the Notre Dame offer, is a sign that Robertson is now a hot prospect.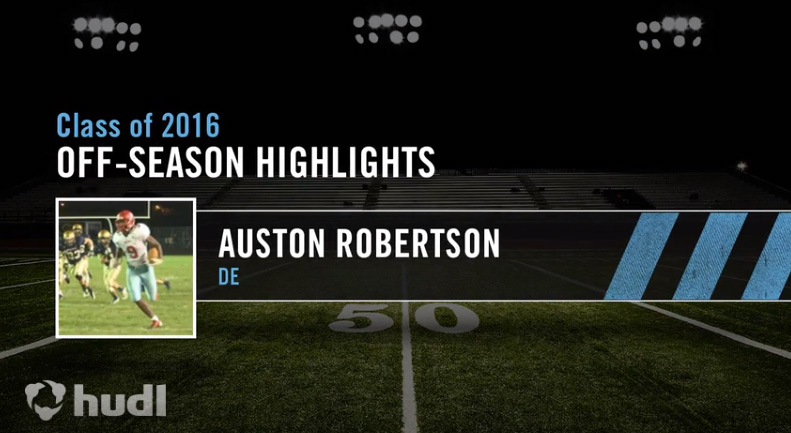 Even with those two impressive offers and interest from Michigan State, Ohio State is the offer that Robertson hopes to earn. In an interview immediately following Friday Night Lights, he didn't hide his feelings for Ohio State.
"I like the stadium, I like everything about Ohio State," he said. "If I got an offer, Ohio State would be my number one school. I like the campus, too."
Fort Wayne's football practices start in the next week, so Robertson is likely done with summer visits. Not surprisingly, getting back to Ohio State is a priority.
"I'll be back as soon as possible," the four-star defensive end said. "I'm coming to a lot of games, too."
Robertson already has some fall visit plans in the back of his mind. Given the junior prospect's rapid rise, a busy fall awaits him.
It's clear the Buckeyes have made a big impression early in the process, but the crystal ball favors Notre Dame over Ohio State four to one. If the Buckeyes were to extend a scholarship offer, that would likely change.