Last Friday night, Eric Glover-Williams found himself in the exact spot he was in one year ago. With nothing and everything to prove, Glover-Williams stepped onto the Ohio Stadium turf ready to put on a show.
The past year has been quite a ride for Eric Glover-Williams. At the start of last year, Glover-Williams was a name only known by the hardcore recruitniks, even though he held a scholarship offer from Ohio State. To little fanfare, Glover-Williams took the field at Friday Night Lights 2013.
Winning several one-on-ones against Damon Webb, one of the country's top cornerbacks, earned the attention of Buckeye fans. His "Superman" shirt, explosive athleticism and incredible catches earned their affection.
After the camp, Glover-Williams was told by the Buckeye staff that they wanted him to "be the face of the program for 2015." Glover-Williams committed to Ohio State one month later.
Like many recruits who choose a school early in the recruiting process, Glover-Williams faded into the background. He had a strong junior season; a switch from running back to quarterback led to nearly 1000 yards of passing and rushing each. His recruitment seemed drama-free, and then off-field concerns brought him back into the spotlight.
In January, rumors swirled that his scholarship offer might be in jeopardy. A few months later, Glover-Williams got into an altercation with a teammate. In April, a reader poll at this site was pretty much split on whether he would eventually become a Buckeye.
After all that, Glover-Williams still had no doubt where he would be going to school. "Most definitely I'm going to be a Buckeye. O-H!"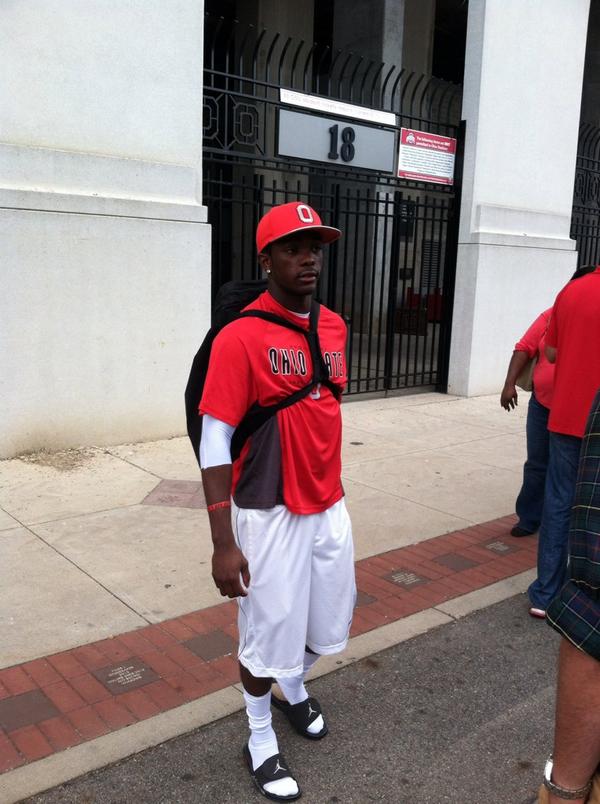 As a committed prospect, Glover-Williams had nothing to prove to the Buckeye coaching staff. As a kid who had been through a lot over the past year, he had everything to prove.
With that in mind, he returned to the location of his coming-out party. The second time around, he showed the Ohio State coaches he might be just as good as a defensive back.
"When I first got here I talked to [the coaches]. They had me go to defense, asked me to play DB," he said. Once again, the highlights of the night involved Eric Glover-Williams in one-on-ones. Replacing Damon Webb was Austin Mack, a highly-touted receiver from Indiana.
The two went at each other, with Glover-Williams winning many of the battles. At one point, he jammed Mack completely off the field and took him down. For someone of Glover-Williams' size (5-foot-11, 165 lbs), that takes considerable strength.
"It was a chance to show out, to show them what I (can do). [Urban Meyer] told me to come out, have a fun time and just take it like any other day," said Glover-Williams.
It was an impressive defensive showcase. Comparisons to former LSU standout Tyrann "The Honey Badger" Mathieu even murmured through the crowd.
Despite the the embarrassment of riches Ohio State has in the defensive backfield, EGW thinks the Buckeyes might want to use him at corner.
"It's something I'm looking forward to doing," he said of playing defensive back at Ohio State. "It just depends on wherever I can fit in to get on the field first – whatever I can do to help the team."
Whatever Glover-Williams does at Ohio State, his Friday Night Lights performances indicate he has all the tools to become a special player.