Good afternoon recruiting fans. Thanks for joining me yet again to discuss this, that and the other thing surrounding Buckeye football futures. We've had a pretty busy weekend, but with Friday Night Lights in our rearview mirror, there's questions heading into the start of the 2014 football season.
In this mailbag, we're talking Josh Alabi, Christian Kirk, Torrance Gibson's potential impact and a number of other topics. If I didn't get your question answered, I apologize, but I will try and get to it in the original forum thread.
Let's do it, y'all.
---
Should we be looking at the Alabi commit as a acceptance we aren't getting Sweat? - Logamaniac
I don't think — actually I know — the two are not related. It could be however that Alabi's commitment is a sign that the Buckeyes are feeling less optimistic about a player like Christian Wilkins than they had before. Josh Sweat is A) a defensive end and B) too darn good to even consider giving up on or not taking if he wanted in. He's a game-changer on every level, and immediately.
Seems like folks are up in the air about what position Alabi will be playing. What's your take? - OregonianBuckeye
After talking to a few folks "in the know" about Alabi, I think the Buckeyes are confident that he could player any number of positions. That said, for now the Buckeyes are considering him a defensive line prospect because they're holding out hope along the offensive line for three players: James Daniels, Matt Burrell, and Drew Richmond. If Ohio State can land those three, then Alabi would start his Buckeye career on the interior of the defensive line. If, come signing day, there are a few openings, he could potentially get a look on the interior of the offensive line. It is — like most recruiting situations — fluid.
Any surprises in this class that you can see come NSD? - WezBuck28
Have you not already been surprised? I realize that most believe every single player offered/signed by Ohio State should be a five-star talent, but this year's class has definitely yielded a number of surprises already. Bottom line, trust Urban and his coaches to find the players and the people they feel they can develop on and off the field. I could make wild prognostications, but it's safe to assume that a number of players will be in the class no one had anticipated.
What's the latest on Haskins?  Any news on his timeline? - TeddyBallGame
I talked with Dwayne Haskins a few nights ago, after his tweet about a decision "coming soon." While there's some truth to that, he went on to tell me that a choice is still not likely to be made until after his season. Of course, if Haskins knows where he wants to go to school, that could change and happen almost any day. I think right now the biggest competition for Ohio State with Haskins appears to be Florida State and Notre Dame.
Let's say we get Gibson, think that will have any affect on Burrow or Haskins? - MavBuck
No, I don't think either one of those will be impacted by a potential Gibson commitment. The reason why? Burrow and Haskins both know that as they are currently constructed, they're more likely to play and succeed as a college quarterback, despite the out-of-this-world physical capabilities of Gibson. I actually spoke with Burrow about this specifically post-Friday Night Lights and he was not in any way concerned.
Are the good guys still trending for Burrell? - PCuzz1
I am not sure that many believe me when I say it, but I am still pretty confident that Matt Burrell is going to be a Buckeye. Yes, Penn State, Alabama, Florida and others are a concern, but Burrell's relationships at Ohio State are incredibly strong. He's doing the right thing: taking his time and making sure of his decision. He wants to know Ohio State will help develop him for the next level and as another season of Buckeye football approaches, it's another opportunity for Ed Warinner's offensive line to illustrate that point to him. Warinner's success is unquestionable, even if he's not winning any awards for Mr. Congeniality.
You mentioned in another article we are falling out of favor with Kirk.  Are there any concerns that he won't make it for an official visit?  If the official visit stands, how do you like our chances? - Bucks15
As it stands, there's no reason to think that the Buckeyes aren't going to get Kirk back on campus for an official visit, but obviously things can change quickly. I think that if that visit happens as expected, Ohio State's chances at signing the Arizona four-star move back up considerably, but it has to happen. Right now, the biggest challenge for Ohio State is distance and comfort/knowledge of future quarterback situations at the other schools he's considering. The Buckeyes have a number of talented quarterbacks on their roster now and in the future, but there's uncertainty and Kirk has tremendous relationships developing with a number of top quarterbacks around the country. Josh Rosen, Ricky Town and Kyler Murray (along with Kyle Allen) have made him a top priority.
Who would you rather have play receiver for the Buckeyes - Christian Kirk or Torrance Gibson.  - Brutus' Left Nut
I've been on record as saying I think that Christian Kirk is the best high school wide receiver in the country for 2015 and I stand by that. Kirk's ability to create his own space is above the norm for a high school player and he's got incredible hands, catching everything thrown his way. He's far more polished than the average player at his age and has an explosiveness and shiftiness that most just can't get to. He's a surefire star in my opinion.
Of course, I think Torrance Gibson could be a first-round NFL draft pick at wide receiver, so there's no doubt he'd be a nice grab too, but if Gibson ends up at Ohio State, he'll at least start his career at quarterback.
Zach Smith was a clutch recruiter down the stretch last year.  Does he repeat, if yes who does he bring in? - DustinCCC
It's somewhat funny, isn't it? In Urban Meyer's first year at Ohio State, Smith was viewed by many as the "weak link" on the Buckeye staff and he'll be the first to admit that he didn't get the job done the way he'd have liked to off the bat. Last year, Smith was directly responsible for two of the bigger surprises in the "Dream '14," helping reel in four-star wide receiver Johnnie Dixon and four-star defensive end Jalyn Holmes.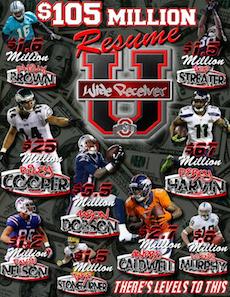 Right now, Smith's working hard to replicate last year's success and he's a major player in the recruitment of Torrance Gibson, Christian Kirk, Van Jefferson, Matt Burrell, Calvin Ridley and a number of others. There's no doubt that Smith's personality resonates with recruits and his biggest challenge now is those who will attempt to downplay his ability to develop talent once they're on campus. His resume speaks for itself, but there's always someone trying to change perceptions.
You've said that Damien Harris' decisions may depend on how UK does this season. Are there any other recruits that we're after whose decisions may rely heavily on the season outcomes for some teams? - Killer Nuts
I do believe that more than most recruits, Damien Harris' decision will be strongly impacted by how Kentucky's season finishes out. As a Kentucky resident, sitting idly by and watching as Mark Stoops attempts to revamp their long-dormant football program, Harris has to feel more pressure than most to be a part of the "fix." If he was from Georgia, or Pennsylvania, or Indiana, Harris would not be considering Kentucky, but the draw of "home" is difficult to ignore.
A lot of us saw pictures of Stacy Elliott (Ezekiel's dad) chatting up Torrance Gibson, and with Justin Hilliard and his father. Do you think Stacy Elliott actually has any kind of impact when he talks to a recruit? - Buckeyes7222
Stacy Elliott is a former Missouri Tiger football player, whose son left the state of Missouri to attend Ohio State. Stacy Elliott believes in Ohio State and Urban Meyer so much that not only did he give his son the blessing to leave home for Columbus, but he himself moved to Columbus to be closer to his son and the program. Since then, Elliott has been an integral part of the Ohio State football team and even played a major role in the recruitment of Justin Hilliard, indirectly. His relationship with Carl Hilliard, Justin's dad, was a vital piece of the puzzle, giving the elder Hilliard valuable insight into the program, the people, etc.
It's impossible to say if he's ever really impacted a recruit's decision personally, but his enthusiasm and passion for Ohio State is plain as day and that's contagious if you're around it.
How big of an impact is a football player's high school senior season?  These kids have only been evaluated on early high school year production and summer camps.  In my opinion, there is still a lot to prove.  Thoughts? - AFonzai
You know, this is really an excellent question. As the recruiting calendar has moved ahead so too has the time for really getting "noticed" for the superstar prospects. College camps, scouting service camps and 7-on-7 tours in the summer have helped colleges identify potential big-timers far earlier than in the past. However, the average player (read: uncommitted, less-offered) still has a ton to gain from a productive and big senior season. Mid-majors and lower level football programs are full of guys who didn't get noticed until later in the recruiting cycle and late-bloomers. Every snap of a player's career is important because as exposure possibilities increase everything is a potential chance to get seen.