As they've hinted for months, the Justin Hilliard and Jashon Cornell "package deal" has come to fruition. For as often as they are discussed, rarely do these sort of deals work out as intended, but today – to the unbridled enthusiasm of Ohio State football fans everywhere –  the nation's second-ranked outside linebacker and third-ranked weakside defensive end decided the Buckeyes were the best fit for their respective, and their collective, futures.
The road to a Buckeye commitment was winding for both, and if you'd asked the majority of recruiting analysts just two months ago, the road was virtually impossible for Urban Meyer and his staff to traverse, but traverse it they did. Now, with two highly-ranked commitments in the 2015 class recruiting and working for the Buckeyes, the big picture possibilities are exciting to consider for the "Elite '15." Yes, just weeks removed from worry and stress regarding the "slow start" for Urban Meyer and his staff, the Buckeyes now sit with 12 commitments and with an undeniable momentum heading into the summer's premiere recruiting extravaganza. Nike's The Opening, which takes place next week in Eugene, Oregon, could be impacted heavily by today's decisions.
Let's take a closer look at what the commitment of Justin Hilliard and Jashon Cornell could mean for the Buckeyes.
JUSTIN HILLIARD
Now, we're not usually one to toot our horns here at Eleven Warriors, but I was the first to officially predict the Cincinnati St. Xavier star to Ohio State when I did so last November. My reasoning last winter was simple: Urban Meyer could not afford to — and would not allow himself to — lose a player of Hilliard's caliber, in his home state to a regional rival like Notre Dame, Michigan or Iowa. There are few players nationally who possess a better combination of the on-the-field chops and off-the-field pedigree that Hilliard does, and for Meyer's Buckeyes to continue taking the steps they need to towards a national championship, players like Hilliard are a must have.
Hilliard made trip after trip to Columbus, South Bend, Ann Arbor, and Iowa City and with each visit to Ohio State, the drumbeats got louder and louder that the Buckeyes had made up the ground in his recruitment that they initially had given up. As the country's second-ranked outside linebacker, Hilliard is capable of playing inside or outside in Ohio State's defense and brings with him considerable clout as a recruiter and a player that others gravitate towards. He's the five-star lightning rod that the Buckeyes have needed to take the "Elite '15" in a different and exciting direction. 
At 6-foot-2 and 230-pounds, Hilliard is built like a college linebacker as he prepares to enter his senior season of high school. Blessed with excellent balance and leverage, Hilliard has exceptional closing speed from the linebacker position and is a sure-fire tackler. He hits hard, he arrives with bad intentions and he's as good a person off the field as he is a bad-ass on it. This commitment is a 100-percent homerun for Urban Meyer, Luke Fickell and the rest of the Ohio State coaching staff. While Meyer's relationship with Hilliard may have been the deal-sealer, Fickell's steady influence can't be overlooked. 
JASHON CORNELL
Unlike Hilliard, who had made trip after trip to Columbus, Jashon Cornell's sudden emergence as a legitimate possibility to join Ohio State's recruiting class came by surprise to most. There were a number of planned visits to Columbus by Cornell and his camp in the last year, but each and every trip fell through for a myriad of reasons. As the months passed without a visit, it became less and less likely for Cornell to choose Ohio State.
A month ago, when he traveled to Columbus to participate in the Nike Football Training Camp, Cornell finally got to spend time on campus with the Buckeyes and things went from zero-to-100 real quick. Immediately upon departing, Cornell named Ohio State the leader in his recruitment and showed up to the Rivals Camp Series Five-Star Challenge in Baltimore a week later in Buckeye garb. Since that visit, Cornell has had visits planned to Michigan State, Penn State and Notre Dame, but on each occasion the trip didn't get made. Today, we found out why: he was a Buckeye and ready to make it public.
In Cornell, the Buckeyes land a versatile and talented defensive end with the frame to move inside if needed but the athleticism to wreak havoc from a rush position. Student Sports, the group that runs NFTC camps all over the country, had a glowing evaluation of Cornell's game.
"Cornell may be as polished a defensive end as we've seen in this class. Is coming off a 14 sack sophomore season, where he showed off an elite blend of speed, play recognition ability, and toughness. Ran a 4.69 40 at the Chicago NFTC, but is also a tough, grind-it-out player. Could probably run by most offensive linemen, but showed a physical, low-to-the-ground, edge rush in Chicago. On tape, shows the makings of a complete defender, plays the run well and can hold his ground effectively for his size. Will never be the biggest defensive-end, but has elite quickness, long arms, and the intangibles."
Ohio State's Larry Johnson, Sr. made a major impact on Cornell during his visit and it was the development of that relationship that pushed this one in the Buckeyes' favor. I also don't believe it's a coincidence that has Hilliard's interest in Ohio State elevated, Cornell's commitment to actually making a visit to Columbus strengthened.
While the Minnesota native has indicated he'd like to still take a visit college visits this month, I'd be surprised to see that happen. 
THE OPENING IS FOR CLOSERS?
With Cornell and Hilliard in the fold, Ohio State will have two valuable and well-liked recruiters on hand in Eugene for The Opening. There, they'll hope to cultivate important relationships with other recruits they'd like to join them in Columbus; players like Damien Harris, Matthew Burrell, Tim Settle and others. While Cleveland's Jerome Baker won't be in attendance at The Opening, he's likely to become the next commitment for Ohio State when makes his decision on July 11th.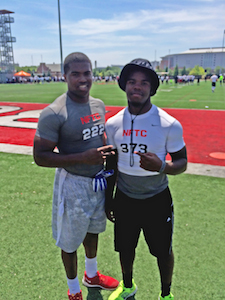 Harris, the country's top-ranked running back, is the wild card. There's a feeling that he could announce a decision at almost anytime, and I think he's pretty confident in what school he's going to attend, but he had made it clear he wants to take official visits, and that's preventing him — at least right now — from making his decision. He does not want fans to view him negatively if he visited other schools, even if it's just to watch a football game.
As for Burrell, his recruitment is a fun one to watch. The 6-foot-5, 300-plus-pounder from Virginia continued to be pulled in multiple directions. Ohio State has the two-headed-coaching-beast of Larry Johnson and Zach Smith working to recruit him, and Penn State has a handful of his peers doing the majority of the work. Can the Buckeyes, with a boost from Hilliard, Cornell, and maybe Damien Harris give Burrell something even bigger to consider? Despite his affability and fun-loving personality, Burrell is seriously considering every angle of his recruitment and Ohio State's roster in the future could very well make the Buckeyes a difficult choice to turn down.