Larry Scott, the top running back in Ohio for 2015, finally picked up a coveted Buckeye offer a few weeks ago. He had been considered a Michigan State lean, but after a recent visit to Ohio State, Scott says he has no leader. In fact, as Birm wrote last week, a source close to the situation says Ohio State is actually now the leader for Scott.
Scott told 11W the weekend visit "went well, I liked it a lot. Just kind of took everything in, that type of deal." He liked it so much, in fact, when asked about his favorite part of the trip he replied "everything." He did add that the intensity at practice was impressive.
Ohio State had been holding out on offering him for a while, though not for a lack of talent. Scott is one of the best running backs in the entire country, and now that he's gotten his academics straightened out he's being chased by some of the top programs in the country. Ohio State, Alabama and Auburn have offered him in the past month alone.
Those three schools, along with Michigan State, are the ones Scott is most interested in. That being said, he has no intentions of committing any time soon. He will likely visit, Alabama, Auburn and other schools that offer him before he makes any decision.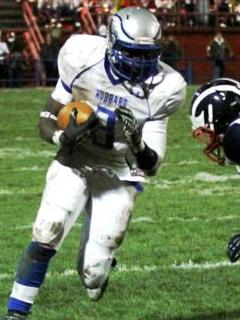 As for where things stand between Scott and Ohio State, things are looking good. The staff loves Scott as a player and told him he could be "like Carlos Hyde" in the Buckeye offense. That certainly got Scott's attention, and will serve as motivation for the other thing Meyer told him - keep your grades up.
Up next for LJ is a visit to Michigan State this weekend, as the Spartans will hope to match Ohio State's intensity. The visit to East Lansing will be Scott's third - he visited for a game in September and visited again in early February.
Looking ahead, Scott's recruitment is shaping up to be an Ohio State-Michigan State battle, but that could change if he makes the trip down to Alabama and Auburn. Both of those teams track records of putting running backs in the NFL is phenomenal.
However, Meyer's got his own track record now with El Guapo. It's already starting to pay huge dividends on the recruiting trail with guys like Damien Harris and Larry Scott.
Stay tuned, Scott's recruitment is just getting started and things are about to really pick up for the star from Hubbard.