At 6-foot-1 and 205 pounds, Brandon McIlwain is not be the prototypical, pro-style quarterback that usually racks up early offers from the nation's elite college programs.
One look at his impressive highlight tape and it doesn't take long to see why he's eschewing the standard definition of the position, however. 
"I think Russell Wilson," McIlwain said when asked who he'd compare his style to.  "Because I pass first and can use my feet when needed."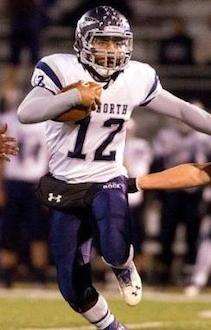 Aside from the obvious similarities in stature to the Seattle Seahawks Super Bowl-winning signal caller, McIlwain's howitzer of a right arm also bears a striking resemblance to Wilson. His agility and fleetness of foot aside, this is a quarterback playing quarterback, not just an athlete thrust into the position because he's the "best player on the team." Now, with scholarship offers from Ohio State, Clemson, Penn State, Auburn, Cal, Florida, and a host of others, the Council Rock North (Newton, Pa.) quarterback has the unenviable task of trying to separate the the cream of the crop from the litany of schools interested in his services.
"I never knew (all this attention) would happen, it still is all surreal to me," he said of his recent burst of offers. "I've got to visit a lot of the schools with my family this summer and we'll start to see what we think of them."
One of the schools on McIlwain's list to visit this summer, as noted, is Ohio State. The Buckeyes offered the Pennsylvania two-sport star (he also plays baseball) in late February and have been in regular contact since.
"I talk to (Buckeyes' offensive line Ed) Warinner every week or two," he said of the developing relationship with Ohio State. "I like their offense a lot, it's dynamic. (They) utilize a dual-threat quarterback very well."
McIlwain is aware the Buckeyes have already received a verbal pledge from a 2017 quarterback (Massillon's Danny Clark) but he says that's not a concern of his and it won't negatively impact Ohio State's chances to impress him.
"Whatever program I go to they will have great quarterbacks from 2015 and 2017," McIlwain said. "It's all competition and I think that brings out the best in everyone."