On Sunday, we took a look at some of Ohio's unheralded 2015 talents; guys that could end up donning the scarlet and gray come next year but that may be flying a bit under the radar at present. The Buckeye State is always well represented in the Ohio State locker room of course, so its not much of a surprise to see unknown names popping up at all points of the recruiting process. 
Recruiting out of state, however, requires patience, diligence and above all else, it requires a few things that Ohio State and Urban Meyer have plenty of: confidence.
Those prerequisites become even more important when recruiting the state of Florida, known as much for its prodigious football talent as its amazing weather. Urban Meyer and his right-hand man Mark Pantoni know full well the ins and outs of the Sunshine State and this year they've employed the help of a fellow swaggernaut, wide receivers coach Zach Smith.
Early returns in Florida have been promising for Meyer and his band of recruiting brothers: two of Ohio State's first three commitments for 2015, Jamel Dean and Ben Edwards, are from Florida and Ohio State finds themselves in an excellent position with a number of the state's other top prospects.
Let's take a look at a handful of those players and where the Buckeyes stand in pursuit of their services. Remember, Florida is big and the Buckeyes have offered dozens of prospects from the state but we'll do our best to adequately sum up where things rest.
We'll start in Fort Lauderdale with a player whom I believe to be the highest player on Ohio State's recruiting board for 2015.
TORRANCE GIBSON / FT. LAUDERDALE / QB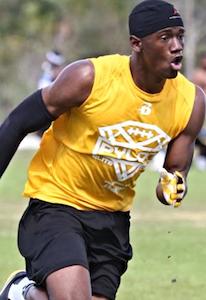 It's hard to avoid hyperbole when you're discussing an athlete of Gibson's caliber. High school juniors who are 6-foot-4 and 200-pounds are not supposed to run an almost effortless 4.5 40-yard-dash, but that's what Torrance Gibson does seemingly without breaking a sweat.
Gibson is the type of athlete who many believed would end up at wide receiver in college (and opinions that he would be an All-American/future first-round pick at the position if he chose to play it are everywhere,) but the Buckeyes have been convinced that he can absolutely be a dynamic quarterback in their offense. 
More Terrelle Pryor on the field and Braxton Miller off it, Gibson is where you want to start your offense and the Buckeyes are still right at the front of his mind. Don't expect a decision until the US Army All-American game, but don't be surprised if following his first visit to Ohio State the Buckeyes take a big lead in his recruitment, either.
Will Ohio State's focus on Gibson hurt them with other quarterbacks a lá the Deshaun Watson recruitment in 2014? We'll see.
Bottom line: this is about as close to a "must get" as possible, and Urban Meyer and Zach Smith are on the case. 
BEN EDWARDS / JACKSONVILLE/ DB

Yes, Ben Edwards is already a commitment but this is Florida recruiting and an early commitment down there doesn't quite have the same adhesive effect as it does in the Midwest, where players commit to schools they've loved their whole lives and want to avoid the white-hot spotlight of today's internet-focused recruiting bonanza. No, this is Florida where the game is played a bit differently.
Edwards committed to Ohio State on February 11th and told 11W that he was done with other visits and his focus would be turned to helping bring other great players, namely his two high school teammates featured below, with him to Columbus. 
Last weekend, Edwards visited Central Florida and announced he'd take visits to Auburn and North Carolina as well sometime this spring, in addition to a return visit to Columbus — a trip he'll make with his teammates — to check out the school he is now a "soft" commitment to.
As long as Edwards is still waxing poetic about the love he has for the Buckeyes, and as long as he's working hard to bring his All-American teammates with him, I won't worry too much about his visit to Auburn. Make no mistake, however, recruiting any player in this era of football means you recruit until the ink is dry. Edwards is a Buckeye until he's not, and I think that Ohio State keeps him.
JEFFERY HOLLAND / JACKSONVILLE / LB

Five-star linebacker Jeffery Holland is 6-foot-3, 230 pounds and about as angry as it gets from the linebacker position. He's everything you want in the middle of your defense and the Buckeyes continue to be in a decent position to land the Trinity Christian star if he decides to leave the south, which is by most accounts going to be unlikely.
For his part, Holland doesn't fuel the talk, he contends he's wide open in his recruitment and the Buckeyes will get a second chance to impress him in person (he visited last April) when he makes a visit this spring with Edwards. Offers from everyone, but only one school will get the signature and like Raekwon McMillan last year, the Buckeyes identified Holland as a big priority early and have continued to impress him at every turn.
Same result? Unlikely, but nothing is out Urban Meyer's reach.
KEVIN TOLIVER / JACKSONVILLE / DB

Committed to LSU for over a year already, Kevin Toliver II, is very unlikely to decommit from LSU at any point, just so we're clear. However, the Buckeyes have always found a way to get into the conversation when he's talking, so until he's come and gone, we're still listening.
Toliver will visit Ohio State with Edwards and Holland and Ohio State would love a legitimate crack at showing the nation's top-ranked cornerback and consensus five-star talent how he would fit into the program. Chances? Not, not good.
Sh'mar kilby-lane / hallandale / lb

One of the more likely members of the Florida contingent to eventually sign with the Buckeyes, Sh'mar Kilby-Lane is a heavy-hitting linebacker ranked in the top 10 of his position, outside linebacker, nationally.
Offers from Alabama, Florida State, Florida, Miami and a host of others have come recently, but the Buckeyes appear to be near the top of his list and he will visit Columbus sometime soon, a trip that Ohio State wants to happen as soon as possible. Florida State and Alabama are also in his top three schools, and he doesn't appear to be waiting until signing day to make his decision, which bodes well for the Buckeyes, who believe they can help make up his mind soon.
GEORGE CAMPBELL / TARPON SPRINGS / WR

When he committed to Michigan last summer, most felt that George Campbell was nowhere near done with his recruitment and most were right: Campbell decommitted from Michigan in December and the Buckeyes are hoping to move their way up his list.
Zach Smith is in charge of his recruitment and Campbell — who burst onto the national scene with a 4.36 40-yard dash at Nike's The Opening last July — is not an easy guy to catch. Ohio State hopes to get him on campus sometime soon but the Buckeyes are definitely looking up at Florida and a few other schools right now.
JACQUES PATRICK / ORLANDO / RB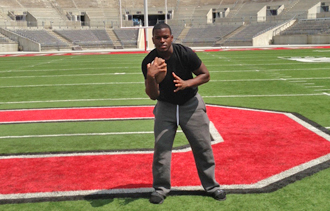 Last summer Jacques Patrick was kind enough to share his midwest travels with Eleven Warriors readers, including the details of his first stop to Columbus.
He returned to the Horseshoe in October and checked out Ohio State a bit closer, watching the Buckeyes throttle Penn State from the sideline. Patrick has been personally recruited by Urban Meyer for some time now, and the Buckeyes hope that his relationship is enough to pull him away from the "Florida three" and the rest of Patrick's near 50 scholarship offers.
One positive for the Buckeyes and their two Big Ten counterparts in Michigan? Patrick's cousin is a coach in Detroit and his brother, who had committed to FIU, ended up signing with Western Michigan, giving him some familiar ties to the Midwest. 
CALVIN RIDLEY / POMPANO BEACH / WR
When Johnnie Dixon spurned his hometown Hurricanes to come north to Columbus, it was quite a surprise to many who believed that there was "no way" the South Florida star would leave his hometown.
This year, Calvin Ridley could be the guy that departs from expectations, and once again Ohio State would love to find themselves as the landing spot for this incredibly talented Floridian. To leave Florida he'll face much of the same scrutiny and resistance that Dixon felt, but like Dixon he's got Zach Smith in his ear and the Buckeyes hope that's enough to keep him interested.
OTHER NAMES TO KNOW

Dwayne Lawson / Tampa / QB / HIGHLIGHTS
Deondre Francois / Orlando / QB / HIGHLIGHTS
Jordan Cronkrite / Miami / RB / HIGHLIGHTS
Ray Ray McCloud / Tampa / RB / HIGHLIGHTS
Dexter Williams / Orlando / RB / HIGHLIGHTS
Devante Peete / Ft. Lauderdale / WR / HIGHLIGHTS
Shawn Burgess-Becker / Pompano Beach / WR / HIGHLIGHTS
Martez Ivey / Orlando / OT / HIGHLIGHTS
Scott Patchan / Tampa / DL / HIGHLIGHTS
Cece Jefferson / Glen St. Mary / DL / HIGHLIGHTS
Garrett Williams / Orlando / LB/TE / HIGHLIGHTS
Tevon Coney / Palm Beach Gardens / LB / HIGHLIGHTS
Dominic Sheppard / Miami / LB / HIGHLIGHTS
Kendrell McFadden / Hollywood / DB / HIGHLIGHTS
Tyrek Cole / Hollywood / DB / HIGHLIGHTS
Tarvarus McFadden / Ft. Lauderdale / DB / HIGHLIGHTS
Deon Cain / Tampa / ATH / HIGHLIGHTS