Two years ago, Noah Listermann had never stepped foot on a football field. Now, he's one of the most highly sought after recruits in Ohio.
"It's still kind of a shock to me honestly," Listermann told 11W on his opportunity to play major division 1 football. Beginning his football career as a sophomore, Noah has developed into one of the best linemen in Ohio through size, athleticism and great effort. "I'm mostly an effort guy because of my lack of experience. I like running into people so anything that involves smashing into someone I'm pretty good at," said Listermann.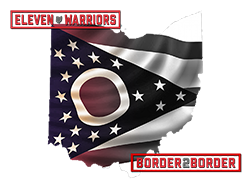 Noah is currently working on developing his technique and footwork. Once he does, he could be scary good. At 6-foot-8 and 280 lbs Noah is already a great athlete with a great motor, which is why many coaches have taken notice despite him only having a couple of years of experience.
Listermann said that Indiana and Illinois are the schools he is in contact with the most, and Ohio State has shown interest as well.
"Coombs said he was very interested in me. He wants to see me at camp again. He says I'm a 'project,'" Noah said.
Despite offers from Illinois, Indiana, Kentucky and Cincinnati, Noah said he's not playing favorites yet and is still early in the process. He is planning on going to a few junior days this spring and is planning on deciding some time next year, after the football season.
Listermann's high school, Winton Woods, went 9-3 last year and lost in the second round of the playoffs. By most standards it was a great season, but Noah wasn't satisfied - "we should have won state," he said.
The goal for next year is clear, to win the state title. "I can't wait to get back out there with my team. I know we all deserve a ring."
Off the field, Noah enjoys playing guitar, video games, skating and hanging with friends. I'm no expert, but I'd have to imagine being able to ride a skateboard at 6-foot-8 and 280 lbs requires a good bit of coordination.
One thing is certain, Noah Listermann is a prospect that you should keep an eye on. He's one of the top linemen in Ohio and he's only getting better.