The 11W Community Interview is truly of the people, by the people, and for the people. You submit the questions, vote on them, and then we pass the top ones on to the biggest names in the world of Ohio State athletics.
Since being named the top player in ESPN.com's initial "Top 300" rankings entering his junior season, the names "Jashon Cornell" and "Ohio State" were linked all over the internet, but never in person. Time after time, Cornell had scheduled visits to Columbus, but time after time the visits fell through. It appeared as though the Buckeyes' chances of landing Cornell were slim and none.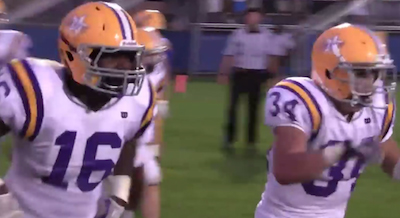 This past May, the nation's 49th-ranked player finally was able to arrange for that trip to happen, and it turned out quite well for the 6-foot-3, 266-pound Cornell and for Ohio State. The visit coincided with a Nike Football Training Camp, in which Cornell earned an invitation to The Opening, and it gave Ohio State a shining moment to impress him: it worked.
On July 2nd, days before he'd travel west to Oregon for The Opening, Cornell committed to Ohio State moments after his good friend Justin Hilliard did the same. Now linked as future teammates, Cornell discusses Hilliard, the Buckeyes, his relationship with Larry Johnson and more in this week's 11W Community Interview.
---
At what point did you truly decide you were going to be a Buckeye?  How much did Justin Hilliard's decision play into yours? - KansasBuckeye 
JC: It was really a mutual decision. Justin and I made the decision to choose Ohio State together. I actually kind of believe it was me pushing him towards Ohio State more than him pushing me towards the Buckeyes. If made my decision to choose Ohio State a week him. He made his decision the day he committed because he was still thinking about Notre Dame. I was a bigger influence on his commitment than he was on mine, which people might not know. 
Out of your remaining recruiting targets who have interest in the Buckeyes, if YOU could choose who you'd line up with in the next 3-4 years in the trenches, who would you want going to battle with you? - GameTime
JC: Damien Harris and Josh Sweat are two great players that know how to get work done on and off the field both, and I'd like to play alongside them. Not only are they great athletes who know how to play the game well but they handle themselves well as people. Matt Burrell and Neville Gallimore are the same way, so I guess that group is the first one for me. I learned growing up as a child you gotta be a pitbull or a poodle and I feel like all of them are pit bulls like me. I am always ready to go to battle.
What was your experience at the Opening like? Which coaches stood out to you? Which fellow players stood out to you? What did you take away from the experience? - Killer Nuts
JC: The Opening was great, by far the best football camp I have ever been to in my life. The competition there was some of the best competition I've gone up against in my life.  Coach Lane, he's a  Miami alumni, he stood out to me the most of everyone I was fortunate to work with. He's been coaching me at Nike camps since my sophomore year and he never steers me wrong with the stuff he teaches me. There were three guys that stood out to me the most: Byron Cowart, Josh Sweat and Terry Beckner, Jr. They were all great players and showed various moves that they learned to get to the quarterback, they had very good technique. Overall, I loved the experience and would love the chance to do something like that again.
Do you picture yourself as a DT or are you striving for the more glorified SSDE spot? Have the staff told you where they want you at on the line yet? - Groveport Heisman
"I love coach Johnson. I think one thing I'm looking forward from him is just picking his brain, trying to learn everything that he knows."
JC: I see myself as a strongside defensive end,  but I wouldn't have a problem with moving inside if coach Johnson and coach Meyer feel that I have a better future inside. Right now the coaches said they see me as a 4-3 defensive end, so that's what I am preparing for.
Describe your relationship with Coach Johnson and what you are looking forward to most when it comes to learning from and playing under him. - TennBuckeye19
JC:  I love coach Johnson. He was one of my favorite coaches in the recruiting process, even when he was at Penn State. I think one thing I'm looking forward from him is just picking his brain, trying to learn everything that he knows. He's been a coach in the NCAA for almost 20 years, so there's a ton I can gain from his insight and his leadership. I'm looking forward to the chance to work with him every day. 
How important to you was the Ohio State history,  tradition and legacy it has in all of CFB in making your selection? - Rob Reese
JC: It's important, but it wasn't as important as my relationship with the coaching staff at Ohio State. The history and tradition of Ohio State is just great, there's not many places that can compare to it. I feel like if I will become one of those great players, the players that played in "the 'Shoe" and become a part of the Silver Bullets history.  However, like I said, the relationships with the coaching staff and my comfort with them is more important than the legacies of Ohio State.
What is one thing about you that we do not know but would be surprised to know about you?  (ex. bake well, play birdie golf, have a crush on the beautiful Jennifer Lawrence, etc.) - BuckeyeTrappedInSouth
JC: Well, one thing you don't know about me is that I grew up in a house with all girls so I learned how to cook as a kid. I was always in the kitchen with my mom or my grandma and I like to cook now when I get a chance. 
As a young man growing up in Minnesota, how did you develop an interest in Ohio State? Can you compare the level of high school football there to other places? - MN Buckeye
JC: As a child I loved college football and I always watched it with my father so I learned the game early on. Ohio State was always good, so that's how I believed I initially gained the interest in Ohio State, they were always on TV and the reverend at my church was a big Ohio State fan as well. I do think that Minnesota football is behind some other states because we're more of a hockey, basketball and baseball state, at least it has always been that way. Sometimes there might be great players here but they don't get noticed early enough like the southern states because Minnesota is known as a hockey state. I'm hoping that people start to realize there's a lot of good football players in Minnesota. 
Other than the OSU campus and the football family, is there any other aspect of Columbus that made it easy for you to decide to play your college football here? - AlwayzaBuckeye614
JC: Actually, I have an aunt that lives 30 minutes from Ohio Stadium, so just knowing that I have family there to support me each and everyday attracted me to Ohio State a bit. It definitely helps to have people close by when you're feeling homesick or missing your family. Columbus is a great city and I don't see why anyone wouldn't want to play football for the fans in Ohio.
"I learned growing up as a child you gotta be a pit-bull or a poodle and I feel like all of them are pit bulls like me. I am always ready to go to battle."
What goals do you have for your senior season and do you plan to enroll early? - BroJim 
JC: My personal goals for my senior season include breaking the Minnesota state sack record. As a team, it's simple: lead my team to state championship. I'd also love to win "Mr. Football." 
As for after the season, yes, I plan on graduating early. I want to get as much of a head start as I can when it comes to learning Ohio State's defense and adjusting to college life. I know it's a huge help for guys that have done that. I want to play early and I need to get there sooner rather than later to give myself the best chance to do that.
Thanks for all the questions and the love, Buckeye fans. I can't wait to play for you all and to be a part of the greatest program in college football. Go Bucks!