Ohio State basketball season has arrived.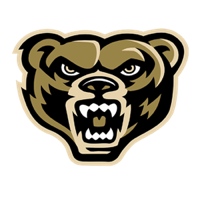 The Buckeyes open their 2023-24 campaign in Value City Arena with a mid-major opponent, taking on Oakland of the Horizon League in a game they hope will serve as a tune-up for their new-look team.
Oakland is coming off of a 13-19 season in 2022-23, finishing fifth in the Horizon with an 11-9 conference record. The Golden Grizzlies enjoyed a 20-win campaign as recently as 2021-22, however, when they went 20-12 before another fifth-place finish in the Horizon.
The last NCAA Tournament appearance for Oakland came in 2011, which was also the last time it won the Horizon League. It should provide a nice tune-up for Ohio State before the Buckeyes take on their first ranked opponent of the season in No. 15 Texas A&M on Friday.
"We've got some really diverse styles of play coming at us here in this first stretch of games, starting with the Oakland one," Chris Holtmann said Wednesday. "Some really good athleticism, different defenses that we won't consistently see throughout the year, really, these first few games. So it's going to be a great test for our guys."
Need to Know
Heralded head coach
Oakland head coach Greg Kampe is one of just nine coaches in all of Division I college basketball who has been with his current program for 25 seasons or more. Entering his 34th season coaching the Golden Grizzlies, Kampe has compiled a career record of 675-525, placing him in a tie for 40th all-time in wins among college basketball coaches. He's a member of the Michigan Sports Hall of Fame.
"Greg's one of the all-time great guys in our profession," Holtmann said. "Greg Kampe is a really good coach, he's won a tremendous number of games. They play a unique style; really talented, athletic kids who can impact the game in a lot of different ways. ... Always been impressed with him and the way he coaches."
No update on Chatman, Parks injuries
Ohio State could open its season without two freshman depth pieces at its disposal, as shooting guard Taison Chatman and center Austin Parks are both dealing with injury concerns entering the year. Holtmann said he didn't have updates on either player on Wednesday. Chatman, the No. 39 prospect in the 247Sports composite rankings for the 2023 class, had minor knee surgery during the run-up to the season. Parks, ranked 184th, has dealt with back spasms.
Three Important Buckeyes
Bruce Thornton
The three most important Buckeyes in this section will be arguably the three most important pieces for Ohio State's success in 2023, and no piece is bigger than Thornton, the team's point guard. Ohio State plans to run its offense through the Georgia native this year, with Holtmann going so far as to say Thornton will be "at the forefront" of any "direction" Ohio State takes this year.
Jamison Battle
With Ohio State's top two scorers – Brice Sensabaugh and Justice Sueing, who were both wing players – gone from last year, Battle was the biggest acquisition from the transfer portal the Buckeyes got this offseason. A proven wing scorer who has finished first or second on his team in points per game in each of his first four seasons playing college basketball (two at George Washington and two at Minnesota), the Buckeyes will want to get him involved early to help spark their offense for the season.
Roddy Gayle
Gayle's stepping into a role as the team's likely starting shooting guard after a fantastic run to close out Ohio State's time at last year's Big Ten Tournament, scoring nine, 15 and 20 points against Iowa, Michigan State and Purdue, respectively. Alongside Thornton and Battle, he's going to shoulder a lot of responsibility for the Buckeyes offensively in 2023-24.
Three Notable Golden Grizzlies
Trey Townsend
Projected Starting Lineup

| No. | Player | Position | Height | Weight | 2022 Stats |
| --- | --- | --- | --- | --- | --- |
| 3 | Jack Gohlke | G | 6-3 | 215 | 14.2 PPG, 2.2 APG |
| 11 | Blake Lampman | G | 6-3 | 184 | 10.0 PPG, 1.7 APG |
| 0 | Rocket Watts | G | 6-2 | 182 | 8.7 PPG, 2.7 RPG |
| 4 | Trey Townsend | F | 6-6 | 228 | 16.5 PPG, 7.5 RPG |
| 2 | Chris Conway | F | 6-9 | 221 | 4.5 PPG, 2.7 RPG |
The second-leading scorer from last year's Oakland team behind the since-graduated Jalen Moore, Townsend posted 16.5 points and a team-high 7.6 rebounds from his forward position last year. It may not be a good sign that the Golden Grizzlies got their best rebounding numbers from a player who stands at just 6-6, but regardless it was a strong effort on Townsend's part and he'll be a player to watch Monday. He also shot 38.5 percent from 3 last year, so he has the ability to stretch the floor.
Blake Lampman
The second of three returning starters for Oakland from its 2022-23 squad, Lampman finished fourth on the team with 10.0 points per game, adding 1.9 steals per contest to finish second in that statistic. 
Rocket Watts
Watts qualifies for this section based on name alone, but he's also the third of said three returning starters for the Golden Grizzlies. The former Michigan State Spartan and Mississippi State Bulldog averaged 8.7 points per game a year ago.
How It Plays Out
Line: Ohio State -18.5, O/U 144
So long as nothing goes haywire for Ohio State against Oakland, the Buckeyes' season opener should provide a solid tune-up for its young squad before it takes on bigger tests as the year progresses. I think their offense shows some high-flying potential early but they rotate in plenty of depth as the contest wears on, easing the margin of the final score a bit.
Prediction: Ohio State 83, Oakland 61