There is no shortage of storylines surrounding the Ohio State men's basketball team as it enters the 2023-24 season.
The Buckeyes are coming of off their worst season by winning percentage since the 1997-98 campaign. They went 16-19 a year ago with a massive cold stretch in January and February that saw them lose 14 of 15 games.
Ohio State's record stood at 13-18 entering the Big Ten Tournament, but it was there the team managed to snag some momentum for the following year. The Buckeyes knocked off Wisconsin, Iowa and Michigan State to become the first team ever to play on day one of the league's tourney as a bottom-four team and reach the semifinals.
Big Ten regular season and tournament champion Purdue ended the Cinderella ride there, but it was an overall bright close to a season that had its fair share of dark times.
"After five years of NCAA Tournament teams and a solid level of success on the court, the results this past season were unacceptable," Holtmann wrote in his performance self-review following the season. "I love being a Buckeye and take great pride in representing this University and program. Although we did not meet our standards here last season I am really excited about our program and team."
Ohio State lost its top scorer from that squad, Brice Sensabaugh, who enjoyed a breakout freshman campaign with 16.3 points per game and shot 40.5 percent from behind the arc. The Utah Jazz scooped him up with the 28th pick in the first round of the 2023 NBA Draft.
Also gone is second-leading scorer Justice Sueing, though his field goal percentage of 42.4% was ninth out of the 10 Ohio State players who averaged at least 10 minutes per game last year. The only mark lower was 38.8 percent by Isaac Likekele, another player who graduated.
The other major departure from a year ago is Sean McNeil, a starter at guard who averaged 9.7 points per game and shot 36.9 percent from deep.
Even with those losses, Ohio State has quietly built a talented roster for the 2023-24 season. That's mostly due to the way it has stacked recruiting classes, bringing in the No. 8 class in the 247Sports composite rankings both in 2022 and 2023. Sensabaugh is gone from that 2022 group, but three of his remaining classmates all project as starters this season.
"I think the experience that those three sophomores got last year will really prove beneficial, and I'm not even sure I look at them as sophomores because of the experience they got last year," Holtmann said at the team's media day on Sept. 25.
"I'm not even sure I look at them as sophomores because of the experience they got last year."– Chris Holtmann on Ohio State's sophomores
With one program veteran and a few transfers filling out the rest of the Buckeyes' key roles, this will be a big season for determining the future of the program.
"We're just a hungry, hungry group," senior center Zed Key said Wednesday. "Guys want to win, have the will to win. So we're just excited to display that on Monday and just show the world what we've been working on this offseason."
Position-by-position breakdown
Guards
There's no question who will run the show for Ohio State's offense in 2023-24. Everything will go through sophomore point guard Bruce Thornton.
"Love everything about the kid. He's everything you'd want, really, in a Buckeye point guard," Holtmann said Tuesday. "He's tough, tough-minded, cares about winning. He's a good player and he's going to continue to get better in front of our eyes. Cares about the right stuff. You want that guy leading your team."
Thornton picked up 10.6 points per game in 2022-23 and dished out 2.6 assists per contest. In Ohio State's final eight games of the season, those numbers spiked up to 16.4 points and three assists.
He also looked sharp in the Buckeyes' lone public scrimmage at Dayton, going 7-for-9 shooting with 21 points. Named a captain by the end of last year's campaign, much of OSU's success this year hinges on the 6-2 youngster out of Alpharetta, Georgia.
"It was way different last year, really, not knowing what was going to be next," Thornton said. "But now I've got a year under my belt, using my voice more, I feel way more confident. I feel confident in myself, in my teammates, in my coaching staff. When you're confident, I feel like good, positive things are going to happen."
Fellow sophomore Roddy Gayle is the likely starter alongside him at shooting guard. He similarly had a big close to last season, but it came in a more unexpected and sudden manner.
In Ohio State's first 32 games, Gayle averaged 3.7 points across 15 minutes and shot 39.5 percent from the field. Like a dormant volcano, however, Gayle erupted in games 33, 34 and 35.
He scored 9, 15 and 20 points in Ohio State's final three games of the Big Ten Tournament. That 20-pointer came against the above-mentioned league champion Boilermakers, with Gayle going 5-of-6 from 3-point range against them.
Holtmann and company have been preparing him to try and replicate such days now that he's in his second year.
"He had some really good moments against Dayton," Holtmann said. "Admittedly, he'll tell you he struggled (in our second scrimmage) against Clemson. That's why I think it was just really good because he was able to struggle in an environment where we can really take film and look at it, say, 'OK, as you are now in a bigger role than what you were last year, this is what we need you to do better.' I think with Roddy, I think we all need to understand that there's a process to this."
Baylor transfer Dale Bonner figures to be the top depth piece at guard for the Buckeyes. He averaged just 4.7 points in 19.4 minutes with the Bears a year ago, though he did add 1.4 steals and 2.7 assists. His quickness and veteran presence could see him fill a bigger role in Columbus than he did in Waco.
Freshman Taison Chatman – ranked the No. 39 prospect in the 247Sports composite rankings, the highest ranking of any from the team's 2023 recruiting class – definitely has a bid to factor in heavily at shooting guard or even small forward as the season progresses. He'll have to wait, however, both for development and a minor knee surgery that cost him the preseason.
Sophomore Bowen Hardman is another potential option if the Buckeyes want to look down their bench at guard, though he played sparingly against Dayton.
Wings/Forwards
When a team loses its top two scorers following a season with both being wings, it's nice to go out and get a proven wing scorer from the transfer portal.
That's exactly what Ohio State acquired in Jamison Battle, who figures to be the team's starting power forward this year, though he could slide down to small forward if needed. In each of his four collegiate seasons – two at George Washington followed by two at Minnesota – he's finished first or second in scoring on his team.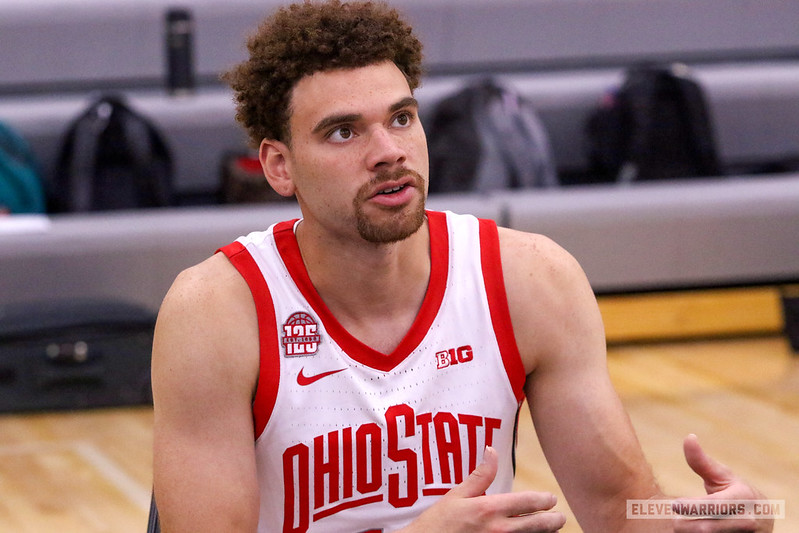 With 17.5 points per contest and a strong 36.6 percent conversion rate from beyond the arc, Battle led the Golden Gophers in scoring in the 2021-22 season. His numbers dipped a touch to 12.4 points per game and 31.1 percent from 3 in 2022-23, with Minnesota limping to the finish as a team with a 9-22 overall record. It won just two games in conference play.
Still, Battle has averaged 14.4 points across 103 collegiate games, 101 of them starts for his career with an effective field goal percentage (field goal percentage adjusted to reflect the fact that threes score 1.5 times as many points as twos) of 52.2 percent. That couples with 8.7 rebounds per game.
"That (scoring) number is a really good number in the Big Ten," Holtmann said. "If you're doing that, that will probably put you top 10 to 15 in the Big Ten in scoring. He's going to need to score the ball, he's also going to need to rebound the ball for us effectively. But he needs to be that for us. We expect that. He's got the ability to do it."
If Battle does start at the 4 for Ohio State, it will be an interesting battle beside him to see who starts at the 3.
Sophomore Penn State transfer Evan Mahaffey, a versatile defensive option with good length at 6-6, occupied that role against Dayton. He averaged 9.4 minutes per game and scored 2.8 points in those minutes in his freshman year with the Nittany Lions.
Then there's a pair of freshmen, Scotty Middleton and Devin Royal. Middleton, the No. 50 player nationally in the composite rankings, has drawn praise as perhaps the most polished player in the Buckeyes' freshman class. 
Royal could be an option to fill in either at small or power forward, coming in right behind Middleton at No. 52 in the composite rankings out of Pickerington Central in the Columbus suburb of Pickerington, Ohio.
"He's been hampered by a few minor injuries that have limited him in stretches (this preseason)," Holtmann said of Royal. "I think his last few weeks have probably been his better few weeks that he's had. He's just got to keep – and it's going to be a process for all those freshmen – he's just got to keep putting days in a row."
Middleton and Royal saw near-identical playing time against the Flyers, both playing between 18 and 19 minutes. Middleton scored five points while Royal put up six.
Redshirt sophomore Kalen Etzler figures to fill mostly a reserve role in the frontcourt.
Centers
The equation at center is an interesting one for Ohio State this year.
Two players will split the bulk of duties, that much is known. It seems likely that sophomore Felix Okpara is the starter, having taken over the starting role for the final 10 games of the 2022-23 season. The tallest player on Ohio State's roster at 6-11, Okpara was the No. 66 player and 14th-best center in the composite rankings for the class of 2022.
He averaged four points and 3.6 rebounds across 15.5 minutes per contest in his freshman year as a whole. One of his offseason training goals has been to get to a place where he can play 20 to 25 minutes per game, he said at the team's media days.
"I think he's improved in some areas," Holtmann said. "He showed some glimpses last year of being able to score on both blocks. For him, it's continual steps in terms of improving his overall skill. At the end of the day, we know how he impacts things and how he's going to need to impact things, and it's going to begin with defense and rebounding. But there's no question, offensively, he's gotten better."
"At the end of the day, we know how he impacts things and how he's going to need to impact things, and it's going to begin with defense and rebounding."– Chris Holtmann on Felix Okpara
Key is the other center who figures to play a large role for the Buckeyes this season, holding the distinction of being the only player on the roster with multiple years of starting experience at Ohio State specifically.
That might not be his role in 2023-24, however. After putting up career-high numbers in points (10.8 per game) and rebounds (7.5) last season, he might come off the bench this year in favor of the longer, more athletic Okpara. Key doesn't think that's a job he'd shy away from.
"(I'm going to help the team) any way possible," Key said. "I'm not fit into any role. Whatever the coaching staff needs me to do. If they need me to start, I'll start. If they need me to come off the bench, I'll come off the bench. I don't care about that. That doesn't matter to me. What matters to me is winning."
Key dropped 20 pounds over the summer to help his mobility down low, which should serve to improve his help defense and give Ohio State an option if it wants to experiment with a lineup that features Key at power forward and Okpara at center. 
The Buckeyes' third option at center is freshman Austin Parks. Standing 6-foot-10, Parks was the lowest-rated prospect in the team's 2023 recruiting class as the nation's No. 184 recruit, making him a composite three-star. He joined Chatman in dealing with some injury issues during preseason camp, his workload lessened due to back spasms.
Early returns
Ohio State's two scrimmages bore out very different results. Before a packed house at University of Dayton Arena, the Buckeyes beat Dayton 78-70. The Flyers are picked to win the Atlantic 10 this season by the league's head coaches and select media members.
The Buckeyes shot 55.1 percent from the field and 44.4 percent from 3 in that game, with Battle joining Thornton in having an efficient night at 6-for-7 shooting (3-for-4 from 3) en route to 15 points. There were still areas to work on, however, with Dayton enjoying a 14-5 advantage in offensive rebounding as Ohio State had 16 turnovers against 12 assists.
"I thought our ball movement was really good, I thought our body movement was really good for the most part," Holtmann said after the exhibition. "We've got to continue to get better at that, because they are a good defensive team. ... I think all in all, we were able to move it pretty effectively, and when they were trimming (the lead) to five and three and two, I thought we had some really quality possessions. ... But the first thing we're going to look at is, we need to rebound better, and where are we at defensively?"
The team's "secret" scrimmage in Nashville against Clemson didn't go as swimmingly. Ohio State lost 88-64, though it was without the services of both Battle and Royal. Battle had a family matter to attend to back home in Minnesota while Royal sat out with a short-term injury.
Stats from the preseason bout were not made public.
"We got to really look at some different lineups," Holtmann said. "I think that was the biggest takeaway, is we played a lineup that we really hadn't practiced a whole lot. Some of that was just because we were down a few bodies, and of that was, 'Hey, since we're down a few bodies, it gives a chance to play bigger, to see what that looks like, to get a feel for it.'"
That likely meant playing both Key and Okpara on the floor at the same time. Holtmann described both scrimmages as "really positive" overall.
Schedule overview
Ohio State opens its season with a tune-up against Oakland before facing a top-15 opponent four days later in No. 15 Texas A&M at home on Nov. 10. The Aggies are one of two nonconference opponents on the Buckeyes' slate that are currently ranked in the AP Poll, joining No. 24 Alabama.
A matchup with Merrimack bridges the gap to the Emerald Coast Classic, which starts with a home game against Western Michigan on Nov. 19. The Buckeyes then travel to Niceville, Fla. for the final two rounds of the early-season tournament, which will include its bout with the Crimson Tide on Nov. 24.
Minnesota and Penn State represent the Buckeyes' two Big Ten opponents in December, after which Ohio State will meet a future conference foe in UCLA as part of the CBS Sports Classic. In total, Ohio State is scheduled to face four Power Five teams during its nonconference schedule, with the potential to meet a fifth in Oregon depending on the results of the Emerald Coast Classic.
West Virginia rounds out the scarlet and gray's nonconference schedule before its full league slate starts against Rutgers on Jan. 3. Ohio State will play seven of its Big Ten opponents twice in the regular season and six others once. Those it will play twice include Minnesota, Penn State, Rutgers, Indiana, Wisconsin, Michigan and Nebraska.
It all leads into the Big Ten Tournament, which begins on March 13. To view Ohio State's full schedule, visit Eleven Warriors' schedule page.
Overall outlook
Ohio State has a young core and all of its upperclassmen – with the exception of Key – are transfers entering their first year in Columbus. It's a team that could take some time to jell for both of those reasons, but if Holtmann and his staff can develop their pieces the right way, the ceiling for the Buckeyes is high with the talent they possess.
It all tips off on Monday at 7 p.m. when Ohio State takes on Oakland in Value City Arena. B1G+ will carry the game.