Amidst the stardom that comes with being a top Ohio State student-athlete and the personal wealth players can gain from Name, Image and Likeness dollars, there's still another selfless side that players and coaches want fulfilled.
Time is the most valuable resource there is. That's a centuries-old cliche for a reason. It's why it's so invaluable when those student-athletes give their time to volunteer for charitable causes or mentor the kids in and around Columbus that hold them in such high regard.
That's where – or at least, one of the many areas where – Terence Dials comes into play for the Ohio State men's basketball program.
"There's still a piece of the student-athlete that likes to give back," Dials said. "I know we all think with NIL that everything is, we have to get paid, we have to get paid. Which, definitely, I'm all for it. There's an arm for that. But there's also an arm for giving back."
Named Ohio State's director of professional development in September 2019, for four years Dials has worked quietly behind the scenes to provide mentorship to players on the Buckeyes' roster, connect them with volunteer opportunities and prepare them for life after basketball.
"Terence has been a great addition to the staff," Ohio State head coach Chris Holtmann said. "We've loved having him with us. He has a really good feel for this program and he does a lot in terms of the day-to-day with our players and a lot in community service. He's involved in some NIL opportunities, and his big role is monitoring their academics."
Dials' life experience is something that made him a natural fit for such a position at Ohio State, and he said that's why Holtmann hired him in the first place. He's a name that a lot of Buckeye fans might recognize, after all.
He spent five seasons donning the scarlet and gray as a player from 2001 through 2006. Dials averaged at least 15.3 points and 7.9 rebounds in each of his final two years in Columbus, taking home Big Ten Player of the Year honors in 2006. He was inducted into the Ohio State Athletics Hall of Fame in 2015.
That wasn't the end of his playing journey. Dials spent a decade competing internationally, making significant contributions for teams in France, Germany, Switzerland, China and Cyprus.
Dials then dipped his toes in the corporate world, finding a successful multi-year career in sales before the opportunity came about to return to his alma mater.
"That was the biggest thing with Coach Holtmann was playing 10 years overseas, then obviously not just playing basketball but having some corporate world work-life experience helped me in this role, just because I can see what's coming," Dials said. "I've been in the players' shoes. Although some things are different, some things remain the same and I can help guide them in the right direction. Some of those mistakes I've made, they don't have to make those mistakes because I've already made them for them."
The attraction for Dials was an itch to return to the game he'd poured his entire being into for decades as an athlete.
"I always wanted to be around the game, you play for so long," Dials said. "I didn't know if I wanted to coach or just be in this role. For me, it was a chance to get my foot in the door at the university that I went to and played for."
Since getting that initial extra-large-sized shoe in the entryway, Dials has found joy in helping athletes give back and setting them up to excel after their playing days are over, he stated. That's where his ongoing role is centered. 
"There's two things that (Holtmann) really values in his student-athletes," Dials said. "He wants them to graduate, and he wants them to be a part of the community and give back. Those are the two pillars that I work on. All the stuff that I do is off the court."
"Some of those mistakes I've made, they don't have to make those mistakes because I've already made them for them."– Terence Dials
On the academics side, Dials serves as the "conduit" between Holtmann and Ohio State's student-athlete support services office (SASSO), which coordinates tutoring and mentorship. Dials ensures players are keeping on track with their studies with SASSO's help.
On the community side, Dials sets up volunteer opportunities for the Buckeyes' hoopers to make an impact and be seen by the public at large. Organizations such as the African American Male Wellness Walk or 2nd & 7, which promotes reading for kids through free books and connection with young athletes, are some of the primary benefactors of Ohio State basketball volunteers.
"Most guys, they appreciate it, they like it. When they leave a school or a hospital, they're like, 'Man that was rewarding,'" Dials said. "They can feel it. A lot of the guys ask to come back. ... It's rewarding when you see guys walk in their passion, like 'OK, this is what I want to do. Let's do it.'"
2nd & 7 is the organization that piqued the interest of Joey Brunk, who played center for Ohio State for two seasons from 2020 through 2022 after transferring first from Butler to Indiana and then from Indiana to Ohio State, though he missed the 2020-21 campaign with injury.
"When you're playing college basketball, you have a great platform, you want to be able to use that for something beneficial," Brunk said. "It was just something that I enjoyed doing, something to do once a week where you're doing something positive for the community. It's a rewarding thing.
"It was a good experience to be able to talk to some of the kids about my experience and how I enjoyed reading and all of that, just try to pass along one or two beneficial things to those kids."
"Every Thursday he was in a school, talking to kids," Dials said. "That was his passion. ... He was in a different elementary school every week speaking to kids and reading to them."
Dials provided Brunk with plenty of advice about both life and basketball as well. It's something Brunk feels Dials has given to a lot of Ohio State players both current and former over the past four years.
"TD is a great person," Brunk said. "He's somebody very good to talk to. There were plenty of times when me and him would just talk before or after practice or after a game. He's one of those guys you can talk basketball with, but that's not the only reason you talk to him. He has life experience. He's an easy-going guy, he's easy to get along with and he's just a good guy to have on staff that players can go talk to and he's a great guy to be around."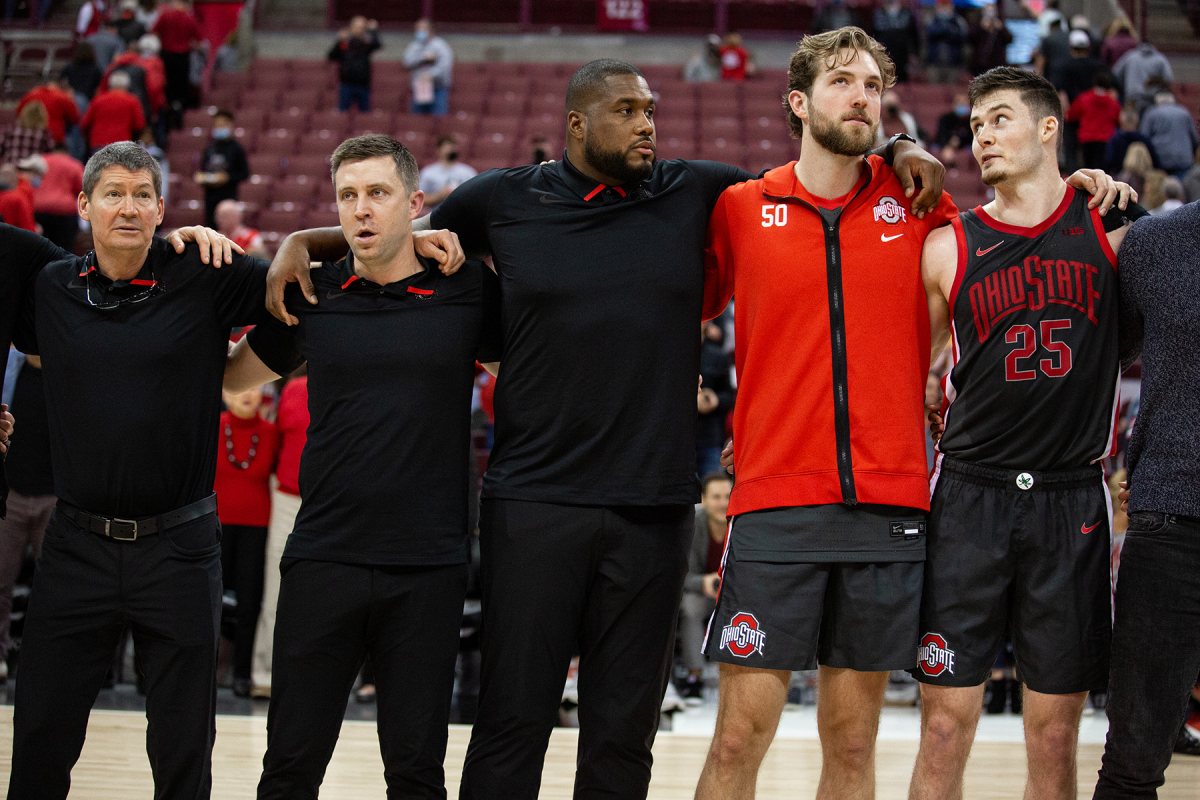 Now that he's become such an established leader for Ohio State's athletes, Holtmann has started to entrust Dials with even more responsibility. He serves as co-host with Holtmann and producer for the More Than Coach Speak podcast, which features insight from top current and former coaches. Ryan Day, Tom Izzo, Jim Tressel and Jeff Van Gundy are among the handful of names that have appeared since the show first aired in June.
Dials is now also looking to contribute to the growth of the team's NIL presence.
"I just started to dive into NIL," Dials said. "My job hasn't been NIL previously, but coach has thrown that on my plate now. It's like, 'OK, now I want you to dive into the NIL space.' So just starting that right now and trying to figure out what the best opportunities are for our guys. Then if there's any opportunities, let's check them out, let's vet them. That's what I will be doing here (in that space)."
Dials has intricate thoughts on NIL and a good idea of how it should be utilized as a former star collegiate athlete himself – though that's perhaps a story best saved for another time. It's something he said he could talk for "five hours" about.
"He's one of those guys you can talk basketball with, but that's not the only reason you talk to him. He has life experience."– Joey Brunk on Terence Dials
Overall, much like a plethora of Ohio State's other leaders have stated, he enjoys the intention of NIL and feels it's a net good for college athletes but doesn't enjoy seeing it used as a recruiting inducement by some programs.
That's balanced by his focus on the long-term success brought to athletes by a career after basketball. He helps them build resumes, gets them to participate in mock interviews, takes them to job fairs and coordinates with the Eugene D. Smith Leadership Institute to build them relationships with Fortune 500 companies.
"In a nutshell, my job here is mentorship," Dials said. "If you could put it into one word, I would probably say mentorship. That's basically teaching them how to be professionals off the court. Whether that involves community service, giving back, resume writing, learning how to get a job, interviews – they come in as 18-year-old kids, you want them to leave as men prepared for the real world. Obviously, the coaches do a good job of that as well, but that's my main focus."
As to whether Dials still wants to coach, he feels a tug in both directions.
It's still something he's always held a desire to do, to instruct young athletes in the game he loves. But the strenuous demands of a year-round recruiting cycle – something that's only been amplified by the transfer portal – give him second thoughts. He enjoys being able to attend most of his daughter's high school sporting events and having some free time available in his current role, he stated.
"(My mind) is still in the same place it was four years ago," Dials said. "I love what I do now, just because I know more times than not the guys aren't going to go to the NBA. I know they're going to have life after basketball, which is what I try to prepare them for. I know how hard it is. I was the Big Ten Player of the Year and I didn't make it to the NBA. As good as you can be here, you still have to have your degree and be ready for the real world. So that's my passion right now. I'd still like to coach, even though I still don't know if people understand the time commitment it takes to be a head coach or an assistant coach at the Division-1 level. There's no breaks."
For now, Dials will continue to help athletes in every way he can off the court.