The Buckeyes are really good when it comes to shooting 2-pointers.
The problem is they haven't been good at making them of late. Those struggles have turned into the Buckeyes losing six of their last seven games.
Although Zed Key (6-foot-8) is an undersized big man, Ohio State makes up for it with size elsewhere, including Justice Sueing (6-foot-7), Brice Sensabaugh (6-foot-6) and Isaac Likekele (6-foot-5), among others. With that lack of true size down low in the starting lineup, the Buckeyes used its mismatches elsewhere to get to the basket early in the season. They haven't been able to do so quite as easily in Big Ten play.
Ohio State's 2-Point Efficiency in its Nine Losses

| Opponent | 2P% |
| --- | --- |
| L, 77-88 vs. San Diego State | 21/44 (47.7%) |
| L, 72-81 at Duke | 23/42 (54.8%) |
| L, 84-89 vs. North Carolina | 25/50 (50%) |
| L, 69-71 vs. Purdue | 23/44 (52.3%) |
| L, 73-80 at Maryland | 15/36 (41.7%) |
| L, 67-70 vs. Minnesota | 18/51 (35.3%) |
| L, 64-68 at Rutgers | 15/46 (32.6%) |
| L, 60-63 at Nebraska | 15/39 (38.5%) |
| L, 60-69 at Illinois | 18/50 (36%) |
On Jan. 5, the same day that the Buckeyes hosted Purdue and suffered a last-second loss to the Boilermakers to start their losing skid, we discussed how Ohio State must take advantage of its 3-point efficiency. Since then, it has shot even better from beyond the arc (while attempting fewer 3-pointers) and worse from inside the arc (while attempting more 2-pointers). In fact, in four of their past five losses, the Buckeyes have been more efficient from 3-point range than they have from 2-point range. Their six losses in the last seven games have been six of their nine lowest-scoring games of the season, and Ohio State has scored its fewest points in a game this season in each of its last three losses (64 at Rutgers on Jan. 15, 60 at Nebraska on Jan. 18 and 60 at Illinois on Tuesday).
The Buckeyes' struggles offensively are well-documented, and it all starts with their lack of efficiency on 2-point shots, especially in Big Ten play.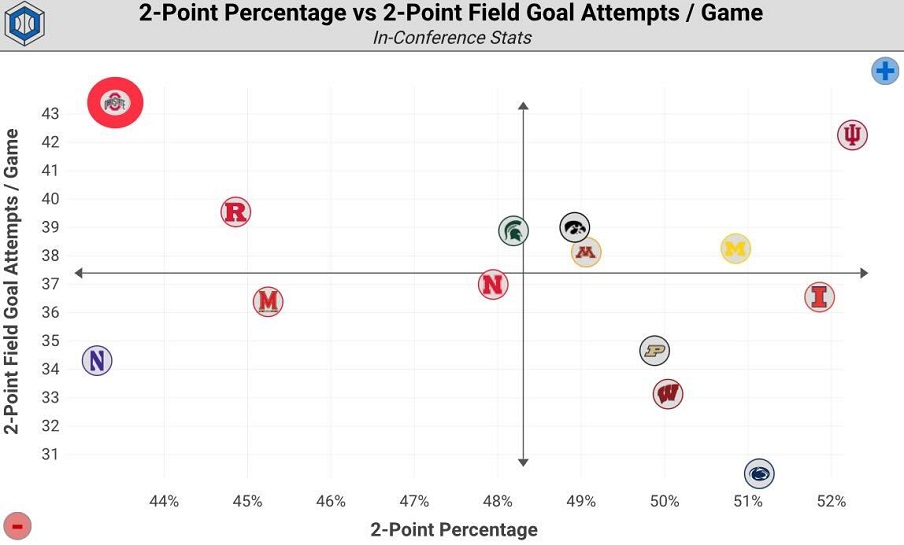 Ohio State has attempted more 2-point shots per game (43.6) than any other team in Big Ten play but has made a lower percentage of those shots (43.4%) than every other team in the conference except Northwestern.
Ohio State (3-6 in Big Ten, 11-9 overall) needs to find its groove offensively, especially in Big Ten play.

69.6 points/game (6th in B1G)
10.2 assists/game (13th)
59.6 shots/game (2nd)
43.6 2PAs/game (1st)
43.4 2P% (13th)
16 3PAs/game (14th)
41.7 3P% (1st)

— Josh Poloha (@JorshP) January 25, 2023
Outside of shots at the rim, Ohio State's efficiency has decreased the closer it's gotten to the basket this season. It's the type of stat that seems quite odd but is, in fact, true.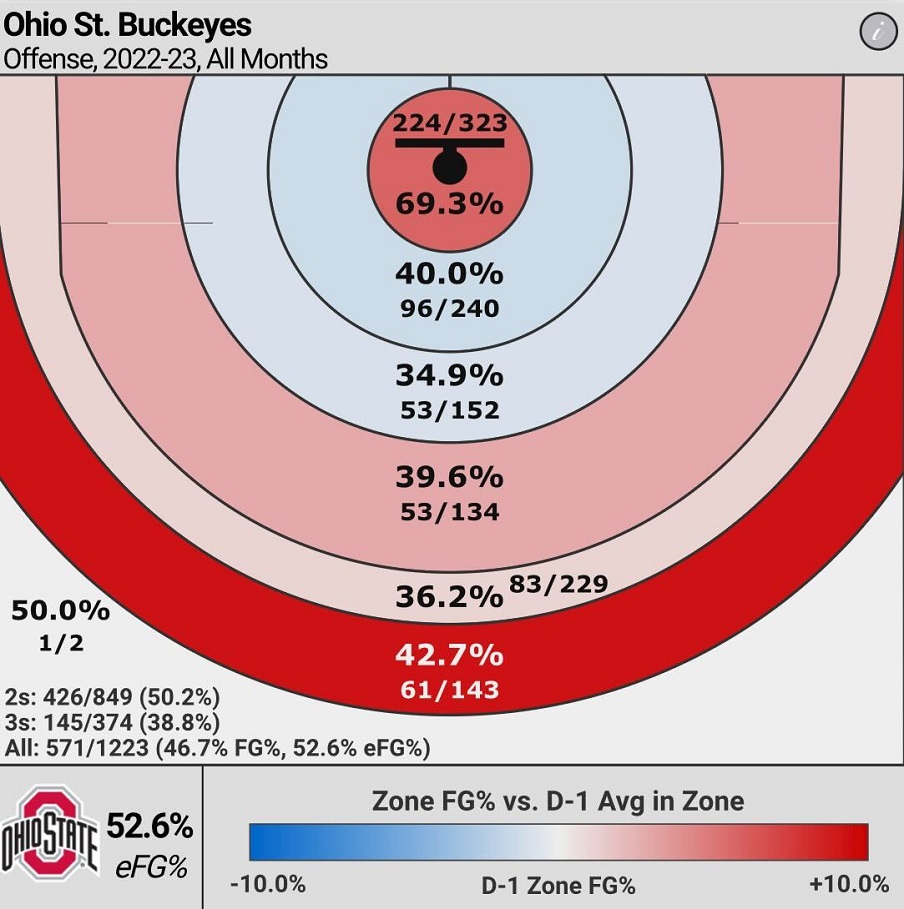 Key (61.7% from 2-point range), Felix Okpara (58.3%), Sensabaugh (52.5%) and Sueing (50.6%) are the only Buckeyes who play regularly that have made more than half of their 2-point shot attempts this season.
2-Point Efficiency (Among Players that Play 10+ Minutes/Game)

| Player | 2PA Per Game (2P%) |
| --- | --- |
| Zed Key | 6.7 (61.7%) |
| Felix Okpara  | 2.4 (58.3%) |
| Brice Sensabaugh | 7.9 (52.5%) |
| Justice Sueing | 8.3 (50.6%) |
| Tanner Holden | 2.5 (46.9%) |
| Sean McNeil | 3.4 (46.3%) |
| Roddy Gayle | 2.6 (46.2%) |
| Bruce Thornton | 4.6 (42.4%) |
| Isaac Likekele | 4.3 (39.7%) |
It's a double-edged sword. The Buckeyes should take advantage of their ability to knock down 3-pointers more efficiently than 2-pointers, but then if they improve their efficiency from inside the arc, it will also make things easier for the Buckeyes from beyond the arc. Being more efficient from closer to the basket will also allow them to light up the scoreboard much more than they have been and get some much-needed wins as well.
Three weeks ago, Ohio State had the second-best odds to win the Big Ten and the second-most efficient offense in the country, according to KenPom's adjusted offensive efficiency. Now, the Buckeyes are on the bubble of even making the NCAA Tournament and have the 10th-best adjusted offensive efficiency (117.2).
Whether it's Sueing getting out of his recent slump, allowing Sensabaugh to create more shots for himself or giving the ball to Key in the post and allowing him to use his hook shot, the Buckeyes need to find a way to get back to being more efficient inside the arc.
Great players not only know their favorite spots on the court but can also get to them when it matters most.

Brice Sensabaugh is lethal from the left elbow. Buckets. pic.twitter.com/PihUhcbNvd

— Josh Poloha (@JorshP) January 15, 2023
This year's version of the Buckeyes has shot 10 more 2-pointers per game than each of the last four years in Big Ten play, starting with Chris Holtmann's first season in Columbus in 2017-18. The problem is that they have converted those shots 10% less of the time. It adds up, and not in a good way.
Ohio State's 2-Point Efficiency in Big Ten Play in Chris Holtmann Era

| Season | 2PA/Game | 2P% |
| --- | --- | --- |
| 2017-18 | 38.2 (5th) | 55.8% (1st) |
| 2018-19 | 33 (14th) | 47.1% (11th) |
| 2019-20 | 32.6 (12th) | 47.2% (7th) |
| 2020-21 | 33.6 (13th) | 53.1% (2nd) |
| 2021-22 | 33.5 (13th) | 53.2% (3rd) |
| 2022-23 | 43.6 (1st) | 43.4% (13th) |