The good news: The Buckeyes shoot well from beyond the arc.
The bad news: Ohio State hasn't shot enough 3-pointers to take full advantage of its 3-point shooting efficiency.
Thirteen games into the season, the Buckeyes have shown plenty of promise with their new-look team, one that includes seven rotation players that weren't on the team last season. While still gaining chemistry and playing much better together of late, Ohio State has to continue to improve as it enters the rest of the Big Ten gauntlet for the rest of the regular season.
Whether it's having a number of different players lead the team in scoring, being a team that has nearly four players averaging double-digit points or just doing a great job of sharing the ball, the Buckeyes' offense has looked quite good over a third of the way through the season, averaging 81 points per game so far (26th in the country). Yet the Buckeyes have room to grow offensively if they take advantage of their 3-point shooting ability more often.
The Buckeyes shoot 37.5% from beyond the arc, the 47th-best mark in Division I (363 teams). But they've shot only 20.3 3-pointers per game, 254th in the country. Ohio State is among the top 13% of teams in the country when it comes to three-point percentage, yet they are in the bottom 30% of teams in 3-point attempts per game.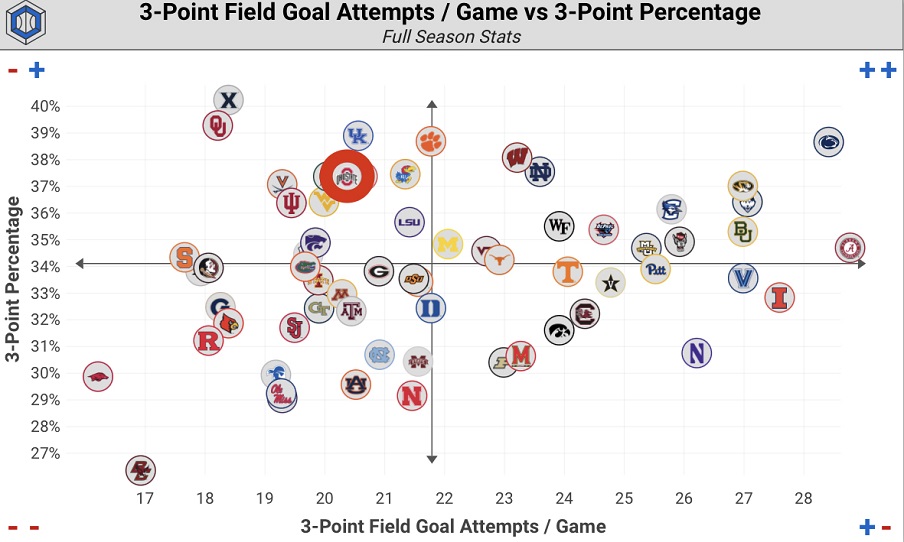 Ohio State's slow pace – 70.5 possessions per game (185th) – certainly plays a role in this to an extent, but it's noticeable that the Buckeyes are a good 3-point shooting team that just doesn't shoot them that much, especially when you consider that two of the team's top four scorers shoot better than 45% from deep.
Three-Point Shooting Among Players that Play 10+ Minutes Per Game

| Player | 3P% | 3PA Per Game |
| --- | --- | --- |
| Sean McNeil | 36.9 | 5.0 |
| Brice Sensabaugh | 46.6 | 4.5 |
| Bruce Thornton | 45.9 | 2.8 |
| Justice Sueing | 23.5 | 2.6 |
| Zed Key | 31.6 | 1.5 |
| Roddy Gayle | 30 | 1.5 |
| Tanner Holden | 50 | 0.8 |
| Isaac Likekele | 0 | 0.5 |
| Felix Okpara | 100 | 0.1 |
For comparison's sake, Sean McNeil's five 3-pointers per game ranks 361st in Division I. Brice Sensabaugh's 4.5 per game, which is the second-most on the team, is the 481st most in Division I.
With their high shooting percentages, Sensabaugh and Thornton seem like candidates, in particular, to shoot more threes as they gain more experience.

Then again, Ohio State has always been among the bottom half of college basketball when it comes to shooting 3-pointers since Chris Holtmann came to Columbus prior to the 2017-18 season.
Ohio State's 3-Point Shooting in the Chris Holtmann Era

| Season | 3PA Per Game | 3P% |
| --- | --- | --- |
| 2017-18 | 19.9 (253rd) | 35.3 (161st) |
| 2018-19 | 22.1 (190th) | 34.1 (199th) |
| 2019-20 | 22.6 (134th) | 37.3 (23rd) |
| 2020-21 | 22.6 (132nd) | 36 (72nd) |
| 2021-22 | 21.5 (187th) | 36.5 (48th) |
| This Season | 20.3 (254th) | 37.5 (47th) |
Holtmann's squad has a unique lineup this season. Among six players that play 20-plus minutes per game, Zed Key is the tallest at 6-foot-8. Yet, with players such as Justice Sueing and Isaac Likekele, among others, Ohio State still finds a way to find mismatches in its favor. With a smaller big man, three-point shooting becomes even more vital.
The Buckeyes' efficiency – both from two-point range and beyond the arc – has been a key reason why they are 10-3 and the 24th-ranked team in the country this week. Ohio State has the second-best offense in the country with a 118.1 adjusted offensive efficiency, according to KenPom. If they can turn that efficiency into even more made 3-pointers, they'll become even harder to stop.