The stage was set for Harrison Hookfin's audition.
Halfway through his first year as a student at Ohio State, the former Lebanon High School standout from Cincinnati was given a tryout in the form of three practices with the Buckeye basketball team – an opportunity to walk on if all went well.
But after a semester off of competitive basketball, jumping into live action against the likes of Kaleb and Andre Wesson was a justifiably nerve-racking proposition. So much so that Hookfin's first shot attempt in front of the players and coaches he was aiming to impress hit nothing but air.
"A lot different from the RPAC," Hookfin told Eleven Warriors about his first practice with the Buckeyes.
The sum of the experience went considerably better than that first shot. Hookfin said he "fell back in love with playing the game" after the first practice alone, and after the third, he was offered a spot on the team.
Three years later, Hookfin was offered another opportunity with the Buckeyes. This time, just this past Sunday after Ohio State's 61-56 win over Penn State, it was a chance for the veteran walk-on to become a scholarship player in the program for the first time.
"It took me 100 percent by surprise, I had no idea it was coming."– Ohio State forward Harrison Hookfin
"There's a guy that's important to us right now in this circle that hadn't yet been on scholarship, but he is right now," said head coach Chris Holtmann, who pointed at Hookfin during the postgame speech in the Ohio State locker room as his Buckeye teammates swarmed him in excitement.
Earned it.

Congratulations on being officially put on scholarship @harrisonhookfin #Team123 #GoBucks pic.twitter.com/kxLtBCp3Cq

— Ohio State Hoops (@OhioStateHoops) January 16, 2022
Hookfin, who embraced Holtmann before breaking down the Ohio State huddle thereafter, had no forewarning about the announcement.
"It took me 100 percent by surprise, I had no idea it was coming," Hookfin said. "Once he started, kind of towards the end of what he was saying I kind of got a hint of it but I didn't want to get my hopes up. But then he said it, and a lot of emotions went over me, I really couldn't believe it. It really didn't hit me until I got home, I was by myself, and I was really thankful for that moment. But yeah, I had no idea about it."
Lead the way @harrisonhookfin

We win, we sing! pic.twitter.com/1fc4SvNIMi

— Ohio State Hoops (@OhioStateHoops) January 16, 2022
It didn't take long for Hookfin to break the news to his parents, who were in attendance for the game and stayed afterwards to see their son. The revelation might have had a delayed impact on Hookfin himself, but the emotions were more immediate for his family members.
"I went up there and I told them and they were very, very thankful," Hookfin said. "They couldn't believe it just like I couldn't, my mom cried a little bit. It's a lot of emotions, it's one of those things that in the moment you can't believe it, then it hits you later."
For Hookfin, becoming a scholarship player is an obvious acknowledgement of the work he's put in for the program and just how far he's come as a player. But beyond that, the effect of a scholarship is a tangible one for Hookfin and his family.
"It has a huge impact on me financially. … With basketball I'm not able to have a job, so I've had to do a lot of saving of my own money over the past years and years, a lot of budgeting and a lot of saying no to going out and eating and saying no to a lot of things just so I can budget and do my own expenses so I can survive," Hookfin said. "This has helped me and my family out tremendously, so I'm very, very thankful."
And given Hookfin's desired career path, he has even less time to spend off the court than most of his teammates due to his responsibilities in the classroom. A biology major, Hookfin has had his sights set on medical school since he was in high school, which is one reason he decided to attend Ohio State in the first place.
Playing basketball for the Buckeyes was a dream of his as an Ohio native, but Hookfin said education has always been his top priority.  
"I said if I'm going to continue playing basketball, it's going to have to be at a major university, because it takes a lot of time and energy to prepare for med school, and I wanted to make sure that if I was taking my time away from preparing for med school, I wanted it to be worth it," Hookfin said. "There was no major offers coming out of high school, and then I only applied to Ohio State growing up. I had been emailing back and forth with the coaching staff about potentially walking on, and then one day it happened."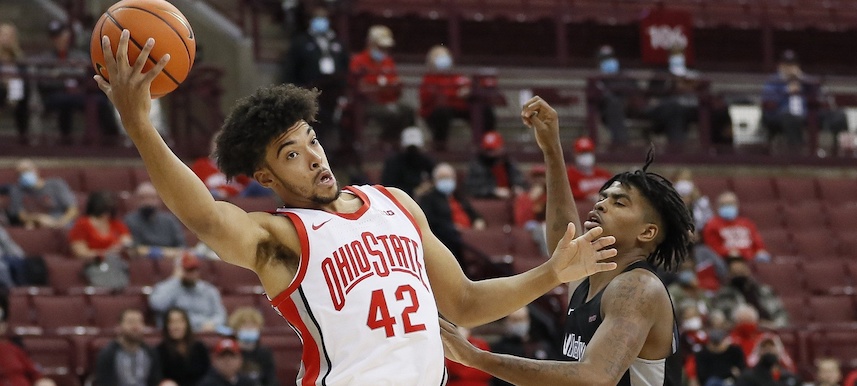 The realities of balancing a STEM major with the rigors of a Power 5 basketball schedule are about as challenging as you'd imagine. Hookfin recalls one 24-hour period in particular during his freshman season, when a road trip for an away game cut into his time to finish an important lab report for chemistry class. After already spending much of the transit time working on his classwork, Hookfin said the team didn't get back to campus until 1 or 2 a.m. the morning his report was due. Hookfin said he slept for an hour or two, went to the library at 5 a.m. to finish up just in the nick of time, and turned in the assignment by 8 a.m.
Of course, 8 a.m. also marked the start of a three-hour lecture.
"It's definitely made for a lot of late nights. When your teammates are kind of relaxing or getting ready for the game tomorrow, you're up studying," Hookfin said. "So it's definitely been hard, but I can't complain because I'm doing everything that I said I wanted to do as a kid. I'm never gonna complain about it, but it's definitely been tough, because you got your hard classes and studying for that and feeling like you're not studying as much as you can. There's a lot of aspects that go into that, and it's definitely been difficult."
Hookfin said he had one scheduling conflict for a core class last season that required him to show up 20 minutes late to practice every Wednesday, and that other times he's had to miss shootaround sessions due to an exam or quiz that he can't miss. Professors and coaches have been accommodating for the most part, Hookfin said, but that doesn't stop issues from popping up.
Holtmann knows it's been a struggle at times for Hookfin, but the Buckeye coach told 97.1 The Fan Monday that he hasn't seen any lack of effort from the senior forward in either the court or the classroom.
"He's a young man that is really bright, I believe med school's gonna be in his future, so he's a really bright kid," Holtmann said. "It's a lot for him, though, because he's a high-level student and also trying to do this as well as he can do it.
"Harrison's a good athlete. He's really improved his skill, but he's always kind of been a good athlete. He's really, really worked with our strength coach to become the best version, athletically, of himself, so he can handle his own in practice, for sure. He's a 6-5 kid who can kind of throw his body around."
Holtmann said he's typically quite hands-on when it comes to the selection process for walk-on players, screening prospective additions for multiple character references and putting them through a tryout period like the one Hookfin described. 
"It's pretty extensive before we add them, because they're gonna be around our guys, and we want that influence to be one that fits the culture of our program," Holtmann said.
Hookfin clearly fit that mold for the Buckeyes, and he said he saw the program's culture reflected back at him upon earning his scholarship Sunday. Hookfin said former players like Duane Washington and walk-ons like Joey Lane and Danny Hummer all reached out to share their congratulations, and that his current teammates haven't stopped "harassing" him since.
"We have a great group of guys. That's one thing that I've really noticed in my time here, that our coaching staff really recruits a good group of guys, and we get excited for each other when good things happen," Hookfin said. "We have a really good, loving community, like when one person wins, the whole team wins. That's something the coaching staff has really driven home."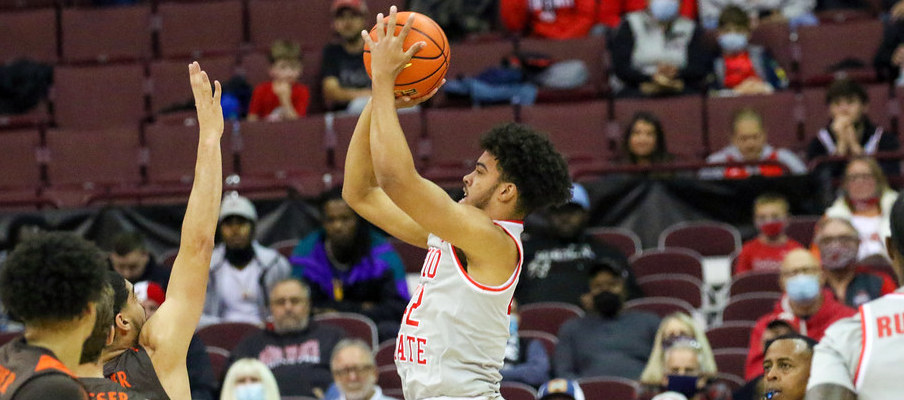 As far as all-time memories during his Buckeye career, Hookfin holds the moment he learned of his scholarship in the same regard as when he first entered a game and scored his first points for Ohio State.
Although he is a senior, he might not be in the final season of his playing career yet. Hookfin said he still has a decision to make about whether he will opt into the additional year of eligibility all players received for the COVID-plagued 2020-21 season, and with "a lot of schooling ahead" of him, Hookfin is keeping his options open.
Given the scholarship he earned almost exactly three years after the humble beginnings of his first Ohio State practice, though, it's a safe bet that Hookfin will make the most of what's in front of him.
"I'm grateful for every opportunity, because it didn't need to happen," Hookfin said. "The coaches saw me and gave me an opportunity to be on the team, and now with everything that I've seen and experienced in the past three years, they gave me the opportunity now to be a scholarship player. I'm very, very grateful, because they didn't have to do any of that."