This program would make almost any other university a basketball school.
Instead, Buckeye Hoops get to play home games in a sterile arena few fans will ever defend, right across the street from the beloved local football cathedral. In normal years (wistful shout-out to normal) the OSU Athletic Band plays Across the Field during basketball games.
That, of course, is a beloved school song about moving the chains and time of possession.
The Buckeyes are 11-1 in NCAA Tournament openers in this current millennium. They have a couple of Final Fours and four additional Sweet Sixteens tucked into that span, having reset the program twice in crisis. And yet every measurable statistic of Ohio State men's basketball - a respected but clear second fiddle - is superior to that of Indiana, an Actual Basketball School.
Ohio State is not just decent at hitting the reset button, it is clairvoyant. IU would kill for this.
It has become clear in Year 4 under Chris Holtmann that his teams are going to figure out their identities on a fluid schedule, but within a deadline. They are going to visibly and measurably improve along the way. They will find a way to thread that pervasive basketball needle where they play unselfishly and figure out how to get their showtime guys enough highlights to stay sated.
And they are going to be fun. They are so fun.
Ohio State is effortlessly expressive and effervescent. The Buckeyes play in a manner that shows both a love for the sport and for the school, despite how weird this all has been. We're not too far removed from wondering if OSU basketball players even enjoyed playing as they labored through seasons and careers in the most joyless manner imaginable, despite every possible resource at their disposal.
Conversely, Holtmann's teams are unabashedly jovial and loose despite playing in vacant arenas with pre-recorded music where mask compliance is only among the top ten most awkward elements of the affair. They win big, they win small, they sometimes lose - but they have fun and are fun in a time where we desperately need and miss having fun.
This program has not had a home court advantage since it moved out of St. John Arena 23 years ago - which is to say the only stakeholders with any memory of what that was like (beyond the odd novelty game held in the building) are now crusty and still bitter. We remember. These players do not.
But decades of program rewiring to create a self-reliant power source in the absence of a formidable home environment - plus the shitty novelty of cavernous pandemic basketball - have made Holtmann's Buckeyes even more effective at serving as a synthetic Buckeye Nuthouse, with the authentic one quarantined from participation.
The result is Ohio State's brand of unbothered and self-reliant basketball is thriving in the lousiest possible circumstances. It's not just with the wins and losses. You can see it without knowing the score.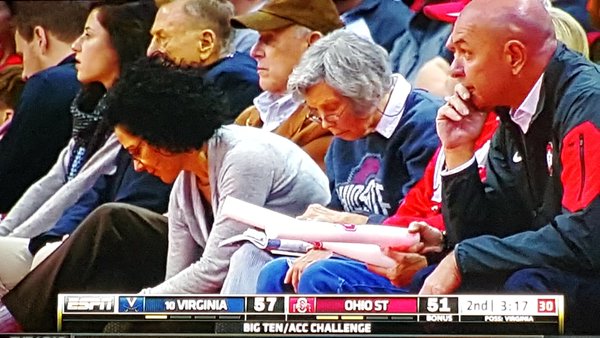 Ohio State is currently hitting a runner's high of working hard, being good, getting better and enjoying all of it. The Buckeyes aren't labored in anything they try to do, while playing and winning in the nation's deepest and toughest conference.
That January swoon which had accompanied Holtmann's previous campaigns was skipped this season, but they were already pulling themselves together prior to this year. Ohio State has gone 24-6 over the past 12 months, beating Nos. 7, 19, 23, 11, 21, 15, 14, 10 and 8 in that span. More than a third of their wins are coming against ranked teams.
The analytics are even more impressive - beating Michigan this weekend would give the Buckeyes KenPom wins over Nos. 3, 4 and 5. The clear top two teams in every measurement are Gonzaga and Baylor, which means the Buckeyes would have cleared the moat around the chalk's two most likely final bosses when the tournament returns to college basketball after a year away.
It's difficult to compare this diverse and deep edition to recent Ohio State teams. That stretch from 2010-2012 might come the closest in terms of how poised and fun the Buckeyes currently are, as their runs also featured a nice mix of veterans and youth while not being terribly reliant on just one scorer to stay hot.
This roster's makeup, however incidental, resembles the 2016 national champion Villanova Wildcats, which won despite the lack of a significant post presence. But if watching this strange, jovial and unbothered brand of pandemic basketball has taught us anything - it is we should savor each moment. We can enjoy these Buckeyes prior to March and April, especially as they continue to create opportunities to sing after games.
Even if those songs they are singing are about moving the chains and time of possession.